Planning a Football Trip to Liege
Planning a Football Trip to Liege? Free guide – where to stay, eat, drink and how to get tickets; to the stadium.
Football Trip to Liege – How to get to Liege & How to get around
Football Trip to Liege – Fly to Liege

International airports near Liege, Belgium
13 km: Liege, Belgium (LGG / EBLG) Liège Airport
43 km: Maastricht, Netherlands (MST / EHBK) Maastricht Aachen Airport
92 km: Charleroi, Belgium (CRL / EBCI) Brussels South Charleroi Airport
92 km: Brussels, Belgium (BRU / EBBR) Brussels Airport
It's unlikely you will find a direct flight to Liege or Maastricht Airport from the UK but you will easily find cheap flights from most airports in the UK from Charleroi or Brussels Airport. £50 return is possible if you book at the right time.
Start your holiday in style and enjoy the experience of VIP travel – book an airport lounge with Lounge Pass from as little as £13.50. With 200 airport VIP lounges worldwide, including 35 UK airports you can add an extra touch of luxury to your next trip and make the travel experience a whole lot better.
Directions from the Airport
Directions from Charleroi Airport to Liege
Belgian Railways (NMBS/SNCB) operates a train from Charleroi Airport (CRL) to Liège-Guillemins every 2 hours. Tickets cost £8 – £13 and the journey takes 1h 18m
Directions from Brussels Airport to Liege
You can take a train from Brussels Airport (BRU) to Liège-Guillemins via Louvain / Leuven in around 1h 12m. Alternatively, Ouibus operates a bus from Brussels Airport (BRU) to Liège-Guillemins 3 times a week. Tickets cost £2 – £4 and the journey takes 1h.
Taxis from the Airport
It's a hundred km from either airport so expect to pay between 100 and 200 Euros.
Football Trip to Liege – Travel By Train
The average journey time by train between London St-Pancras and Liège is 4 hours and 18 minutes, with around 9 trains per day. The fastest journey time by train from London St-Pancras to Liège is 2 hours and 56 minutes. The first train from London St-Pancras to Liège leaves at 07:16. The last train from London St-Pancras to Liège leaves at 20:01. There are no direct train services from London St-Pancras to Liège. Travelling from London St-Pancras to Liège by train will require a minimum of 1 change.
Football Trip to Liege – Travel By Ferry
It takes between around 3 hours to drive to Liege from Calais. Book tickets via DFDS Seaways
Football Trip to Liege – Travel Around Liege
The centre of Liege is walkable so that is your best bet especially if you want to try the local beer. By bus you can take Urban circuit: buses Nos 1 or 4. One day pass available at the "Maison du TEC" (local transport company information centre).
Football Trip to Liege – How to Get to the Match
Football Trip to Liege – The Stadium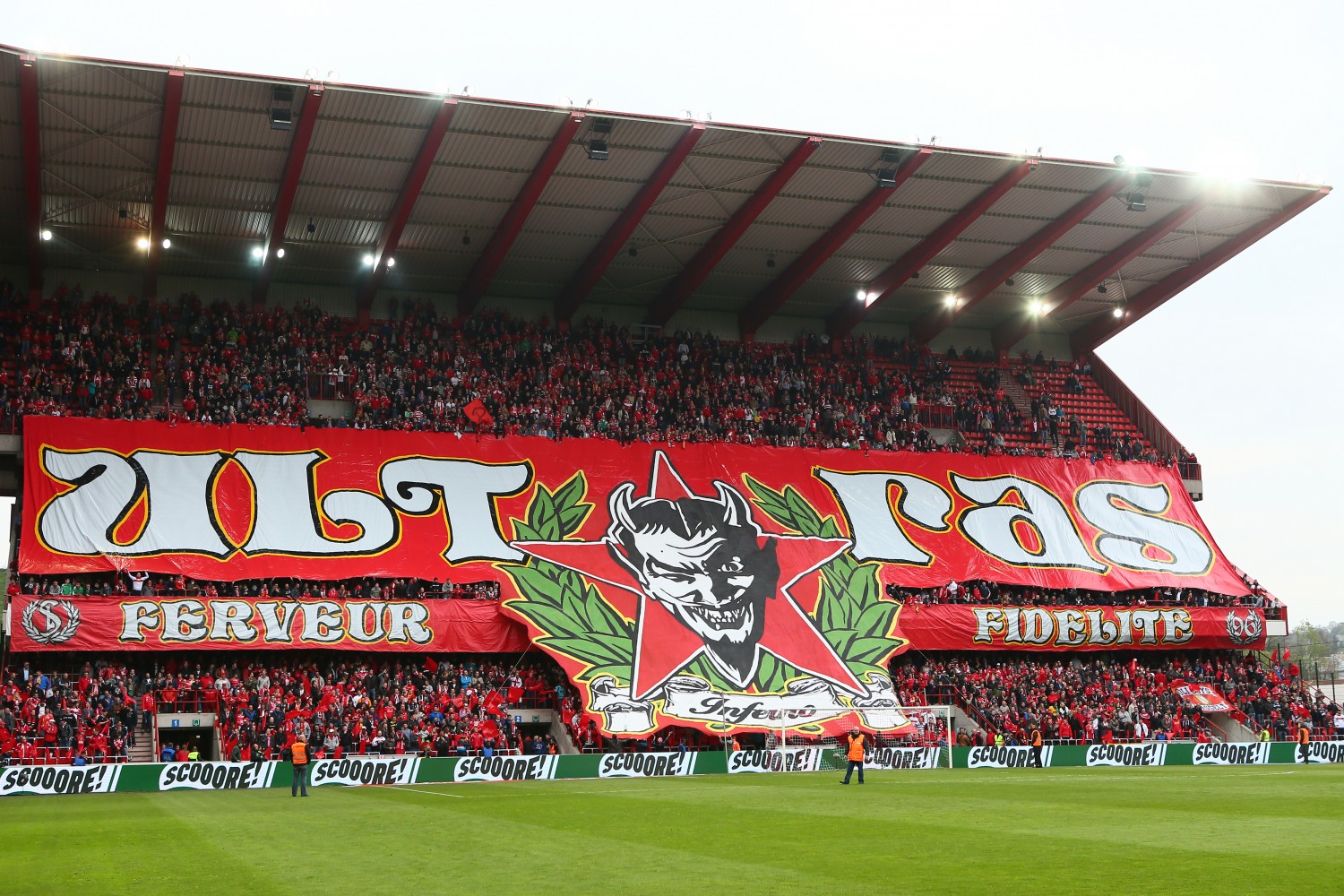 The Stade de Sclessin (Stade Maurice Dufrasne) is a football stadium in Liège, Belgium. The stadium holds 27,670 people. It is known as Stade de Sclessin, from the name of the district of Liège where it is located, and also Stage Maurice Dufrasne, who was Chairman of Standard Liège from 1909 (when the stadium was built) until 1931. He was known to take players to his home and cook them a meal if they played well, especially at home fixtures.
Belgium have also played here, notably against Estonia in September 2008 in a 2010 World Cup Qualifier and against Gibraltar on 31 August 2017 in a World Cup Qualifier.
Football Trip to Liege – Getting to the Stadium
Stade de Sclessin is located in the south-west of Liege on the banks of the river Meuse. It lies slightly more than 5 kilometres from the city centre and 3.5 kilometres from Liege's primary railway station Liege-Guillemins.
From Liege-Guillemins take bus 2, 3, or 27 to get to the stadium. Buses leave frequently for the 10-minute ride to the stadium. Get off at stop SCLESSIN.
Address: Rue de la Centrale 2, 4000 Sclessin
Football Trip to Liege – Getting Tickets
Tickets for Standard de Liege matches can be bought at the club office at the stadium. Generally, tickets cannot be bought on the gate of the stadium on the day of the match.
Ticket prices range from €16.00 for a lower-tier seat behind the goal to €32.00 for a central seat at the main stand. Prices are increased for a number of top matches to between €18.00 to €43.00.
Football Trip to Liege – Fixtures
When planning your football trip please note that the dates shown represent the weekend that the game is scheduled to take place and games are likely to change through the season and be moved for TV scheduling.
The standard liege website is rubbish so I'd just use Google's information.
The schedule for kick-off times in Belgium can be found our Planning a Football Trip to Belgium page (COMING SOON)
Football Trip to Liege – Where to stay. What to See. Where to Eat. Where to Drink
Football Trip to Liege – Where to stay
In the centre and then everything is walking distance.
Football Trip to Liege – What else to see & do
Just outside of the city there are a number of breweries that are well worth a visit. A must-see-and-drink is the Abbey du Val-Dieu, which revived the tradition of abbey-beers at the site of this Cistercian monastery. Set in typically rural Wallonia – complete with orchards, sheep and wooded valleys – it is just a few miles east of Liege. Val-Dieu brews and serves a typical troika of Belgian beers – a blonde, a brune and a tripel. It's the Triple (9.0% ABV) that's the favourite of many, an unfiltered, unpasteurized, rich pale ale brewed according the old monastic recipe. There plenty of other fine breweries set into the rolling hills close to Liege.
Visit Prince-Bishop's Palace: First erected in the 10th century, it was wiped out by a fire in 1185 but rebuilt shortly after. What you see these days is the re-do by Prince-Bishop Erard de la Marck in 1526. It's a sort of drive-by attraction where you can only see the facade and the courtyard.
La Batte Market: Do you want to see the marvels of real food on display at the largest and oldest market in Belgium? Chances are you'll get hungry for some of the towns iconic Boulets à la Liégeoise, meatballs, because you'd have covered a mile's worth of stalls selling everything from stinky cheeses to flowers and local artisan product.
Coteaux de la Citadelle: If walking the market isn't enough for you, Stroll the Coteaux de la Citadelle, a hillside area with panoramas of Liège. You can pick up a map of 6 recommended walks from the tourist office. If you're lucky enough to be in Liège on the first Saturday of October, you can walk it at night when the place is ablaze in candlelight from over 15,000 candles for La Nocturne.
Grand Curtis Museum, built in the 16th century and holds 7000 years of regional and international artifacts and includes an Arms museum. Musée d'ansembourg is housed inside an 18th-century residence and is devoted to the decorative arts.
Football Trip to Liege – Where to Drink
In Liege itself, though, brewing takes a firm second-place to consuming – there are no breweries of distinction, open for the inspiration, and education, of the beer tourist. But what Liege lacks in breweries, it makes up for in brown cafés and beer-shops. Perhaps the best-known is the Vaudree beer-shop and brasserie combination, on the left-bank of the Meuse, across from Outremeuse. This place has a mammoth beer list, running to 900 if you want to count them. And Wallonia's finest are to be counted amongst them. There is a particularly good representation of the mini-constellation, that the local Saissons beers make, to Belgium's beer universe.
The Saissons are a peculiarity of the Walloons, so-called because they were generally brewed in the winter, to be consumed in the summer by farm-workers (saissons is Walloon for 'seasons'). They typically use a mild Pilsner malt, but add a solid dose of spelt grain too, bringing a nutty hint to what are otherwise refreshing, zesty beers.
The area known as "Le Carré" offers numerous options to drink and party 365 days per year, with a young, vibrant, student atmosphere. Also worth a visit: the Place du Marche.
Le Vaudrée II is located on 149 Rue Saint Gilles, just a 4-5 minutes walk from Liège Cathedral. It's open from early morning until well after midnight on every day of the week, offering breakfast, lunch and dinner accompanied by high quality Belgian beer. On tap, they serve 24 draft beers and on bottle more than 900 different types.
La Maison du Peket, behind the town hall, mainly serves fruit-flavored versions of genièvre, known locally as péquet.
Taverne Saint Paul (8 Rue Saint Paul, Liege). A genuine brown pub, clearly with a bit of history. Located along a small side street by the cathedral, in the centre of Liege. Not a massive selection of beers, but a few interesting ones, and by far the best atmosphere found in any bar in Liege.
Pot Au Lait (Rue Soeurs De Hasque 9, Liege) The place is in the city centre, down an alley off a side street near the main cathedral in the centre. It can be a bit difficult to find? The alley greets you with graffitied walls, and during the summer there are benches and lots of people hanging about outside.
BeerLovers Café & Shop (formally L'Antre du Vaudrée) is a bar and shop where you can sample great beers from a list of about 300 beers. Located in thecenter of Liège, near the Market Square, along the Town Hall.
Football Trip to Liege – Where to Eat
The top culinary specialty of Liege is undoubtedly a plate of boulets-frites, beef and pork meatballs with a pile of those wonderful Belgian fries, often served with rabbit sauce: boulettes sauce lapin. Some favorite food includes:
Herve – for lovers of stinky cheeses
A salade liégeoise – composed of green beans, potatoes, and diced "bacon" (lardon).
The gaufres de Liege – special Belgian waffles. Theseuse a yeast batter that includes a dose of large sugar crystals that disolve upon cooking to become molten caramel.
Pèkèt – often called Walloon Genever, this is a young gin. Much of it is consumed on August 15th in Outremeuse (an island in the river) in a big festival in honor of the Black Virgin.
Café liégeois – a sweet dessert made from coffee flavored ice cream.
Huggy's Bar has become such a phenomenon in Liège that it recently opened another venue in the city. As it stands you're sure to find the flavour you're looking for among their 43 different burgers, whether it's American-inspired (the Boston Tea Party burger or Dallas Burger), European-flavoured (the Little Italy or Greco Burger), or a majestic triple whopper called the THB Tower 3×3
Ma Ferme en Ville works exclusively with ingredients that are produced within a 50-kilometer radius.
Football trip to Liege – Useful links