Planning a Football Trip to Brussels? Free guide – where to stay, eat, drink and how to get tickets & to the stadium.
Football Trip to Brussels – How to get to Brussels & How to get around
Football Trip to Brussels – Fly to Brussels
Multiple airlines fly to Brussels every day and you are able to fly direct from Brussels from most large airports in the UK
Start your holiday in style and enjoy the experience of VIP travel – book an airport lounge with Lounge Pass from as little as £13.50. With 200 airport VIP lounges worldwide, including 35 UK airports you can add an extra touch of luxury to your next trip and make the travel experience a whole lot better.
Directions from the Airport
Brussels is 12 kilometres (7 miles) from Brussels Airport.
Train – The normal metro tickets are not valid for travel on the Airport Line (train line) between the airport and Brussels; therefore you have to buy special trip tickets from the railway stations and at the airport railway station on Level -1 before boarding the train. Check the latest ticket prices at www.b-rail.be. There are three stops within the city at each of the main railway stations Brussels-Nord, Brussels-Centrale and Brussels-Midi. At each of these stations there are metro lines, buses and trams that connect to other parts of the city. Go to the website for Brussels public transport at www.stib.be. The train takes around 20 minutes from the airport to the centre.
Bus – Every airport bus departs and arrives at the bus station at Level 0. There are a number of public, private buses and the Airport Express. Airport Line – The Airport Line is a public Brussels Airport bus operated by STIB that take you from and into the European district of Luxemburg and the city centre. There are two buses: Line 12 and Line 21. Line 12 (operates Mon-Fri until 8pm) is express only travels to main stations – the only metro stop is Schuman (EU Headquarters) and the last stop is Luxemburg station. Line 21 (operates after 8pm on weekdays and on weekends) has many more stops and ends at Hertog / Ducale, the metro stops are Schuman and Trone. The last stop is close to the city and just outside the Royal Palace – 10 minutes walk from Brussels Centrale. Fares are €3 outside the bus; €4 on the bus; €21 for 10 trips. www.stib.be
Airport Express Bus – There are two bus companies that operate 'airport express' buses to and from Antwerp and between three cities in the Netherlands Breda, Rotterdam and Utrecht and Brussels Airport. www.aiportexpress.be operates between Antwerp and Brussels Airport there are buses every hour and price is €10 one way – travelling time is 45 minutes. www.brusselsairportexpress.be operates between the three cities in the Netherlands and Brussels Airport – travel times vary and prices start at €25 one-way and only €37.50 return. Book your tickets online.
Football Trip to Brussels arriving at South Charleroi Airport
Many budget airlines such as Ryan Air land at Brussels South Charleroi airport. This is actually about 55 kilometres south of Brussels so stretches the description a little bit, remember to add an extra hour if you're flying in our out of this airport. Be careful also if you are leaving on an early morning flight. Public transport may not be available and unless you have 4 people in the taxi it can be an expensive trip as you can expect to pay up to 160 Euros for the trip. Try to agree a price in advance. There are some websites where you can book a taxi in advance;
Bus – Every 30 minutes a shuttle coach leaves the airport to take you to the main Brussels railway station (Brussels Midi). The shuttle coach stop is at the crossing of rue de France and rue de l'Instruction. WE STRONGLY ADVISE TO TAKE THE SHUTTLE FROM BRUSSELS MIDI RAILWAY STATION AT LEAST 3 HOURS PRIOR TO DEPARTURE OF YOUR FLIGHT (EXCEPT FOR SHUTTLE AT 4.00AM). THIS COSTS AROUND 14 EUROS
Train – At Charleroi airport there are two ticket dispensers where you can buy a single or a return ticket (return on the same day) valid for "any Belgian destination". This ticket covers a journey in a TEC bus (from the airport to Charleroi-Sud station) and a train journey (from Charleroi-Sud to any station in Belgium). The two ticket dispensers are placed outside the airmort, near Door 2. Two methods of payment are accepted: cash or credit/debit card. Timetable and informations on rail services: www.sncb.be
Taxis from the Airport
Taxi – Brussels AirportAll permanent taxi stands are located outside the Arrival Hall. It will cost approximately €35 to travel into the city centre (such as Brussels Centrale). Avoid getting into unlicensed vehicles posing as taxis which may overcharge you for their services. There is not a distinctive taxi look. Taxis are different makes and colours so look out for the yellow and blue license emblem and the triangular stand at the top of the taxi.
A taxi from the airport to Charleroi-Sud Train station should cost 20 Euros. From here you can get into Brussels Centre on the train in under an hour. A tax from Charleroi Airport to Brussels centre can cost 200 euros so if you plan to travel this way make sure you negotiate a reasonable fare in advance.
ShuttleDirect.com has proved a hit with internet-savvy travellers around the world. Here's why: Over 1000 routes to the major holiday destinations in 18 countries, and more destinations being added all the time. We are confident we have the best prices for transfers on the internet. Instant Confirmations. Most transfers are booked and confirmed immediately.
Football Trip to Brussels – Travel By Train
Travelling by train from London to Brussels is very easy, with Eurostar offering six to ten departures per day on this route. Tickets start at around £30 and the journey takes between 2 and 3 hours, you can book tickets via Voyages SNCF.
Football Trip to Brussels – Travel By Coach
Eurolines provide coaches to Brussels from London. They offer an overnight service leaving London around 20.00 and arriving at around 5:15 the next day. They also offer a service leaving at 6:00 and arriving in Brussels at 12:30 and another one leaving at 8:00 and arriving at 16:30 on a daily basis.
Football Trip to Brussels – Travel By Ferry
It takes between 2 and 3 hours to drive to Brussels from Calais. Book tickets via DFDS Seaways.
Football Trip to Brussels – Travel Around Brussels
If you stay in the centre then you might not need to use Public transport as the city centre is fairly compact. The public transport system is made up of the metro (underground trains), buses and trams that criss-cross the city. All of these services are operated by the same company STIB and therefore share the same ticketing system. This makes it easy to make transfers and to purchase tickets. Intercity trains are operated by a separate company SNCB but all the railway stations are connected to metro stations, tram stops and bus stops.
This site has maps to the Underground that you can print: http://www.stib.be/netplan-plan-reseau.html?l=en
Football Trip to Brussels – How to Get to the Match
Football Trip to Brussels – The Stadium
Constant Vanden Stock Stadium
The stadium opened in opened in the summer of 1918, but was initially named in honour of the first president of the club, Emile Versé. Originally the ground had only one wooden stand but this was expanded through the 40's and 50's until the ground eventually held 40,000 fans. The stadium held the Euro 1972 semi-final between Hungary V Soviet Union but was not selected as a Euro 2000 venue as it's capacity is less than the 30,000 required. The ground was developed in 2013 to add an extra ring and increase the capacity above 30,000.
http://www.stadiumguide.com/constantvandenstock/
Stade Fallon
Fallon Stadium is located in one of the greenest and most pleasant places in the Belgian capital. The site covers about 22 hectares. It includes among other things six football fields with synthetic 3 and 12 tennis courts (including 5 seats). The Stade Fallon has a history, as was the home of the White Star AC and Racing White . The latter played there until 1973. The biggest game played at the stadium was in 1972 when 10,000 supporters watched Racing White play CUF Barriero in the Uefa Cup.
Football Trip to Brussels – Getting to the Stadium

Getting to Constant Vanden Stock Stadium for Football Trip to R.S.C. Anderlect: Address: 1070 Anderlecht, Belgium
The Metro is the easiest way to reach the stadium. Take line 1b 9 stops in the direction of Erasmus and align at Saint-Guidon. It takes around 15 minutes from Gare Centrale. The ground is 500m from the station along Rue de la Pocession. A taxi from the Grand Place to the stadium should be around 15 Euros.
Getting to Stade Fallon for Football Trip to Royal White Star Bruxxels: Address: Chemin du Struykbeken 1, 1200 Woluwe-Saint-Lambert
Take the Metro No 1 from De Brouckere near the Grand Place in the direction of Stockel (15 mins, 12 stops). Align Vandervelde and walk to Stade Fallon through Parc Malou.
Football Trip to Brussels – Getting Tickets
Ticket Office Opening hours – Monday-Friday 09.00 – 17.30 & Saturday 10.00 – 12.00
Opening hours on matchdays
Weekdays : 09.00 until start of the game
Weekend : Three hours before the match until the start of the game
Ticketing Info – Buying tickets or a season ticket for the home matches of R.S.C. Anderlecht is only possible on presentation of an identity card (or a recto-verso copy).
RSC Anderlecht often sell out so it's worthwhile contacting the ticket office in advance to try and reserve a ticket. The club allow English-based supporters to reserve tickets in advance by emailing them at ticketing@rsca.be or by calling the ticket office on +32 2 529 40 67. Do this well in advance of the game.
The biggest games are against their traditional rivals Standard Liege and Club Brugge. The Classic: Standard Liege-RSC Anderlecht: http://www.fifa.com/classicfootball/clubs/rivalries/newsid=107186/index.html
The Belgium government is very much against Ticket Touts and has passed legislation outlawing it. As such we could not find any tickets outside the ground for the Anderlecht v Standard Liege game in 2013. In the past when playing English teams, Belgium's police have warned anyone found in the vicinity of the ground during the whole of the matchday without a ticket would be arrested. Carrying an ID card in Belgium is also mandatory so don't forget to keep your passport on you.
Stade Fallon
Tickets costs between 10 and 15 Euros. Couldn't find an online shop but it's the Belgium second division so I'd be surprised if you struggle for a ticket.
Tickets for Anderlecht games can also be bought by re-sellers such as Viagogo.
HotFootballTickets.com – was created to provide Football fans in Europe as well as fans from all over the world an easy and simple way to purchase online from the convenience of their home or Offices, football Tickets at excellent prices with delivery directly to their Home or Hotel.
Buy your football tickets on the official site of LiveFootballTickets.com. We offer tickets for the best matches in England and European leagues online.
Football Trip to Brussels – Fixtures
Plan your Football Trip to Brussels with our full list of fixtures or the Jupiler Pro League website website.
The schedule for kick-off times in Belgium can be found our Planning a Football Trip to Belgium page (COMING SOON)
Football Trip to Brussels – Where to stay. What to See. Where to Eat. Where to Drink
Football Trip to Brussels – Where to stay
When planning a football trip to Brussels I think you are best to stay Central close to the Grand Place, this is where there is plenty of choice for bars, restaurants and nightlife and closest to the main sites.
In many cities the most cost effective accommodation choice for groups is to hire and apartment. Our sponsors Citybase appartments specialises in serviced apartments. The link below offers online apartment search and booking for destinations around the world.
Football Trip to Brussels – What else to see & do
When planning a football trip to Brussels it is always good to know what else there is to see and do in the city. Here are a selection of the best things which I found using our sponsor Lonely Planet. Lonely Planet also has maps of the city, details of all the best pubs, bars and restaurants and travel information from the city.
You can take a free tour that covers all the main sites – http://www.newbrusselstours.com/daily-tours/free-tour-of-brussels.html
Here is another walking tour shown on a useful map. – http://www.planetware.com/map/belgium-brussels-walking-tours-map-b-b51.htm
Lonely Planet lists the Top 3 attractions as: Grand Place, Musee Magritte, Rue des Bouchers (but you are recommended not to eat here), http://www.lonelyplanet.com/belgium/brussels/sights
The King Baudouin Stadium (formerly Heysel Stadium) is situated on the Heysel in Brussels, in the district of Laeken. Every year, the Stadium welcomes 2 major sports events: the Cup Final of Belgian football and since 1977 the Memorial Ivo Van Damme as well as various concerts. It also welcomes the Red Devils, the Belgian national football team. The King Baudouin Stadion is the biggest stadium of Belgium. Visits are possible all year long from Monday till Thursday, from 10 am till 5 pm, on Friday from 10 am to 4 pm, on booking, except during big events. The visit can be made alone or with a guide. There is a route taking you from the pitch to the control tower and the press room. The stadium reveals its history by means of various interactive tools. Price and reduction : 6 euro for adults, 4 euro for children, students, seniors, Avenue de Marathon 135, 1020 Brussels
It may be a controversial sight in the city, but Brussels' Palace of Justice is free to explore (at least those areas open to the public). Bigger than St. Peter's Basilica in Rome, this giant building towers over the Marolles neighbourhood below. Beside the Palace of Justice, is one of the best free views of Brussels at Place Poelaert, named for the building's architect. Place Poelaert 1, 1000 Brussels
While many of Brussels' major museums charge entrance fees, if you are flexible with your dates, you can visit many of them for free on the first Wednesday of the month. Participating museums include: The Museum of Musical Instruments, The Magritte Museum, Cinquantenaire Museum (Royal Museums of Art and History) and many others. You can see a full list here.
Atomium – Unmistakable symbol of Brussels and Belgium and unique feat in the history of architecture: the Atomium is today the most popular attraction in the Capital of Europe. Built for the 1958 World Exhibition, the Atomium is shaped on the model of an elementary iron crystal enlarged 165 billion times. Beyond surreal walks through tubes and spheres, the Atomium houses a permanent exhibition about its history as well temporary exhibitions for a broad public (sciences, design, society). The upper sphere offers unique and spectacular views across the city skyline. At night, 2970 lights offer a fairy dimension to the 102m high building. The panoramic restaurant is daily open until 11pm. http://www.atomium.be. Square de l'Atomium, 1020 Brussels
Manneken Pis [ˌmɑnəkə ˈpɪs], is a famous Brussels landmark. It is a small bronze fountain sculpture depicting a naked little boy urinating into the fountain's basin. It was designed by Hiëronymus Duquesnoy the Elder and put in place in 1618 or 1619. rue de l'Etuve / Stoofstraat 1000 – Bruxelles
Football Trip to Brussels – Eating & Drinking
Bars we were recommended in walking distance of the Grand Place
Chez Moeder Lambic Fontainas: With 40 or 50 craft beers on tap and gorgeous artisanal cheeses to match: Place Fontainas 8
Le Roy d'Espagne: The former headquarters of the Guild of Bakers, dating from 1697, takes its name from Charles II of Spain, ruler of the Spanish Netherlands at the time: 1 Grand Place
Le Falstaff – It is one of those typical cafés in Brussels (created in 1903) like the Corbeau or the Bonnefooi, where you basically are sitting in the first cafés ever created in Brussels, high walls, wooden columns and really old yet lovely and warm atmosphere! 19 Rue Henri Maus
A La Mort Subite. A tavern called "Sudden Death" may sound alarming, but it in fact refers to a dice game played by clients of an earlier bar. Built in 1928 with a grandeur reminiscent of the Belle Époque, this is a good place to sample a full range of Brussels and Belgian beers, as well as wines, coffee and "petite restauration" (bar snacks and light meals) Address: 7 Rue Montagne aux Herbes Potagères
La Fleur en Papier Doré is purported to have over 1,150 beers. This is one of the few surviving traditional pubs called estaminets; slightly off the beaten track, it's a great place to get a feel for the Brussels of bygone days. Light snacks are offered to accompany fine Belgian beers, including the unique Brussels beer called gueuze: Cellebroersstraat 55, 1000 Bruxelles
La Becasse, "The Lark", is hidden away at the end of a narrow passage, just near the Grand Place. The bar is famous all over the city for its "jeune lambic blanche", a refreshing white beer served in a stone jug. The waiters wear monastic-style uniforms and prepare the house speciality – delicious open sandwiches of sourdough bread with Ardennes ham or smoked herrings. Rue de Tabora 11, Taborastraat 11, 1000 Bruxelles
Le Corbeau (The Raven) is the place serious beer drinkers head for. You can try weird and wonderful brews like Guillotine, Verboden Frucht (Forbidden Fruit), Delirium Tremens, as well as exotic Kriek or Framboise, which respectively taste of cherry and raspberry. But if you really want to impress the locals, order a "Chevalier", which comes in a glass that is about two feet long! Le Corbeau is also a good bet for a cheap lunch, serving plats du jour like "carbonade de boeuf" (beef braised in beer), and "stoemp", similar to a Lancashire hotpot. Rue Saint Michel 18
The Poechenellekelder is right opposite Brussels' most famous – and kitsch – monument, the Mannekin Pis statue, and most people's first reaction would be that it is a classic tourist trap to be avoided at all costs. But go down the steep steps that lead into "The Puppet Cellar" and you'll soon realise that you've stumbled on a wonderfully authentic bar. The decor is more like a surreal museum than a pub. Apart from the usual beers, they also prepare strange traditional snacks like "tete pressee", a tasty brawn, and "kannibal", the Belgian version of steak tartare served on an open sandwich. Rue du Chêne 5
A l'Imaige Nostre-Dame, Tucked away at the end of a long alleyway, this cosy saloon is a firm favourite with a raucous, colourful crowd of Brussels locals, and there is a great atmosphere at any time of the day. Rue Marche-aux-Herbes 8
Delirium Café: Holder of a Guinness World Record for having over 2000 beers on display. Impasse de la Fidélité 4, 1000 Brussels,
You can also look for the Little Delirium Café which is on Rue du Marché aux Fromages 7. There are a couple of bars and several kebab shops on this street.
Celtica, Rue du Marché aux Poulets 55, 1000 Brussels. I first visited here in 2001 when Manchester United played Anderlecht. Returning for a stag do 7 years later we were happy to find they had not put prices up and beer could still be had all day for 1 Euro or 2 Euro for a bottle of Chimay, checking their website now I see that prices have not gone up since then. I was so drunk the 3 days I spent there the first time I didn't realise it had an upstairs. In fact it has a disco upstairs which is lively until 5am.
Recyclart is strange in that it's housed in an old train station. During the day you can still catch the odd train there, but now it's mostly known as an arts centre/music venue. The old ticket booths have been turned into the bar during concerts. It all looks rather underground-like, although it's publicly funded. But they have some cool gigs and parties every now and then. Located in the abandoned train station Brussel-Kapellekerk/Bruxelles-Chapelle, downtown Brussels. http://www.recyclart.be/fr/english-summary
Amadeo – The place for Ribs. (Sint-Katelinjnestraat) Between the Bourse and Marche aux Poissons is a restaurant that specialises in 'spare ribs a volonte'. This means as much ribs as you like served with Baked potato and a side salad. As if all you can eat ribs wasn't good enough the sell you wine by the centimetre in litre and half bottles.
Places to watch English Football – Celtica (http://www.celticpubs.com/celtica/celticabxl.html), Fat Boys (http://www.fatboys-be.com/), O'Reillys (http://oreillys.com/brussels/), Six Nations Pub & Restaurant (http://www.sixnations.be/), Churchills (http://www.churchills.be/home/)
Le Goupil-le-Fol is a bar in an old brothel. It's spread out over two floors, in different rooms with carpets and old couches and old junk from the flea market on the wall. It's quite cosy, a nice place to hang out with a group of good friends – although you'll also find some couples necking in the couches. Their selection of drinks is very limited and not cheap but they have some absolutely delicious fruit wines. Rue de la Violette 22, Brussels 1000, Belgium
Porte Noir – It's an atmospheric setting – down some steps into the old brick vaults of a convent that used to sit above it, to three rooms with bench seating, bottled beer in fridges, and about 10 Belgian beers on draught. They have a beer list so you can browse through this to decide on your next one, or ask the staff to help you choose if they're not too busy. This place can get busy on a Friday and Saturday night, but it's usually worth grabbing the edge of a trestle table if you can. Sometimes there is live music, and it's a great place to spend a few hours getting acquainted with a variety of Belgian beer. It can be vibrant until quite late on a weekend evening but be aware that it doesn't open until 5pm each day (closed Sundays). Cellebroersstraat 67, 1000 Brussels, Belgium
Le Coq has a list of 35 beers including Trappists for around 3 Euros, and some such as Boon Kriek even cheaper: Auguste Ortsstraat 14, 1000
Cheap Eats
Restaurant de la Bourse –They offer an unpretentious café space, with menus in 3 languages including English. Lots of Belgian cuisine. They have a good selection of dishes and sometimes specials – including on occasion rabbit cooked in kriek (cherry beer), stoofvlees (also called carbonnade – a beef in beer stew). Rue de Flandre 32
Fritland – In the heart of (touristy) Brussels, you'll find this excellent frietkot, or fries stand, that serves fries in all shapes. Try the mayo, not ketchup, as it is the choice condiment in Belgium. 49 rue Henri Maus
Noordzee isn't even really a restaurant but a fish-seller that happens to sell some of the best seafood snacks in the city. The fish soup is incredible on a cold day. The mussels, shrimps, calamari and oysters are all as fresh as it gets and washed down with a chilled glass of white wine or champagne. The menu depends on the season and the catch of the day. Rue Ste Catherine 45
Football Trip to Brussels – Useful Guides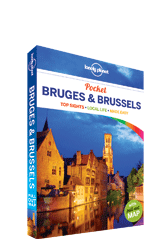 Walking tours and day planners
Maps for every neighbourhood
Packed with expert travel tips
100% independent advice
Book – £7.99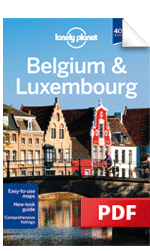 Coverage includes: Sights, Activities, Accommodation, Eating, Drinking & Nightlife, Entertainment, Shopping and Around Brussels
Chapter – £2.99
Football Trip to Brussels –
Useful Links
http://www.brussels.info/red-light-district/
http://visitbrussels.be/bitc/front/home/display/lg/en/section/visiteur.do
http://www.theguardian.com/travel/2008/feb/19/brussels.bars
http://www.beerlycoherent.com/2010/12/top-ten-places-for-beer-in-brussels.html
http://www.telegraph.co.uk/travel/destination/belgium/brussels/35342/Brussels-nightlife.html
http://thepathslesstravelled.wordpress.com/2013/04/16/follow-up-the-graveyard-of-brussels-football-in-the-shadow-of-anderlecht/
RSCA.BE – Official website of RSC Anderlecht
http://www.stadiumguide.com/koningboudewijn/
Brussels, Belgium: in search of the perfect frite – Telegraph
http://beyondthelastman.com/2012/11/01/the-football-cities-of-europe-brussels/
RWDM: a glorious past, but no future? | The Paths Less Travelled