Planning a Football Trip to FIFA Club World Cup Qatar 2019, this post has details of how to get there, get tickets and get to the games.
The tournament will be hosted by Qatar between 11 and 21 December 2019, taking place at three venues in Doha.
Doha combines civilisation and tradition and is known for its many mosques, towers and forts, such as the Doha Fort and Barzan Towers. In addition to its historical sites, Doha boasts high-quality infrastructure, impressive high-rise buildings in the city centre and a choice of modern malls.
Doha experiences hot temperatures all year round. From June to August average temperatures peak at around 42°c and then drop to highs of around 22°c in winter months. Rainfall throughout the summer period is minimal but you may experience the odd shower if you're visiting Doha between November and March.
Prices in Doha are generally a little cheaper than in London. A mid-range three course meal for two costs around QAR200.00 (£38.50), you can get an inexpensive restaurant meal for as little as QAR30.00 (£5.80) and a one way journey on public transport is likely to cost around QAR5.00 (£1.00). Taxi travel is also much cheaper in Doha but you will certainly find alcohol, in both restaurants and supermarkets, much more expensive.
There are 182 (direct) flights between Doha and London per week, averaging 26 per day. Qatar Airways (11 times daily), British Airways (11 times daily), American Airlines (1 times daily) are the most frequent flyers on this route. In the past 3 days, the cheapest return tickets were found on Jazeera Airways (£370), Royal Jordanian (£474) and Turkish Airlines (£474).
There are 77 (direct) flights between Manchester and Doha per week, averaging 11 per day. Qatar Airways (4 times daily), SriLankan Airlines (4 times daily), British Airways (3 times daily) are the most frequent flyers on this route. In the past 3 days, the cheapest return tickets were found on Oman Air (£382), Turkish Airlines (£492) and Pegasus Airlines (£512).
Doha Airport
Doha Airport (also known as Hamad International Airport) is located east of Doha city centre. The airport has just one terminal, split into five concourses.
It takes around 30 minutes to get through security checks as an arriving international passenger and, once through to the baggage reclaim area, you can pay QAR20.00 for a porter to help with your bags. In the arrivals hall, there's an information desk and free Wi-Fi connection.
There are a variety of ways to reach Doha city. Car hire companies and a limousine service both operate at the airport. If you'd prefer to take public transport, buses depart from the Bus Pavilion, to your right as you exit the terminal building. Passengers can choose form Route 109 or Rote 747 depending on their final destination and will need to purchase a Karwa Smartcard from the bus driver. A card costs either QAR10.00 for two trips within 24 hours, of QAD20.00 for unlimited trips within 24 hours.
Taxis are also available with a rank located to your left as you exit the terminal building. All airport taxis are metered and charge a standard starting fare of QAR25.00. You'll need to pay in cash and in local currency.
Stadiums
Education City Stadium
Jassim bin Hamad Stadium
Rebuilt in 2004 ahead of hosting the Gulf Cup, it also plays home to Qatar's national team, who are the reigning AFC Asian Cup winners, while has even entertained two editions of the Supercoppa Italiana – won by Napoli in 2014 and AC Milan in 2016.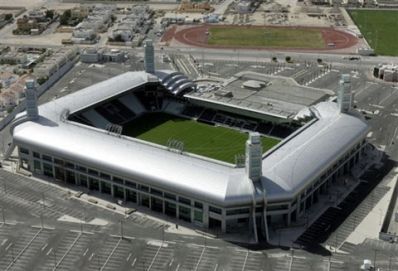 Khalifa International Stadium
Al Rayyan's much-loved Khalifa International Stadium is Qatar's most historic football venue, having hosted the Asian Games, the Gulf Cup and the AFC Asian Cup among other sporting events.
Fixtures
Tickets
From 14 November 2019, 13:00 CET / 15:00 in Doha, until 21 December 2019, Tickets will be available to the General Public.