Planning a Football Trip to Glasgow? Free guide – where to stay, eat, drink and how to get tickets & to the stadium.
Football Trip to Glasgow – How to get to Glasgow & How to get around
Football Trip to Glasgow – Fly to Glasgow
Multiple airlines fly to Glasgow every day and you are able to fly direct from Glasgow from most large airports in the UK
Start your holiday in style and enjoy the experience of VIP travel – book an airport lounge with Lounge Pass from as little as £13.50. With 200 airport VIP lounges worldwide, including 35 UK airports you can add an extra touch of luxury to your next trip and make the travel experience a whole lot better.
Directions from the Airport
Glasgow Airport is about eight miles west of the city centre and just two minutes from the nearest town, Paisley. Buses and taxis pick up outside the terminal for travel into central Glasgow, or to the nearest rail station (Paisley Gilmour Street).
By bus – First Service 500 (Glasgow Shuttle) and First Service 747 (Air Link) buses run frequently in to the city centre. Stopping services and buses to Paisley Gilmour Street rail station are also available. Glasgow Airport by bus
By train – Paisley Gilmour Street station (for trains to Glasgow Central) is about two miles from the airport and linked by the 66 bus. Combined bus/train tickets to the airport are available from any station in Scotland. Glasgow Airport by train
Taxis from the Airport
By taxi – Taxis are available at the airport 24 hours a day. Journeys are metered and the fare to the city centre is about £20 to £22, as regulated by Renfrewshire Council. Glasgow Airport taxis
HolidayTaxis.com is a worldwide transport service, offering you airport to city and resort transfers in over 11,000 destinations in over 120 countries around the world.
Football Trip to Glasgow – Travel By Train
You can get a train to Glasgow from all over the UK – try https://www.thetrainline.com/ for times
Football Trip to Edinburgh – Travel By Coach
Book cheap coach travel to Glasgow from hundreds of UK locations with National Express.  You could also try Megabus.
Football Trip to Glasgow – Travel Around Glasgow
Glasgow is a compact and walkable city. Built on a grid system, it is easy to navigate on foot or by public transport.
Scotland's only Subway system's circular route is a fast and efficient way to travel around particularly in the city centre, west end and south side areas.
Operating hours are Mon to Sat 6:30am – 11:30pm; Sun 10am – 6pm, Runs every 6-8 minutes. Ticket Prices: £1.40 single; £2.60 return, Day ticket £3.80
Football Trip to Glasgow – How to Get to the Match
Football Trip to Glasgow – The Stadium
Celtic Park is the home of Celtic Football Club and is one of the biggest football stadiums in Europe. Celtic Park has been the home of Celtic since 1892. A large redevelopment was undertaken in the 1990s and Celtic Park is now an all-seater stadium with a 60,832 capacity. The stadium is also known as Parkhead and is in the east end of Glasgow. You can take a guided tour of the stadium and learn about the rich history and heritage of Celtic who won the European Cup in 1967 and have enjoyed a vast amount of domestic success in league and cup competitions. As well as football, Celtic Park has staged major rock concerts and is the venue for the Opening Ceremony of the 2014 Commonwealth Games. Over the past decade Celtic are second only to Manchester United in terms of average attendance records in British football. The stadium has been situated on its current site since 1892.
Ibrox Stadium is a football stadium located on the south side of the River Clyde, on Edmiston Drive in the Ibrox district of Glasgow. It is the home ground of Scottish Premier League club Rangers and has an all-seated capacity of 51,082. Ibrox is presently the third largest football stadium in Scotland and tenth largest stadium in the United Kingdom. It was opened as Ibrox Park in 1899, but suffered a major disaster in 1902 when a wooden terrace collapsed. Vast earthen terraces were built in its place, while a Main Stand that it is now a listed building was built in 1928. A British record crowd of 118,567 gathered in January 1939 for a league match with Celtic. After the second Ibrox disaster of 1971, Ibrox was largely rebuilt. The vast bowl-shaped terracing was removed and replaced by three rectangular, all-seated stands by 1981. After renovations were completed in 1997, the ground was renamed Ibrox Stadium. Ibrox Park had the worst safety record in Britain. Two fans died in September 1961 when a barrier collapsed on Stairway 13. After this incident, Rangers installed safety measures, but further injuries were sustained in both 1967 and 1969. The worst disaster to yet affect football in Britain happened two years later, after the Old Firm game on 2 January 1971. Sixty-six people died of asphyxiation due to a crush on Stairway 13. The Ibrox disaster of 1971 led to the club developing a modern, safe stadium. Willie Waddell visited modern grounds in West Germany during the 1974 World Cup and believed that steep terracing and exits, such as Stairway 13, had to be replaced. FROM THE RANGERS ARCHIVE – http://www.therangersarchive.co.uk/index.php?option=com_content&view=article&id=112&Itemid=161
This website has a good description of Partick Thistle's ground: http://www.footballgroundguide.com/scotland/partick_thistle.html
Football Trip to Glasgow – Getting to the Stadium
Celtic Park (Celtic) – Buses from Glasgow City Centre – From Glasgow City Centre, the Nos. 61, 62, 64, 255 and 240 buses go to Tollcross Road and you would get off at the Parkhead Forge Shopping Centre and walk down to Celtic Park. The No 43 bus goes along London Road past the ground. Trains from Queen Street to Bellgrove take you to within 20 minutes walk of the ground. Trains from Glasgow Central or Argyle Street to Dalmarnock and Bridgeton take you to within 5 minutes walk of the ground.
IBROX (Rangers) from http://www.footballgroundguide.com/scotland/rangers.htm – The ground is at least a couple of miles away from Glasgow Central & Queens Street railway stations. Either jump in a taxi, or proceed down Argyll Street to the St Enoch Underground Station and take the Inner Circle underground train to the ground. Ibrox has its own underground station, only a few minutes walk away. The station though gets exceptionally busy after the games. Alternatively, there always seems to be a number of buses running by the ground which are heading back into the City Centre,
Firhill (Partick Thistle) – For away fans visiting Firhill, the nearest mainline stations are Glasgow Queen Street (arriving from North of Glasgow) and Glasgow Central (arriving from South of the city). From here get the underground. Both Kelvinbridge and St Georges Cross stations are within 15 minutes walk of Firhill. The postcode for Firhill is (G20 7AL)
Football Trip to Glasgow – Getting Tickets
FOUNDED in 1888 as a charitable venture in the East End of Glasgow, Celtic have grown to become one of the biggest clubs in Scotland and the only Scottish club to win the European Cup when they beat Inter Milan 2-1 in 1967. They also reached the 1970 European Cup final and the 2003 UEFA Cup final. Their 60,000-seater stadium is the biggest football ground in Scotland. Celtic Tickets can be bought Via 24-hour booking line (subject to booking fee) 0871 226 1888 or buy visiting the Celtic FC ticket office. The Ticket Office is open Monday to Friday, 9.30am til 5pm. It is also open until kick-off on a match day.
Rangers Ticket Centre is open Monday to Wednesday & Friday from 9am-5pm, Thursday from 9am-6pm, Saturday from 10am until 2pm and closed on Sunday, on matchdays it is open from 10am through to kick-off. Tickets on sale now priced from £17 for adults, £13 for concessions and £5 for juveniles. You can also purchase tickets online: http://www.rangers.talent-sport.co.uk/PagesPublic/ProductBrowse/productHome.aspx
Partick Thistle – On match day tickets are on sale in the main office from 10am until 90 minutes before kick-off, then from the portable ticket office at the Jackie Husband Stand. Tickets are on sale Monday-Friday from 9am – 5pm in the main office. Adults tickets are £20 and there is the option to pay on the gate in the North Stand.
Tickets can also be bought by re-sellers such as Ticket Bis and Viagogo.
HotFootballTickets.com – was created to provide Football fans in Europe as well as fans from all over the world an easy and simple way to purchase online from the convenience of their home or Offices, football Tickets at excellent prices with delivery directly to their Home or Hotel.
Buy your football tickets on the official site of LiveFootballTickets.com. We offer tickets for the best matches in England and European leagues online.
Football Trip to Glasgow – Fixtures
When planning your football trip please note that the dates shown represent the weekend that the game is scheduled to take place and games are likely to change through the season and be moved for TV scheduling.
Plan your Football Trip to Glasgow with our full list of Celtic fixtures and full list of Rangers fixture
Check the SPL website when planning your football trip to Holland for latest fixture information.
The schedule for kick-off times in Scotland can be found our Planning a Football Trip to Scotland page (COMING SOON)
Football Trip to Glasgow – Where to stay. What to See. Where to Eat. Where to Drink
Football Trip to Glasgow – Where to stay
Personally I'd stay in the W End, a lot of the attractions like Kelvingrove and the University are in the W end and there are innumerable nice pubs/restaurants/shops in the area too. Either way, you can get around easily between the city centre and W End by using the subway (http://www.spt.co.uk/subway/). If you only have a short time here then the hop-on, hop-off bus is a good option (http://www.citysightseeingglasgow.co.uk/).
In many cities the most cost effective accommodation choice for groups is to hire and apartment. Our sponsors Citybase appartments specialises in serviced apartments. The link below offers online apartment search and booking for destinations around the world.
Football Trip to Glasgow – What else to see & do
When planning a football trip to Glasgow it is always good to know what else there is to see and do in the city. Here are a selection of the best things which I found using our sponsor Lonely Planet. Lonely Planet also has maps of the city, details of all the best pubs, bars and restaurants and travel information from the city.
The Founders Trail, an open-top bus tour of the city, is an "unique tour of Glasgow, telling the story of the four young men who founded Rangers Football Club in 1872", according to Visit Scotland. http://www.thegallantpioneers.co.uk/The-Founders-Trail.html
West of Scotland Cricket Club's ground at Hamilton Crescent, Partick was the site of the world's first international football match. It was there, on November 30, 1872, that international football was born. England travelled there to play Scotland in a match that finished 0-0. There is a plaque on the clubhouse marking the event. http://www.eveningtimes.co.uk/lifestyle/memories/glasgow-s-little-known-place-in-sporting-history.1382016386
Scottish Football Museum (Hampden Park, Glasgow). See more than 2500 exhibits in 14 galleries, walk amongst Scotland's footballing legends in the Hall Of Fame and take the Stadium tour. On the Stadium Tour you will see the Stadium as the players do on Matchday – visit the underground roadway, team changing rooms and have the speed of your shot electronically measured in the players warm up area. Walk down the tunnel, hear the famous Hampden Roar.
The Clyde River is renowned for its ship building heritage, with some of the most famous ships in the world being built on the river's banks. The Glenlee is a tall ship, launched onto the Clyde in 1896. After sailing throughout the world for over 80 years, the ship has returned home and is now a maritime museum. Visitors can tour the unique ship and sample a piece of Glasgow's shipbuilding past. The Tall Shop is located at The Riverside Museum, Scotland's National Transport Museum.
Ascend 150 feet for some of the most spectacular views across Glasgow. Titan Clydebank is a 100 year old shipbuilding crane which has become one of Scotland's most unique tourist attractions. Climbing a crane may seem like a strange activity; however Titan is a symbol of Glasgow's strong shipbuilding heritage and a preservation of the cities industrial past, providing a fantastic day out.
Kelvingrove is a wonderful museum located in the West End of Glasgow, housed within a beautiful 19th century Victorian building. The museum has 22 themed galleries full of 8000 artistic delights and entry into the museum is free of charge.
Football Trip to Glasgow – Eating & Drinking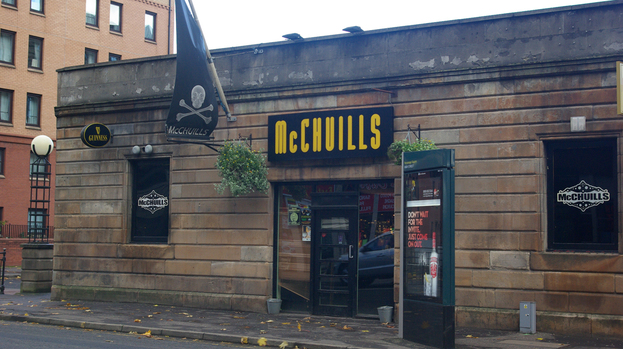 McChuills, (40 High Street) – in the Merchant City end of Glasgow. It has plenty happening with live bands and club nights every weekend and acoustic nights every Thursday. They have SKY Sports and excellent music.
Beer Café (78 Candleriggs) – Beer Glasgow at The Beer Cafe, one of the best Merchant City Bars offering Worldwide Beers including a selection of 90 beers to choose from and a range of pies.
Blackfriars (36 Bell St) – Blackfriars is a gastropub and live music venue located in Glasgow's merchant city offering real ale, great food and brilliant live entertainment.
Babbity Bowser (16-18 Blackfriars St) – The menu at the Babbity Bowster reads like a Who's Who of wholesome Scottish comfort food. They are in the Good Pub guide and Good Beer guide so expect to get some decent ales.
The Horsehoe Bar (17-21 Drury St). The history of the pub goes back to 1846 when William Turnbull, a spirit dealer, occupied the premises. It has the longest bar in the UK.
The Portland Arms (1169 Shettleston Road). One of the most historic pubs in the east end of the city. The history of this old pub can be traced back to 1842, over the years the proprietor had his name above the doorway until Mr Robertson acquired it in the 1880s, the name was then changed to the Portland Arms after his other premises in Troon of the same name. Mr Robertson became a Bailie of Troon. The current pub was built in 1938 and is a category B listed building
The Old Toll (1 Paisley Rd W). The Old Toll dates back to 1892 and has four huge advertisement mirrors on the dark wood panelled walls.
The Bon Accord (North Street). Casks are lovingly tended for in the cellar and dispensed with skill. A varied selection is always available and it is frequently the first to feature new brews from established Scottish breweries as well as some newer names, such as Isle of Mull, Purple Moose and Stewart's.
Uisge Beatha (22/246 Woodlands Road) As you'd expect from a bar named after Scotland's national drink, (it's pronounced ooshka beyha, by the way, and means 'water of life') there's an impressive collection of whisky from which to choose (more than 140 malts) and a good selection of beer. The comfortable atmosphere, friendly staff, cosy sofas in front of open fires, and live music make this bar one of Glasgow's, if not Scotland's, best. www.uisgebeathabar.co.uk
The Scotia (112 Stockwell Street). It claims to be the oldest pub in Glasgow, and once you've passed the rather down-at-heel exterior and settled beneath the dark-stained beams and low ceilings, you may feel that you've passed through a portal back in time. Not perhaps to 1792, when the Scotia Bar first opened its doors, but to a place that seems removed from the 21st century.
The Bar Crawl featured several of the recommended pub: http://food.list.co.uk/article/38833-bar-crawls-glasgow-the-subcrawl/
Nice n Sleazy (421 Sauchiehall Street, 333 0900, nicensleazy.com), has become legendary in 20 years of serving students, indie kids and musos with its mix of live bands and late hours.
Restaurants
The Universal (57-59 Sauchiehall Ln)– The Universal Bar & Kitchen Glasgow offering fantastic drinks promotions and delicious selection of food.
Lucky 7 Canteen ( Bath Street). Offering you the best restaurant deals in Glasgow. Restaurant quality food at affordable prices. http://www.lucky7glasgow.co.uk/menus.php
Stereo Café Bar (22-28 Renfield Lane). http://www.stereocafebar.com/index.php?pid=131
Where the Monkey Sleeps (182 W Regent St). Huge range of sandwiches in this award winning café.
The Charthouse at Jack McPhee (261-263 Hope St). Tom McPhee opened his first fresh fish shop on Stockwell Street in 1948, and it became a Glasgow institution with the now famous phrase "Straight from the sea to T.C. McPhee!"
The 78 (10–14 Kelvinhaugh Street) The main draw is 78's unusually zippy vegan menu, complimented by a range of, largely organic, beers (from £2.90-a-pint).
Cherry & Heather (7 North Gower Street). A stone's throw from Ibrox, in a part of real Glasgow that probably doesn't feature in too many tourists' itineraries, you will find this lovely, dirt cheap deli-cafe.
Football trip to Glasgow – Useful links
http://www.scotsman.com/lifestyle/25-things-to-do-in-glasgow-before-you-die-1-1966134
Eating Out In Glasgow: On a Budget – Student Money Saving
http://www.theguardian.com/travel/2010/apr/06/glasgow-top-10-budget-restaurants
http://food.list.co.uk/article/45081-a-guide-to-the-pubs-and-bars-of-glasgow/
http://www.gsa.ac.uk/visit-gsa/city-walking-tours/
http://www.historicglasgow.com/index.php?page=built-heritage-heritage-trails
Free Glasgow Pocket Guide | Hostelworld.com
http://convertalinktest.affiliatewindow.com