Planning a Football Trip to Lyon? Free guide – where to stay, eat, drink and how to get tickets & to the stadium.
Commercial, industrial and banking powerhouse for the past 500 years, today Lyon is France's third largest city.Outstanding museums, a dynamic student population gives it a decent night-life. For a club only founded in 1950, Olympique Lyonnais has been extremely successful, winning multiple league titles and a regular feature of the Champions League
Football Trip to Lyon – How to get to Lyon & How to get around
Football Trip to Lyon – Fly to Lyon
Lyon is the major hub of the Rhône-Alps region of France. Served by Lyon Saint-Exupery Airport, located 15 miles to the east of the city,
Start your holiday in style and enjoy the experience of VIP travel – book an airport lounge with Lounge Pass from as little as £13.50. With 200 airport VIP lounges worldwide, including 35 UK airports you can add an extra touch of luxury to your next trip and make the travel experience a whole lot better.
Directions from the Airport
Lyon is easily accessible by trams, taxis and private cars. Within 30 minutes, you can be at your hotel and unpacking for your adventure in the Alps.
Tram – The quickest way to get to the centre is via the Rhone Express which takes around 15 minutes.
Step 1 – Make your way to the "Gare TGV" station at the entrance to the airport.
Step 2 – Buy your tickets. Buy ahead of time online at "Rhône Express" (rhonexpress.fr) or at the station.
Step 3 – Collect web-purchased tickets at the TGV station's automatic dispensers.
Step 4 – Trains leave every 15 minutes from 6 a.m. until 9 p.m. Between 5 and 6 a.m. and 9 p.m. and midnight, they depart every 30 minutes.
Step 5 – Exit the train at Part-Dieu Station in central Lyon.
Traveling by bus from Lyon Airport to Lyon city centre – this was promised but I searched all over the airport and also the Gare Perrache and could not find any, my guess is they have all been stopped so you have to get the Rhone Express.
Taxis from the Airport
Taxi – around 45 euros during the day and 55 to 60 euros at night. The trip cost will be displayed on the price metern with extra charges for the following services : Airport pick-up, over the fouth passenger, luggage, animals, motorway tolls, snowed or icy roads. The airport is 25km to the east of Lyon.
ShuttleDirect.com has proved a hit with internet-savvy travellers around the world. Here's why: Over 1000 routes to the major holiday destinations in 18 countries, and more destinations being added all the time. We are confident we have the best prices for transfers on the internet. Instant Confirmations. Most transfers are booked and confirmed immediately.
Football Trip to Lyon – Travel By Train
Lyon in Eastern Central France is just 2 hours from the capital onboard a TGV train, total journey time from London St Pancras is just 5 hours via the the Eurostar. Tickets start at around £51 via Voyages SNCF.
Football Trip to Lyon – Travel By Coach
Eurolines have daily services leaving from London Victoria coach station going to the heart of Lyon's city centre. Fares are from just £59 one way.
Football Trip to Lyon – Travel By Ferry
Lyon is a 6 to 7 hour drive from Calais. -Book tickets via DFDS Seaways.
Football Trip to Lyon – Travel Around Lyon
Public transport – buses, trams, a four-line metro and two funiculars linking Vieux Lyon to Fourvière and St-Just – is run by TCL.  Tickets cost €1.50/12.20 for one/10 and are available from bus and tram drivers and from machines at metro entrances. Tickets allowing unlimited travel for two hours/one day €2.10/4.30 are also available, as is a Ticket Liberté Soirée (€2.10) covering unlimited travel after 7pm. Tickets must be time-stamped on all forms of public transport.
Football Trip to Lyon – How to Get to the Match
Football Trip to Lyon – Getting to the Stadium
Stade Gerland is about 5km South of Lyon along the Rhone River, and it's easy to reach by public transport. It's at the end of line B, which you can get from Part-Dieu train station (you'll need to change trains a couple times if you're coming from Vieux Lyon.  Bus #32 runs past the stadium as well – get out at the Stade de Gerland stop. A single ticket for either the metro or bus cost 2.2 Euros in Nov 2013.
Football Trip to Lyon – The Stadium
Owned by the city, the Stade Gerland has been used by Olympique Lyonnais since 1950.  In 1926 the stadium was inaugurated by Edouard Herriot.
It was a typical sports stadium of the time, inspired by the Roman arenas with a circular gallery placed on a grass embankment. The four giant portals, designed by Garnier, were placed on the Historic Monuments list in 1967.  The stadium originally had a cycling track and was removed for several stages of the Tour de France. This was removed then and since then Stade Gerland has primarily been used for football.  As one the largest stadiums in France it was used for games in both Euro 84 and the World Cup of 1998.
The Bad Gones are the largest ultra group, they occupy the north end of the Stade Gerland. Founded in 1987 when Olympique Lyonnais was still in the second division, the Bad Gones has a rather bad reputation, both for their violent past and for their friendship with the Ultras Sur, a Madrid group well known for extreme right-wing politics.  Their stickers can be found all-over the approach to the stade.
Lugdunum's 1993 occupy the southern end next to the visiting supporters: Lugdu 1993 com.
Lyon have started to build a new stadium called Stade des Lumières a 58,000-seat also in the city.  This will be ready in 2015 and will be used for several games in the Euro 2016 championships.
Football Trip to Lyon – Getting Tickets
Tickets can be bought online.
You can also buy in person from the OL Store near the stadium and any of the France Billet, Ticketnet and Digitick sales outlets.
Tickets cost between £10 and £60 depending on the opponents and where you sit in the stadium.
Tickets can also be bought by re-sellers such as Ticket Bis and Viagogo.
HotFootballTickets.com – was created to provide Football fans in Europe as well as fans from all over the world an easy and simple way to purchase online from the convenience of their home or Offices, football Tickets at excellent prices with delivery directly to their Home or Hotel.
Buy your football tickets on the official site of LiveFootballTickets.com. We offer tickets for the best matches in England and European leagues online.
Football Trip to Lyon – Fixtures
Plan your Football Trip to Lyon with our full list of fixtures.
Football Trip to Lyon – Where to stay. What to See. Where to Eat. Where to Drink
Football Trip to Lyon – Where to stay
Vieux Lyon is easy to walk around, so I would stay as close to here as possible.
You may find cheaper accommodation for your Football Trip to Lyon if you book a hostel via our sponsors HostelWorld.com
In many cities the most cost effective accommodation choice for groups is to hire and apartment. Our sponsors Citybase appartments specialises in serviced apartments. The link below offers online apartment search and booking for destinations around the world.
Football Trip to Lyon – What else to see & do.
Guided tour to Stade Gerland, home of Olympique Lyonnais football club. Tickets can be bought from the tourist information office at Place Bellecour. Tel 04 72 77 72 33.
Below is a link to a 24 hour tour of Lyon's main sites which includes the Old Town, Centre d'Histoire de la Resistance et de la Deportation (14 Avenue Berthelot, www.chrd.lyon.fr, entry €4), in the building where the Gestapo was based in France duing the Second World War, Cathedrale St Jean (Place Saint-Jean) & it's 14th Century Astronomical Clock, an engineering masterpiece built by monks to calculate thousands of feast days.  You can take a Funicular to Basilica of Notre-Dame de Fourvière that overlooks the entire city.
Passage Thiaffait is one of several covered passageways known as traboules in Lyon. Unique to Vieux Lyon and the Croix-Rousse, the old silk-weaving quarter, these secret conduits were originally used by Lyonnais silk-weavers (canuts) to ferry their goods quickly from workshops located at the top of the Croix-Rousse hill to the textile merchants down below. Recently restored to its former glory, the Passage Thiaffait houses a variety of workshops and studios under its roof. The self-styled "Village des créateurs" is a hub for fashion, design and jewellery-making.
The Museum of Fine Arts (20 Place des Terreaux ) is one of the largest French and European museums. Located in the heart of Lyon, between the Rhône and Saône rivers, it is found in a magnificent building dating from the 17th century.  The collections are exhibited in over 70 rooms and offer visitors an outstanding sample of art from antiquity to contemporary art. The museum is regularly enriched, through an active acquisition policy that relies on donors, art lovers, collectors and the descendants of artists.
It also has a guide to some of the best places to eat in Lyon – http://www.dailymail.co.uk/travel/holidaytypeshub/article-587095/The-pride-Lyon–just-day.html
This tour has guide to some of the more alternative tourist sites in Lyon – http://www.theguardian.com/travel/2011/mar/23/top-10-things-lyon-france
Football Trip to Lyon – 6 Great Places to Eat in Lyon
Lyon is known as the Gastronomic capital of France so you are not short of great places to eat;
Bouchons, a word of uncertain etymology which roughly translates as 'tavern', used to feed the workers called 'canuts' who laboured in the silk factories that made the city so prosperous. They even had their own dish, la cervelle de canut (canut brain!), which was actually curd cheese mixed with garlic and herbs. Today, Lyon's bouchons continue to serve cuisine centred on the offal and cooked meats which Lyon is famous for, and each establishment has its speciality.
Here is a guide to some of the best on the Michellin – http://travel.michelin.com/web/destination/France-Auvergne_Rhone_Valley-Lyons/news-Les_Bouchons_Lyonnais_Lyon_s_answer_to_the_tavern
Le Petit Flore in the area near the old Bourse. The menu is reasonable around three courses for 18.50 euros! Inside were red-and-white checked tablecloths and walls covered in old aperitif ads (Dubonnet, Byrrh) and movie posters (Marcel Pagnol's "Marius"). A bit stock, maybe, but Le Petit Flore (19, rue du Garet; 33-4-7827-2751; www.lepetitflore.fr), open since 1976 and manned by one chef and one waiter, didn't feel at all touristy. Instead, it exuded simplicity, honesty.
La Meunière (11 Rue Neuve), restaurant, They offer a convivial atmosphere, owners and waiters are super-welcoming and diners sit elbow-to-elbow on shared tables, but the menu changes all the time. Diners can help themselves to their entrée at the traditional défilé de saladiers, a long table laden with large bowls of eight or nine different salads.
Café des Fédérations. (8 Rue Major Martin), A historic bouchon trading for over 80 years.
Bouchon des Filles. (20 Rue Sergent Blandan) Run by two sisters and former waitresses of Café des Fédérations. They describe their place as a bouchon run by women for people who think that a normal bouchon is too heavy.
Ouest Express (41, rue des Docks; 33-4-7217-9595;www.ouestexpress.fr), an affordable, franchise-ready fast food outlet in a former industrial area on the Saône River, merging a 3 star Michellin chef's love of local ingredients and McDonald's-style burgers and fries. The cooking won't win any Michelin stars, but is highly recommended as a decent cheap eat.
Table de Suzanne (22 Rue des Remparts d'Ainay) – The lunchtime three-course menu (€22) and the menu-carte (€46) both offer fine classic-contemporary French cuisine.
Football Trip to Lyon – 5 Great Plubs in Lyon
In Vieux Lyon I found enough bars for a decent pub crawl and night out.  Most of these bars are around the Gare Saint-Paul area.  Big White (22 Rue Lainerie) looked a cheap drink party bar, next to that was an Irish Bar but I can't remember the name.  Heading towards the river you will find Les Berthom Lyon V, (2 place Ennemond Fousseret) Several Belgian beers on offer (most of them on draught)  it's definitely the best place in the city to find a good selection of beers from Belgium and other countries. There is a small outdoor cafe area and the inside features numerous tables set in a rustic atmosphere. Not too crowded during week except happy hour.  Walking back up Rue Lainerie towards the Gare Saint-Pau you will find the Smoking Dog pub and then another place offering lots of Belgian beers called 'The Beers'.  This was a nice place and busy during happy hour as well.  Carry on towards station and go right towards the river on Rue Octavio Mey and you will find the Elephant and Castle.  It's an OK pub selling Youngs Beer.  The atmosphere was good there a decent mix of tourists and local and international students.
Ninkasi Ale House, (267 rue Marcel Mérieux) – An odd place. A huge complex with everything from café to night club.  Metal bar, scene next to the windows to the brewery. The inside is huge in two stories, but also has outside seating and a beer garden. I'd expected the beers to mediocre and boring when I walked into the gigantic building, but boy, was I wrong? They make a lot of different styles, even beers as far out as Berliner Weisse is made, and the service is friendly and multilingual. Highly recommended! The best brewery in Lyon, some beers are quite excellent  the price of a 6 beer sampler was only 7 EUR. Nice to end the evening there: dance music and dance floor.
Brasserie Georges 1836, (30, cours de Verdun Perrache Lyon) A real French Brassiere atmosphere, the food is expensive but very good, the beer is rare and good. Usually about 4 of their own beers on tap.
Le Palais de la Bière (1 rue Terme  Lyon.) A small place and very busy, with lots of different beers on offer, including many French microbrews. . The interior is mainly kept in wood and the small front room is dominated by a long bar besides a lot of small wooden tables. They only open after 6pm, which is a drawback when on a short visit to Lyon. The service was helpful, but only in French. Worth a visit.
You could also try some of these recommendations from; http://gli-students.com/lyon/guides/out-on-the-town
The old town (Vieux Lyon) is filled with bars, cafe's and restaurants which are all worth a try. Some of the favourite haunts for UK students in this area are The Smoking Dog and Jonny Walsh's, both typically English/Irish pubs with lots of character and always lively. They are open till reasonably late 1am and 2am respectively but if you fancy carrying on then check out the melting pub; a bizarre little place where people seem to congregate until the sun comes up. 
 In the centre of town one of the favourites is Ayers Rock, situated just behind La Place des Terreaux. An australian bar, which is open till 3am where you can get on the tables and dance the night away.
 If you fancy something a bit more up-market or club like, then head down to the banks of the Rhone, where you will find river boats that have been converted into nightclubs. The Fish is one of the more popular but it is quite expensive and you will have to pay to get in, it is open till 7am so you can get your money's worth.
 If you want to watch English Football your best bets are: James Joyce (68 Rue Saint-Jean), Kellys (12 Quai Romain Rolland) or the Smoking Dog (16 Rue Lainerie)
Football trip to Lyon – Useful Guides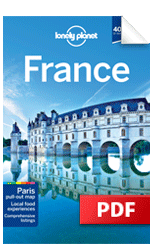 Coverage includes: Lyon, North of Lyon and Downstream along the Rhône.
Chapter – £2.99
Football trip to Lyon – Useful 
links
http://www.theguardian.com/travel/2011/mar/23/top-10-things-lyon-france
http://www.independent.co.uk/travel/48-hours-in/48-hours-in-lyon-8182567.html
http://www.notquitenigella.com/2012/08/23/lyon-france/
http://stingytraveller.com/the-culinary-specialities-lyon/
http://www.gourmet-chick.com/2011/09/48-hours-in-lyon-gourmet-chick-in.html
48 Hours In: Lyon – 48 Hours In – Travel – The Independent