Planning a Football Trip to Madrid? Free guide – where to stay, eat, drink and how to get tickets & to the stadium.
Football Trip to Madrid – How to get to Madrid & How to get around
Football Trip to Madrid – Fly to Madrid
Multiple airlines fly to Madrid every day and you are able to fly direct from Madrid from most large airports in the UK
Start your holiday in style and enjoy the experience of VIP travel – book an airport lounge with Lounge Pass from as little as £13.50. With 200 airport VIP lounges worldwide, including 35 UK airports you can add an extra touch of luxury to your next trip and make the travel experience a whole lot better.
Directions from the Airport
From: http://www.timeout.com/madrid/features/243/travel-information-getting-to-madrid
Madrid's Barajas Airport is 13km (8 miles) north-east of the city on the A2 motorway.
Aerocity (91 747 75 70/www.aerocity.com) provides shuttle services between the airport and city-centre hotels. Handy for small groups and cheaper than taking several taxis. Prices (€17-€38) depend on size of group (from one to seven), the location of the hotel (city centre or outskirts) and the number of pieces of luggage in some cases. The company has two reservation desks at the airport (arrivals at T1 and T2 and T4); phonelines are open 24hrs.
Line 200 bus service runs between T1, T2 and T3 and Avenida de América (information 91 406 88 10), while Line 204 runs to T4. Both take between 30 and 40 minutes, depending on the traffic. There are two stops en route. First buses of the day leave Avda de América and Barajas at 6am; they run every 12mins, 6am-11.30pm. A single ticket costs €1. The airport buses are accessible to wheelchairs.
The metro is the cheapest way to get to central Madrid. Bear in mind that the Aeropuerto metro station is between T2 and T3, which means that if, as is very likely, you arrive at T1, you have a 10-15min walk to get there. From T4, take the shuttle to T2 (allow 20mins in total). From the airport it's four stops on metro line 8 (pink) and 12mins to Nuevos Ministerios. On outward journeys, if you are flying with Iberia, Alitalia and some other airlines you can also check in here. From Nuevos Ministerios it's around another 15mins into the centre of Madrid. You can save money by buying a Metrobús ticket at the airport station.
Taxis from the Airport
Taxi fares to central Madrid should be around €19-€22 (depending on the traffic), including a €5 airport supplement (no luggage supplement). There are further supplements after 10pm and on Sundays (for both, 18¢ per km). There are lots of taxis at Barajas, but ignore any drivers who approach you inside the building, just use the ones at the ranks outside the terminal. Check the meter is at the current minimum fare (€1.85) when you begin the journey; it's a good idea to check a map first, and to have a landmark in mind in the area to which you are going.
HolidayTaxis.com is a worldwide transport service, offering you airport to city and resort transfers in over 11,000 destinations in over 120 countries around the world.
Football Trip to Madrid – Travel By Train
The average journey time between London and Madrid is 16 hours and 39 minutes and the fastest journey time is 13 hours and 5 minutes. On an average weekday, there are 5 trains per day travelling from London to Madrid. The journey time may be longer on weekends and holidays. The first train from London to Madrid departs at 05:40. The last train from London to Madrid departs at 18:01. Trains that depart in the early morning hours or very late evening may be sleeper services. Alternatively, some popular routes may run throughout the night at a reduced frequency. To travel from London to Madrid will require a minimum of 2 changes. Tickets start at around £135 each way via Voyages SNCF.
Football Trip to Madrid – Travel By Coach
Eurolines provide a regular London to Madrid bus service. The bus departs from London Victoria Coach Station, leaving early morning around 8:00 am. Their buses from London to Madrid require passengers to change at Paris Gallieni and Area Suco before finally arriving at Madrid-avda De America station around 12:30 p.m. The total journey time is around a 28 hours. The buses run on Tuesdays, Thursdays and Saturdays at the same times each day. Megabus also operate a twice daily service, morning and evening, to Paris which would then require a change to a Eurolines bus to Madrid. Tickets start at around £98 each way
Football Trip to Madrid – Travel By Ferry
It takes between 14 and 15 hours to drive to Madrid from Calais. Book tickets via DFDS Seaways.
Football Trip to Madrid – Travel Around Madrid
On Foot You can walk most places in central Madrid, and it's the best way to experience the city. With over 300 stations linked together by 15 lines, Madrid's underground will get you around the city quickly and hassle-free.
There are currently twelve metro lines, three light rail lines and a special line connecting the Ópera and Principe Pío stations. Of these, the modern Line 8 (Nuevos Ministerios – Airport T4) is particularly useful for tourists, connecting the capital to Barajas International Airport – taking less than 20 mintues to T4 and only 12 minutes to the other three terminals – and to the Madrid Trade Fair Centre (Ifema). The lines connecting the city to new urban developments are also useful (Line 11 to PAU (Urban Development Plan) in Carabanchel and Light Rail Line 1 to Sanchinarro and Las Tablas).
Apart from running through the city's historical quarter, shopping areas and financial districts, the extensive metropolitan network connects the capital with neighbouring towns. Line 9 reaches the municipalities of Rivas-Vaciamadrid, La Poveda and Arganda del Rey; MetroSur (Line 12) runs through Alcorcón, Móstoles, Fuenlabrada, Getafe and Leganés; MetroNorte (Line 10) links up with Alcobendas and San Sebastián; MetroEste (Line 7) links up with Coslada and San Fernando de Henares, and Metro Ligero Oeste (Light Rail Lines 2 and 3) link up with Pozuelo and Boadilla del Monte. Finally, Line 11 links the capital with the neighbouring area of Barrio de la Fortuna.
Madrid Metro Network (Download the Madrid Metro map)
Madrid also runs an efficient bus service that allows you to take in the city sights as you travel to your destination.
Football Trip to Madrid – How to Get to the Match
Football Trip to Madrid – The Stadiums
The Bernabeu has been the place where Madridistas have enjoyed their team's success since it opened in December 1947.  The Club renovated the stadium prior to the 1982 World Cup. It was revamped again in the 1990s with a taxing expansion that resembled a new construction more than anything else. The Santiago Bernabéu Stadium turned 50 in 1997. New plans have been announced and the remodellation will continue to feature the Stadium Tour and Museum, but a new parking lot for 1,000 vehicles will also be featured, access points will be reformed, and all seats will be roofed.
Athletic Madrid now play at The Wanda Metropolitano.  Located in the Madrid's northeast area, next to the M-40, Adolfo Suárez Barajas Airport and IFEMA. The new stadium's capacity roughly holds 68,000 spectators, with 96 percent of the seats covered by the roof. The club decided to prioritize spaciousness, comfort, and safety of the fans instead of having a larger capacity. In order to have easier access to the localities and reaffirm enjoyment in the most satisfactory way possible, the club has increased the distance between the rows as well as provided adequate access for disabled or reduced mobility fans.  In all stands, except for the Lateral Oeste, those fans sitting in the first row are closer to the pitch than in the Vicente Calderón. The Lateral Oeste's distance to the pitch is similar to the stands in the Calderón. The seats located in northeast corner the closest you can get to the pitch, just 5.89 meters away.
Vicente Calderon Stadion – Athletico Madid's old stadium is due to be demolished in Summer 2018 so move quickly if you want to see it before then.
Campo de Fútbol de Vallecas was previously known as Estadio Teresa Rivero. This website has a good history of the stdium – http://estadiosdeespana.blogspot.co.uk/2011/06/madrid-estadio-teresa-rivero.html
Football Trip to Madrid – Getting to the Stadiums
Real Madrid – Santiago Bernabéu Stadium – The stadium is about 5km North of the city center, located on the Paseo de la Castellana. The metro will get you right to the stadium at station Santiago Bernabeu using line 10. You can also get there by bus by taking lines numbered 14, 27, 40, 43, 120, 147 or 150. Using the metro to get to a game is a great option, but sometimes after a game the station is closed for security reasons – you'll be herded in the right direction to get to another metro stop or you can hop on a bus for the return journey.  In this case if you walk away from the stadium up Paseo de la Castellana you can get the Metro from Nuevos Ministerios which is a 12 minute ride back to the centre.  If you walk the other way up Paseo de la Castellana and end up at Cuzco Metro station, the best thing to do is not to get the Metro from here but walk left 5 minutes up Calle de Sor Angela de la Cruz, to Tetuan station, from here you can get Metro Line 1 back to Sol Station.
Athletico Madrid -Wanda Metropolitano.
We recommend you use the Madrid subway, since it's the best way to get to the stadium. The closest subway stop is Lines 7's 'Estadio Metropolitano'.
Estadio Vicente Calderón – The Estadio Vicente Calderón is located in the Madrid district of Arganzuela, in Paseo Virgen del Puerto, 67.  The stadium can be accessed via the following bus routes, run by Empresa Municipal de Transportes de Madrid: 17, 18, 23, 34, 35, 36, 50, 56, 116, 118 and 119.  If you take the Metro, The closest station sie: Pirámides Station which is on Line 5.  From the station walk down Paseo de la Acacias and then right at the roundabout onto Paseo Melancolicos.  Get this from Opera Metro station in the centre of Madrid.
Estadio Coliseum Alfonso Pérez – The closest Metro station is Los Espartales, if you go left out of the station onto Avenue Rigoberta Menchu and then left again onto Calle Margarita Nelken the stadium is at the end of this street, It's only 300m walk from the station.  To get to Los Espartales from Sol Station – Train – C-4 – Parla-Atocha-Chamartín-Cantoblanco-Alcobendas S.Sebastián de los Reyes/Colmenar Viejo – Direction: Parla.  This takes around 30 minutes
Campo de Fútbol de Vallecas – The stadium is opposite Portazgo Metro station.  From Sol Metro, take line one in the direction of Valdecarros and get off at Portazgo, the Metro takes around 15 minutes
Football Trip to Madrid – Tickets
Real Madrid tickets go on sale a week before a game online.  You can collect your tickets on the day of the game from the stadium.  Unless it is a massive game like the Classico V Barcelona you should be able to buy tickets this way without having to resort to the agencies which are much more expensive..  It is expensive anyway to watch the Galacticos however unless you are happy to sit up in the Gods.  As a guide starting prices for the 4th tier are between 25 and 35 Euros, for the 3rd tier between 35 and 55 Euros, for the 2nd tier between 60 and 85 Euros and for the 1st tier between 65 and 95 Euros depending on the stand.  It is one of the most impressive stadiums in world football however and the chance to see some of the world's best players.
Atletico de Madrid tickets are available at www.ticketmaster.es .  Tickets start at as a guide, 40 Euros for Grada Fondo Sur or Norte, 50 Euros for Grada Baja, 60 Euros for Grada Lateral, 70 Euros for the Tribuna Lateral.  You can buy seats well in advance even before the actual date and times of the game have been announced.  When we checked in September you could buy tickets for all games to the end December.
Want to watch Real Madrid on the cheap in Madrid or even Barcelona? Well watch them when they play one of Madrid's other teams.  Getafe tickets are easy to get and available online at www.entradas.com.   Ticket prices start at 40 Euros.  Another option is Real Rayo Vallecano de Madrid, S.A.D.   Tickets for their games can be bought from ticket windows at the ground.  Tickets rarely sell out and are priced between 20 Euros and 40 Euros for the cheaper games and double against Barcelona or Real Madrid.
Tickets can also be bought by re-sellers such as Ticket Bis and Viagogo.
HotFootballTickets.com – was created to provide Football fans in Europe as well as fans from all over the world an easy and simple way to purchase online from the convenience of their home or Offices, football Tickets at excellent prices with delivery directly to their Home or Hotel.
Buy your football tickets on the official site of LiveFootballTickets.com. We offer tickets for the best matches in England and European leagues online.
Football Trip to Madrid – Fixtures
Football Trip to Madrid – Where to stay. What to See. Where to Eat. Where to Drink
Football Trip to Madrid – Where to stay.
Hotels.com has an excellent Guide to the Madrid neighbourhoods – http://www.hotels.com/articles/ar000295/where-to-stay-in-madrid-a-travel-guide-to-madrid-s-neighbourhoods/
Puerta del Sol and Gran Via
Bang in the centre of Madrid is Puerta del Sol, the hub of the city's famous nightlife. Three metro lines converge here and it's around 30 minutes to Barajas airport. Plaza Mayor's arcades lie a few steps west and a short walk south-east is lively Plaza de Santa Ana. North of Sol is Gran Via, Madrid's main thoroughfare, lined with restaurants, shops, cinemas and grand buildings converted into Madrid hotels. Northwards is shopping street Fuencarral, very close to trendy Chueca's square.
Plaza Espana and Opera
West of Sol is the historical area of Opera, home to elegant Plaza Isabel II and Madrid's grand opera house, Teatro Real. A short distance away is the expansive Royal Palace and Plaza de Oriente, dotted with royal statues. A compact city, Madrid hotels in this area are easily accessible from spots like Plaza Mayor. North of Opera, at one end of Gran Via, is Plaza de Espana. Look up to see two of Madrid's tallest buildings, the Torre de Madrid and Edificio de España where the top-storey bar opens on to sky-high views.
Retiro and Prado
East of Madrid's city centre from Calle de Alcala are the wide boulevards around Madrid's 'Art Triangle'. Madrid's trio of museums includes the Museo del Prado and Centro de Arte Reina Sofia. Just north is the tree-lined avenue ofPaseo de Recoletos, full of cafes. Behind the Prado is verdant Retiro Park stretching south for 330 acres. A lake, rose garden and street entertainers are among its attractions.
You may find cheaper accommodation for your Football Trip to Madrid if you book a hostel via our sponsors HostelWorld.com
In many cities the most cost effective accommodation choice for groups is to hire and apartment. Our sponsors Citybase appartments specialises in serviced apartments. The link below offers online apartment search and booking for destinations around the world.
Football Trip to Madrid – What else to see & do
When planning a football trip to Madrid it is always good to know what else there is to see and do in the city. Here are a selection of the best things which I found using our sponsor Lonely Planet. Lonely Planet also has maps of the city, details of all the best pubs, bars and restaurants and travel information from the city.
The Reina Sofia is Madrid's world-famous modern art gallery – and it has free entry for a limited time every day. That means you can see many works by Salvador Dali and Pablo Picasso – including the latter's masterpiece, the Guernica – completely free after 2.30pm on Saturday
The Museo del Prado is Spain's premier art gallery, housing the finest works of art Spain has ever produced.  Free from 5pm to 8pm (also free from 6pm to 8pm on Saturdays)
There are 13 works by Goya in the Museo de la Real Academia de Bellas Artes de San Fernando, one of Madrid's most important artist institutions. Don't miss Goya's interpretation of the bizarre Ash Wednesday ritual of the Burial of the Sardine, a festival still upheld today.
The Basélica de San Francisco el Grande is most famous for its spectacular dome (bigger than St Paul's), is also notable for its rare early Goya, the Sermon of San Bernardino of Siena (1781).
Visiting the Santiago Bernabeu Stadium, which also houses the Sala de Trofeos with its impressive collection of championship trophies.  Opening Hours Monday – Saturday: 10:00 – 19:30, Sundays & holidays: 10:30 – 18:30, Different on Match Days.  Admission: Children under 14: €11, Adults: €16.  THE VISIT INCLUDES:
-Panoramic view of the Stadium, Royal box, Dressing Room, Players' tunnel, Bench and technical area, Pitch, Trophies room, Shop.
Football Trip to Madrid – Eating & Drinking
Bars we were recommended
Banco de Espagne & Sol
El Tigre, Infantas, 30 (Metro: Chueca / Banco de España) – beer or cider for €1.50, immediately followed by a plate of hot tapas.
Casa Labra, Calle Tetuan, A must stop on your Madrid center pub crawl. Try the "croquetas" and "tajada de bacalao". Good served cañas in a place with history: The filo-socialist Work Movement (UGT) was founded here one century ago.
El Abuelo – Calle Victoria, 12. Since 1906 El Abuelo, which is named for the sweet wine it serves from Alicante, has served its specialty, grilled shrimp and prawns. There are no stools which is good because the place is always packed.
Taberna de Antonio Sánchez – C/ Meson de Paredes, 13. South from the plaza Tirso de Molina – historic "tavern" dating back to 1830, famous for the bullfighters & flamenco artists who frequented it during the years. Boasts traditional tapas such as the Tortilla de San Isidro, tripe, morcilla with rasins and the ubiquitous Madrid dish, broken eggs over potatoes.
Dubliners, Street: Calle Espoz y Mina, 7, Metro: Sol (Red Line, L2) Plus 2 minutes walk – This Irish bar is right next door to O'Connells bar. It has large screen TVs with football. They had gimmick drinks, and you can get a pint of whisky and coke or vodka and speed for €8.00. Or if beer is more your taste you can get a bucket for €15.00. They also do their own house special cocktails. This is a cosy Madrid Irish bar and the front windows display olde worlde items of furniture for that authentic touch.
Plaza Mayor
Bodegas Ricla – Calle Cuchilleros, 6. An authentic bar dating from 1910 has standing room only and lots of character. Try the "Canapé de bacalao" or "boquerones en vinagre."
El Torre del Oro – In the Plaza Mayor, this is the famous bullfighting bar, complete with bull heads and gory pictures of bullfights.
Mercado de San Miguel: The Mercado de San Miguel isn't actually a tapas bar, it's a market. But it's one of the most popular spots for tapas in Madrid, among both locals and residents. Bustling market by day, it because a lively tapas smorgasbord at night, as people wander from stall to stall sampling jamon, cheese, oysters, and more unusual offerings like empanadas, all washed down with wine, cava, or vermut. The market is open late on weekends, until 2am (though many food vendors close earlier).
Balmoral: Dubbed as one of the 'best bars in the world', Balmoral retains it's (relatively!) low prices despite a growing popularity and upmarket clientele. Calle de Hermosilla, 10, 28001, Madrid.
Corazon Loco: The epitome of quintessential Spanish wine bar, Corazon Loco is a gathering spot for young Madrid hipsters. Requisite chalkboards behind the bar advertise an ever-changing tapas menu, alongside cheap Spanish wine from only €1.50 a glass. Calle de Almendro, 22, 28005 Madrid.
The James Joyce, Street: Calle Alcala, 59, Metro: Retiro (Red Line, L2) Plus 10 minutes walk – This is one of only three Irish pubs that is run by the Irish in Madrid. Back in time it was visited by customers such as Lorca, Saramago and Dalí, and during the 50s and 60s famous literary names would meet in the bar to partake in tertulias (intellectual discussions about issues of the times).  Today this Irish bar is worth a visit just to see its stained glass fixtures, which are very decorative. There's the usual TVs showing sport, and they also offer a menu del dia.
La Latina:
This area is just down from the Plaza Mayor in central Madrid, it also has its own metro stop called La Latina. The area is known for its wine bars offering excellent Spanish wines and innovative tapas. Also in the same area are many famous restaurants offering traditional Madrid fare. From the Plaza Mayor head down the steps to Cuchilleros, cross Segovia and continue on Cava Baja. All along it are great eating establishments and at the end is a lovely set of plazas and outdoor terraces, Pl. de los Carros and San Andres.
Football Trip to Madrid – Useful Guides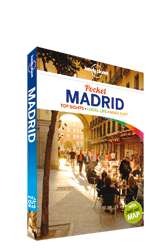 Walking tours and day planners
Maps for every neighbourhood
Packed with expert travel tips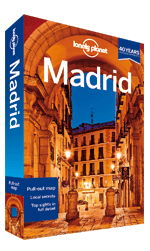 Book – £12.99
eBook – £9.09
Chapters – £2.99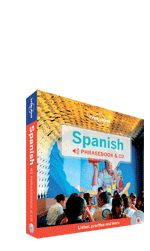 fast access to all the travel phrases you need
a 3500-word two-way dictionary
a mouth-watering menu decoder to help you order the right meal
Understand the locals and be understood in practical, social and emergency situations with 375 key phrases on our Audio CD.
£7.99