Planning a Football Trip to Marseille? Free guide – where to stay, eat, drink and how to get tickets & to the stadium.
Nestled between sea and hills, Marseille is an amazing city that moves with the seasons and passions. Founded 2600 years ago, the oldest city in France combines the richness of a unique heritage, an intense cultural life, and an exceptional location. It's football fans regularly get voted as being the most vociferous in world football and with the capacity of the Stade Veledrome being increased for Euro 2018, Marseille is great Football Trip destination.
Football Trip to Marseille – How to get to Marseille & How to get around
Football Trip to Marseille – Fly to Marseille
Marseille Provence Airport or Aéroport de Marseille Provence is an airport located 27 km northwest of Marseille.
Start your holiday in style and enjoy the experience of VIP travel – book an airport lounge with Lounge Pass from as little as £13.50. With 200 airport VIP lounges worldwide, including 35 UK airports you can add an extra touch of luxury to your next trip and make the travel experience a whole lot better.
Directions from the Airport
There is a regular shuttle bus which runs to from the airport to the main Marseille Saint Charles Station
Marseille Train Station (city centre) > Airport
Every 20 mn from 4.30am to 9.50am & from 5.50pm to 11.30pm
Every 15 mn from 10.05am to 5.35pm
Every 20 mn from 5.10am to 10.10am & from 6.10pm to 12.10am
Every 15 mn from 10.25am to 5.55pm
On-request departures from the airport at night
Airport > Marseille Train Station (city centre)

The shuttle train is cheaper (€4.80) but the station, "Vitrolles Airport", is actually five minutes from the airport. So you must first take another shuttle bus (from Quai 2) to this station and then take the train to Marseille centre.
Taxis from the Airport
Expect to pay a minimum of 50 to 60 Euros depending on when you travel and where to in Marseille by taxi from the airport.
ShuttleDirect.com has proved a hit with internet-savvy travellers around the world. Here's why: Over 1000 routes to the major holiday destinations in 18 countries, and more destinations being added all the time. We are confident we have the best prices for transfers on the internet. Instant Confirmations. Most transfers are booked and confirmed immediately
Football Trip to Marseille – Travel By Train
Travel by Eurostar and TGV via Paris or Lille, or travel by the new direct Eurostar which started in 2015. It takes between 7 and 8 hours to get the train from London to St Pancras via the Eurostar. Tickets start at around £69 via Voyages SNCF.
Football Trip to Marseille – Travel By Coach
Eurolines provide coaches to Marseille from London. The journey takes around 21 hours and costs around £70.
Football Trip to Marseille – Travel By Ferry
It takes between 9 and 10 hours to drive to Marseille from Calais. Book tickets via DFDS Seaways.
Football Trip to Marseille – Travel Around Marseille
A lot of central Marseille is best explored on foot especially the Old Port Area.  Marseille has two metro (underground / subway) lines. M1, the blue line, runs roughly east to west and back in a broad loop. M2, the red line, runs roughly north to south.  Both have stops at the main train station, Marseille Saint Charles, and they also intersect further south at Castellane.  They are criss-crossed by a network of over 30 bus routes and two tram lines.
Click here for a list of maps of the Marseille metro, bus and tram network. The system is clean, cheap, regular and fully integrated, and the good news for summer visitors is that it is all air-conditioned. Announcements in the metro are now made in English as well as in French.
Trains now run until 1.00am all through the week and some bus and tram routes run until midnight-1.00am.
A free ferry service crosses the Old Port every few minutes between the Town Hall (La Mairie) and the Rive Neuve.
Consider buying a one-day or three-day pass (€5/€10.50) either from the ticket machines at tram and Metro stations, or from a "tabac" (tobacconist). A City-Pass allows you unlimited public transport, free entry to some 15 museums, a free ferry crossing (and entry) to the Château-d'If and discounts on other goods and services. It's €24 for one day, €31 for two, and €39 for three from Marseilles Tourism Office,
Football Trip to Marseille– Getting to the Stadium
Bus 21 (direction Luminy) from La Canebière. However road traffic will be heavy on match nights so a better bet would be metro line 2 (stop Rond-Point du Prado), then a short (550 metre / 600 yard) walk.  Catch the metro southbound at any of the stops in the city centre (e.g. Jules Guesde, Saint-Charles or Noailles), and get off at either Rond-Point du Prado or Sainte Marguerite Dromel (both located at different sides of Stade Vélodrome).
During the renovation work in 2013-2014, all spectators will enter the stadium through the Tribune Gustave Ganay, and should therefore use the Sainte Marguerite Dromel metro stop.
Football Trip to Marseille– The Stadium
Designed by the architect Henri Ploquin and opened in 1937, the Stade Velodrome is an iconic monument that has witnessed the finest moments in Marseille's sporting history. In its early years, it hosted a wide variety of disciplines, including cycling (hence the name), athletics, rugby, football and even motorcycle and car races. It could originally hold 35,000 spectators but underwent several extensions throughout the 20th century, most notably ahead of the 1998 World Cup, when its capacity increased to 60,000. Recognised around the world as the home of Olympique de Marseille, it also hosts various high-profile events, such as important rugby matches and concerts.
The atmosphere in the Stade Vélodrome is created by the dominance of OM's own supporters who are housed in the Curva style ends behind the goals. The North Curve is home to the Yankee Nord Marseille, Marseille Trop Puissant, Fanatics, and Dodgers supporters associations who buy up the tickets at the start of each season and sell them on to their members. The Virage Nord is situated next to the away enclosure, which is protected by high fences. In 2002, the Virage Nord was officially given the name of Patrice de Peretti(1972–2000), the late founder and leader of the supporters group Marseille Trop Puissant. In 2010, the third kit of Olympique was a tribute to MTP, with the red, yellow and green colours of Africa, symbols of this left-wing curva.
As with the Virage Nord, the South Curve is controlled by supporter's associations with the Commando Ultras 1984 and the South Winners dominating the central section and Amis de l'OM and Club Central des Supporteurs filling the remaining sections of the stand. The 2007/08 third shirt of OM was a tribute to South Winners fans whose colours are orange, as they are traditionally left winged fans.
Football Trip to Marseille– Tickets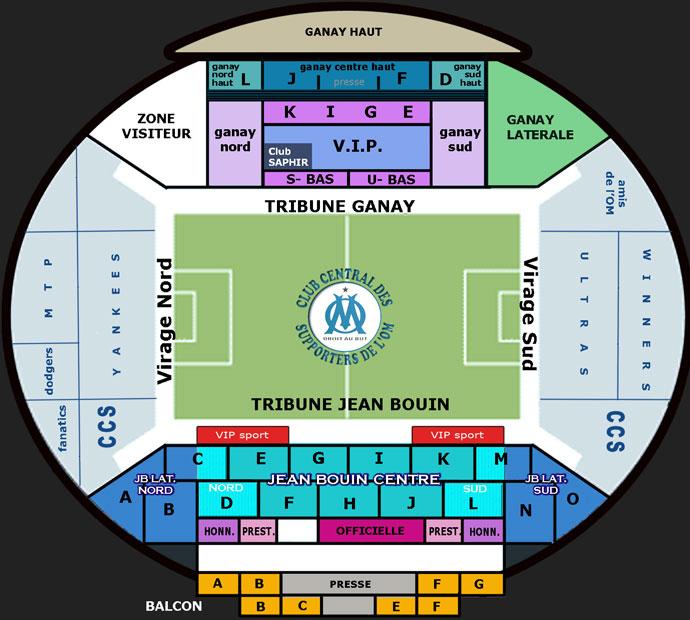 You can buy tickets as I did through the Olympique de Marseille official website (you will need to register first).
If you are already in Marseille, you can buy match tickets at the Vélodrome itself of course, and also in the city centre at the OM boutique, 31 rue Saint Férreol, 13000 Marseille, tel: (+33) 4 91 59 90 78 (note that the OM boutique at 44 La Canebière does not sell tickets). Alternatively, there is a premium phone line (within France): 3229.
Tickets cost between 20 Euros for behind the goal or 40 Euros for the stand.  The ends went on sale after the side stands which I think is because they are offered to supporters groups fist before the general public.
Tickets can also be bought by re-sellers such as Viagogo.
HotFootballTickets.com – was created to provide Football fans in Europe as well as fans from all over the world an easy and simple way to purchase online from the convenience of their home or Offices, football Tickets at excellent prices with delivery directly to their Home or Hotel.
Buy your football tickets on the official site of LiveFootballTickets.com. We offer tickets for the best matches in England and European leagues online.
Football Trip to Marseille – Fixtures
Plan your Football Trip to Marseille with our full list of fixtures.
Football Trip to Paris – Where to stay. What to See. Where to Eat. Where to Drink
Football Trip to Paris – Where to stay
The vieux port is where are the best bars and restaurants are so I would stay as close to there as possible.
You may find cheaper accomodation for your Football Trip to Marseille if you book a hostel via our sponsors HostelWorld.com
In many cities the most cost effective accommodation choice for groups is to hire and apartment. Our sponsors Citybase appartments specialises in serviced apartments. The link below offers online apartment search and booking for destinations around the world.
Football Trip to Marseille– What else to see & do.
When planning a football trip to Paris it is always good to know what else there is to see and do in the city. Here are a selection of the best things which I found using our sponsor Lonely Planet. Lonely Planet also has maps of the city, details of all the best pubs, bars and restaurants and travel information from the city.
The Marseille Tourist Office is at 4 Canebière, by the Vieux Port entrance to the metro.
The OM museum shop : (3 Bd Michelet) The museum retraces the steps of this mythical team, from the beginning of its exploits in the French Cup to its arrival among Europe's leading clubs. Opening times: from Monday to Saturday from 10 am to 7 pm
Here is a full list of Attractions in Marseille – http://www.marvellous-provence.com/marseille/what-to-see/museums-galleries/full-list
Musée des Civilisations de l'Europe et de la Méditerranée (MuCem)The new space will opens its door in May and will be the first to focus exclusively on the great sea. The site will also encompass Fort Saint-Jean, built in 1660 under Louis XIV. Promenade Louis Brauquier;mucem.org
Vieux-Port The city's old port has received a massive refurbishment into a pedestrian-friendly area in recent months, including the Ombrière, a polished-steel pavilion by architect Norman Foster. Although it is spruced up, morning fishmongers still keep visitors entertained.vieuxportdemarseille.fr
This website has a nice guide which shows all the main attractions in a logical order so you can visit them in a weekend – http://www.48houradventure.com/2010/02/25/48-hours-in-marseille/
Later in the day, cool off with a boat ride to Château d'If, made famous by Alexander Dumas' "Count of Monte Cristo" or hop a bus from the port to the public beaches — plages in French — to swim in the Mediterranean.
Football Trip to Marseille – 10 (or so) of the Best Pubs in Marseille
Here are some suggestions from http://www.marvellous-provence.com/;
For a nostalgic remnant of Marcel Pagnol's Marseille that's still popular with a modern crowd: Bar de la Marine (15 quai de Rive Neuve).  The iconic bar of Marseille, the Bar de la Marine on the Old Port was the setting for Marcel Pagnol's famous trilogy, Marius,Fanny and César.  its kitchen turns out tasty and cheap plates of grilled sardines, octopus salad, and whatever fish landed in the nets that day. Locals vastly outnumber tourists, and it's also one of the most popular places in the city for an aperitif or after-dinner drink.

For a historic, classic brasserie on the Old Port: La Samaritaine, 2 quai du Port, 13002 Marseille
For watching OM matches live on the Old Port with a crowd of supporters: OM Brasserie, 3 quai des Belges
For a neighbourhood bar with great, cheap home cooking in central Marseille: Café de l'Abbaye, 3 rue d'Endoume
For excellent artisan real ales and a cosy atmosphere near Cours Julien: Bière de la Plaine, 16 rue Saint Pierre
La Boîte à Sardine(2 Boulevard de la Libération), a fishmonger and restaurant near the Canebière, Marseilles's main artery; it's not fancy but serves the freshest fish in the city. Ignorance about seasonal seafood is met with typical French disdain.
Chez Etienne One of Marseilles's most famous restaurants is unpretentious and delicious, serving pizza along with perfect rib-eye steaks. 43 Rue de Lorette
L'Unic Marseilles's pre-eminent dive bar, which pours some of the cheapest pastis in town. 11 Cours Jean Ballard
Le Ventre de l'Architecte (280, Boulevard Michelet) is first and foremost one of Marseille's top culinary destinations. The "creations" are by chef Alexandre Mazzia, the furniture by Charlotte Perriand and Jean Prouvé: this is a Mecca for foodies and architecture and design enthusiasts. In the afternoon, the charming balcony is also a perfect place to sip a cold drink and take in a unique perspective on the city's southern boroughs, which stretch lazily along the sea.
On the first floor of the Hotel Bellevue, (Quai du Port), La Caravelle is a real Marseille institution. Its sought-after balcony is a prime spot to enjoy the view of the city's landmark, Notre Dame de la Garde, and the hundreds of sailing boats bobbing along in the Old Port underneath. In the dark wood interior of this former cabaret, a fine selection of whiskeys and local wines comes with generous tapas (free of charge).
Tucked away behind the Old Port, this cosy drinking den is a must for wine lovers. La Part des Anges's (33, rue Sainte ) extensive list — or rather blackboard — takes you on a tour de France, in which each region is fully represented and most wines are available by the glass (starting at a modest 2 euros).
Lunch at Chez Etienne (43 rue de Lorette) is the ultimate Marseille experience, a step back in time to when Le Panier was the backdrop for much of The French Connection. There is no phone, no reservations, no credit cards and until recently, no prices – especially bad news when visiting Parisians asked for the bill. The sign outside says pizzeria, and although Monsieur Etienne will tell you his pizzas are the best in town, this is also the place to try local specialities such as fried soupions, minuscule squid, or pieds et paquets (lamb tripe and trotters). A raucous atmosphere is guaranteed, the food is great, and the addition should be around €20.
Le Marengo (
1 rue Marengo) –
Le Marengo is a delightfully sleazy spot, where Pernod costs €1.60 and a glass of champagne, a mojito or a margarita will only set you back €5.   Le Crystal (148 Quai du Port) Retro, 1950s décor for one of the more fashionable spots on the Vieux Port 
Shamrock (16-17 Quai de Rive Neuve,) Irish pub with decent selection of beers, football from around the world on TV and live music in the week.
O'Malley's, (Quai de Rive Neuve Vieux Port) Not terribly Irish, but does have a great happy hour from 5 to 9 each night.
The Queen Victoria (1 Place aux Huiles,) restaurant offers a varied menu with specialties and unavoidable: burgers, rotis pie shells.  The restaurant is open from 11:30 a.m. to 2:30 p.m., Monday, Tuesday, Wednesday, Thursday, Friday until 15:00, and a continuous service on Saturday and Sunday and holidays.  For evening meals the restaurant is open for dinner from Monday to Friday from 6:00 p.m. to 0:00, continuous day on Saturdays, Sundays and holidays.
Chez Fonfon (140 Rue du Vallon des Auffes) Overlooking the Vallon des Auffes, this landmark spot does bouillabaisse as it's meant to be done. It's not cheap, but you get the full monty – stock served first as soup, then the five-fish stew with all the palaver. 47 Euros for the bouillabaisse
Le Trolleybus (24 quai de Rive Neuve, 7e) has been a fixture on Marseille's nightlife scene since opening in 1989. There are four separate spaces – Whiskybar, Trollybar, Terminus and Abribus – which between them serve up a mixture of house, electro, funk, soul, pop and rock. It covers all bases, in other words, which is one of the main reasons it continues to draw good numbers.
The Polikarpov (24, cours d'Estienne d'Orves) is the number one vodka bar in Marseille, having established its reputation after a grand opening in 2005 which made quite a bit of noise… With its expansive terrace and range of home-made cocktails, the Polikarpov is a popular bar that draws large numbers on weekends. On Thursday nights there are special aperitifs and excellent music.
Football trip to Marseille– Useful Guides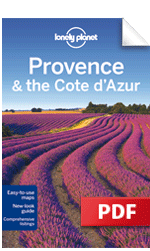 Coverage includes: Marseille, Les Calanques, Cassis, Côte Bleue, Pays d'Aix and Aix-en-Provence & around.
Chapter – £2.99
Football trip to Marseille– Useful links
http://www.48houradventure.com/2010/02/25/48-hours-in-marseille/
http://www.marvellous-provence.com/
http://www.telegraph.co.uk/travel/destination/france/34923/Marseille-city-break-guide.html
http://www.theguardian.com/travel/2011/may/31/marseille-top-10-hotels-bars-restaurants
http://www.telegraph.co.uk/travel/destination/france/34961/Marseille-nightlife.html
http://www.theguardian.com/travel/2013/aug/20/top-10-restaurants-marseille-france
http://www.thenational.ae/lifestyle/travel/in-search-of-the-perfect-bouillabaisse-in-marseille
http://www.telegraph.co.uk/travel/destination/france/34940/Marseille-restaurants.html
http://www.worldtravelguide.net/marseille/nightlife