Planning a Football Trip to Monaco? Free guide – where to stay, eat, drink and how to get tickets & to the stadium.
Monaco is well known for glitz, glamour and grandeur but it's also a very friendly, delightful place and not as expensive as one might think. The stadium is unique in world football built above the sea and with a rich history Monaco is an ideal place for a football trip. Monaco is blessed with a mild climate, and is blanketed with more than 300 days of sunshine per year. Most summers are in the 80 degrees Fahrenheit or (27) degrees Celsius with hot spells for a week or so in July and August. In winter, temperatures average about 53 degrees Fahrenheit or (12) degrees Celsius with sunny days and cool nights.
Football Trip to Monaco – How to get to Monaco & How to get around
Football Trip to Monaco – Fly to Monaco
Most people will Travel to Monaco via Nice Airport. Several budget airlines fly there from the UK.
Start your holiday in style and enjoy the experience of VIP travel – book an airport lounge with Lounge Pass from as little as £13.50. With 200 airport VIP lounges worldwide, including 35 UK airports you can add an extra touch of luxury to your next trip and make the travel experience a whole lot better.
Directions from the Airport
An express link taking the motorway operates between the city centre and the airport via bus lines 110 and 210. The services operate 7 days a week between 07.00 am and 09.00 pm. On the direct routes the buses do not stop anywhere other than the city centre and the airport, but passengers can also take buses that carry on the journey to Cannes (45 mins) and Monaco (ca. 30 mins). The buses operate on half hourly intervals. Departure every 30 minutes, 18 € by passenger.
Nice St Augustin is a small railway station located in close proximity to Nice Airport. A TER train service connects the station eastwards to Nice city centre, Monaco and the Italian border train stations at Ventimiglia.
All Trains to Monaco stop at the Monaco/Monte-Carlo station. The TGVs goes to and from Paris (journey time 5.5 hours), there are also daily trains from Milan, Genoa or Basel during the day and overnight trains from Strasbourg, Paris, Toulouse, Irun, Port-Bou, Milan, Venice, Pisa and Rome.
The train from Nice takes 20 minutes and leave from Nice Ville station. This site has a timetable: http://www.raileurope-world.com/train-tickets/journey-insights/article/nice-monaco. The cost of the train is around 3.60 euros. The trains run later than the bus; last one leaves from Nice 22:25 and from Monaco 23:12 (on weekdays).
Bus 100 (Nice – Monaco – Menton) is a very good option and costs a mere 1 €. It runs every 15 minutes mostly, and the trip takes 30-45 minutes. It takes an absolutely scenic route along the coast, passing through seaside towns such as Villefranche and Beaulieu. (There's also express bus 100X which takes the motorway and costs 4 €; obviously not as good for sightseeing.) In Nice, the 100 leaves from Station J.C. Bermond with first stops being Ségurane and Le Port.
Arriving in Monaco, there are 6 stops to choose from (do get off at one of these as the bus continues towards Menton): Cimetière, Place d'Armes, Stade Nautique, Office de Tourisme, Place des Moulins, Les Carabiniers. The buses don't run very late: last one from Nice leaves at 20:00, and from Monaco at 20:22. First departures in the morning are about 6:00. You'll find details and full list of stops in bus 100 timetable.
Taxis from the Airport
You are looking at least 80 Euros for a taxi, probably closer to 100 or 120 Euros.
ShuttleDirect.com has proved a hit with internet-savvy travellers around the world. Here's why: Over 1000 routes to the major holiday destinations in 18 countries, and more destinations being added all the time. We are confident we have the best prices for transfers on the internet. Instant Confirmations. Most transfers are booked and confirmed immediately.
A helicopter with Heli Air Monaco is €120 euros from Monaco to Nice or €130 from Nice to Monaco (no, I'm not sure about the extra tenner either), or you can get a return for €230.
Football Trip to Monaco – Travel By Train
There are four or five options each day by this route, the fastest train services taking less than nine hours for the entire journey from London to Nice. The journey starts with a ride on Eurostar from London to Paris, changing there onto the direct TGV train to Nice.
Tickets start at around £60 via Voyages SNCF.
Football Trip to Monaco – Travel By Ferry
It takes between 11 and 12 hours to drive to Monaco from Calais. Book tickets via DFDS Seaways.
Getting Around
Walking is by far the best way to get around Monaco; however, there are some areas, such as the Exotic Gardens, that require a large change in elevation and therefore make for rather strenuous hikes. There are also seven public escalators and elevators (all free) that help negotiate the steep slopes of the city. If you find yourself afoot and wanting to reach the opposite bank of Port Hercule, look for the small pedestrian-only ferry that runs each 20 minutes or so during daylight; it costs only one Euro.
Don't bother with taxis, the minimum cost for any trip within Monaco is 12 € – go outside of Monaco and it will almost double if you go outside. Just in case you were considering it, a taxi fare to Nice is around 70 €
Football Trip to Monaco – Getting to the Stadium
The Stade Louis II is easily reachable from the Gare of Monaco, (train station of Monaco) by foot, by bus or taxi.
Football Trip to Monaco – The Stadium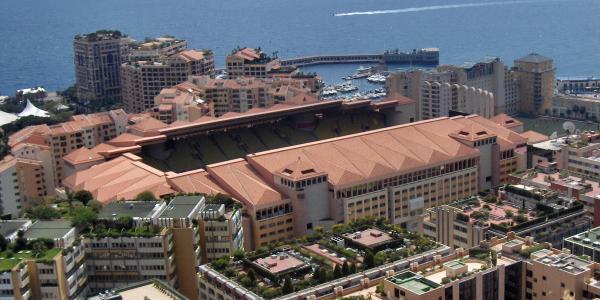 Built in the district of Fontvieille, with a sea view close to the ancient walls of the same name, the Louis II Stadium hosts the home games of the AS Monaco FC since 1985, but also the headquarters of the club and its Academy.  Built at the beginning of the 1980s and inaugurated by HRH Prince Rainier III on 25th January, 1985, the Stade Louis II is a huge complex covering some 30,000 square metres, and comprises:
an open-air stadium, an extensive set of facilities and buildings destined for sporting  activities, a 4 storey car park that has 1700 spaces, a string of offices around the stadium.  The football stadium is unique in its design, with the pitch some 8.35 metres above the road level, on top of the car park, totally compliant with UEFA's norms and regulations. It has a seating capacity of 18,523. The canopy of the stands houses the night-lighting installation. Two giant screens have been available since July 2008 for information and action replays.
Football Trip to Monaco – Tickets
Tickets for AS Monaco games can be bought at the ticket counters of the stadium, or through any of the Francebillet, Digitick, or Ticketnet sales points. Tickets can also be bought directly online via Ticketnet.  Tickets are also available at the gates of the stadium on the day of the match. AS Monaco hardly ever sells out a match.  Prices depend on the opponent. Tickets typically range from €5.00 for a seat at one of the curves to  €30.00 for a seat at the main st
and, but are increased to between €5.00 and €40.00 for a number of "Gala" matches.
If you want Monaco tickets you can always try Viagogo
HotFootballTickets.com – was created to provide Football fans in Europe as well as fans from all over the world an easy and simple way to purchase online from the convenience of their home or Offices, football Tickets at excellent prices with delivery directly to their Home or Hotel.
Buy your football tickets on the official site of LiveFootballTickets.com. We offer tickets for the best matches in England and European leagues online.
The Ultras Monaco group was founded during the 1993-1994 season by very young fans of the ASM, following the void left by the dissolution of the association 'Reds and Whites Supporters'.  They stand behind the goal in the covered end with the away fans usually placed in the open end.
Football Trip to Monaco – Fixtures
Use the fixture list on the Monaco website to Plan your Football Trip to Monaco.
Football Trip to Monaco – Where to stay. What to See. Where to Eat. Where to Drink
Football Trip to Monaco – Where to stay.
Most hotels in Monaco are going to be very expensive so unless you really want to stay in Monaco, I would suggest a hotel in Nice as the best option.
There are a couple of reasonable places in Monaco: just bear in mind though that they're quite small and you need to book well in advance.
Hotel de Versailles – The Hotel Versailles Monaco is located a few meters from the Place d'Armes, path to the Rocher and the Palace. It is in the heart of the Condamine district with its market and shops. This true boutique hotel is open all year round and offers you the opportunity to stay in the board or half board in one of its 15 rooms.  Starting from 80 Euros a night
Hôtel de France – It's found in a quiet side-street in the Condamine district (between Monte-Carlo and Monaco Ville, back from the port). Here, Monaco life gets almost normal, with affordable bars and restaurants and shops which people actually need.  Clean, bright and practical – no frills, but it amply assures the necessary for the budget traveller.  Starts at £87 for a simple double room.
You could also stay in Beausoleil which is a short walk along the coast from the stadium and the centre of Monaco
Azur Hotel (12, Boulevard de la République; 33-4-93-78-01-25;  around 53 euros a night.
Football Trip to Monaco – What else to see & do.
When planning a football trip to Monaco it is always good to know what else there is to see and do in the city. Here are a selection of the best things which I found using our sponsor Lonely Planet. Lonely Planet also has maps of the city, details of all the best pubs, bars and restaurants and travel information from the city.
Take a walk through Monaco-Ville, also known as "le rocher" or "the rock." Monaco-Ville is still a medieval village at heart and an astonishingly picturesque site. It is made up almost entirely of pedestrian streets and passageways and most previous century houses still remain
The Palais Princier (Prince's Palace) is in old Monaco-Ville and is worth a visit. There are guided tours of the palace each day and usually run around the clock. The Palace also offers a breathtaking panoramic view overlooking the Port and Monte-Carlo. Everyday at 11:55 AM, in front of the Palace's main entrance visitors can watch the changing of the guard ceremony performed by the "Carabiniers.
The Oceanographic Museum and Aquarium is a world-renowned attraction. Located 279 above sea level, the museum contains stunning collections of marine fauna, numerous specimens of sea creatures (stuffed or in skeleton form), models of Prince Albert's laboratory ships, and craft ware made from the sea's natural products
La Condamine is the second oldest district in Monaco, after Monaco-Ville. Here you can stop and marvel at the many luxurious yachts and cruise ships which usually adorn the docks in the marina.
The Marlborough Fine Arts Gallery was founded in London by Frank Lloyd and Harry Fischer. A second gallery was opened in Rome, another in New York, and one more in Monaco. The gallery holds a grand collection of post-World War II artists and even paintings by Pablo Picasso, Joan Miró, Jules Brassai, Louise Bourgeois, Dale Chihuly, David Hockney and Henri Matisse. Admission is free and the gallery also offers group exhibitions.
Prince of Monaco's Private Collection of Classic Cars (Terrasses de Fontvieille; 377-92-05-28-56; www.palais.mc; admission 6 euros).
This site has a good walking tour which includes part of Grand Prix track
Football Trip to Monaco – Eating & Drinking
There are many fine restaurants, beginning with the Cafe de Paris across the street from the casino, to the waterfront restaurants along the Port de Fontvieille.  Of course most restaurants are going to set you a fair few quid.  Below are some recommended cheaper options.
Brasserie de Monaco, located right on the Grand Prix circuit on the harbour: they brew their own organic beer there according to Bavarian traditions (white, pils or amber ale) and you can even take tours of the place. Their half-price happy hour lasts from 5pm until 8pm and a pint of beer (50 cl, ie. a French pint!) costs just 3.50 €, a real bargain for beer lovers.
Other bars on the same strip (known as the Darse Sud) have a similar Happy Hour: the famous la Rascasse bar and casino is located right on one of the bends of the Grand Prix circuit and has half-price drinks (4 € for a glass of wine) until 11pm.
Café de Paris, is a popular music bar lounge. The drinks are very expensive – a beer starts at €8 – but the live rock, jazz or blues is free.
For lunch try the open-air market on the Place d'Armes. Most of the neighbourhood bakeries here carry the inexpensive local finger food,Barbagiuan (which means Uncle John) – a fried dumpling stuffed with Swiss chard and Parmesan cheese, tian, mixed vegetables and rice, orpissaladière, a flat onion tart. Try Maison Mullot (first stand on the right inside the covered market), for savoury and sweet goodies, including the traditional sweet pastry, fougasse Monégasque.
Place Saint Nicholas, where two cosy restaurants sit beside the cathedral (Restaurant Saint Nicholas (00377-93-303041) does a three-course set menu for €17.50/£14).
Stars 'n' Bars, (6 quai Antoine-1), Bar open until 3AM. American style sports bar serving standard burgers pizzas and sandwiches. Drinking or dining during Happy Hour offers reasonable value for money.
Pizzeria Monégasque, (4 rue Terrazzani) For those on a budget, gourmet pizzas & main courses are also available from 10€-22€.