Planning a Football Trip to Nice? Free guide – where to stay, eat, drink and how to get tickets & to the stadium.
Nice, the capital of the Côte d'Azur is beautifully curved round the Bay of Angels, desirable and as lively as you like. Nice centre is easily walkable. Indeed, if you're doing the Old Town (Vieux Nice) it is only walkable. When you look at the French Riviera and look at some of the towns and cities on it such as Monte Carlo, Marseille and St. Tropez you know that any of the towns or cities are home to a lively nightlife.
Football Trip to Nice – How to get to Nice & How to get around
Football Trip to Nice – Fly to Nice
Multiple airlines fly to Nice every day and you are able to fly direct from Nice from most large airports in the UK either direct of via Paris
Start your holiday in style and enjoy the experience of VIP travel – book an airport lounge with Lounge Pass from as little as £13.50. With 200 airport VIP lounges worldwide, including 35 UK airports you can add an extra touch of luxury to your next trip and make the travel experience a whole lot better.
Directions from the Airport
Nice Airport is beautifully situated at the Côte d'Azur coast, just a 3.7 mile journey out of the city centre. Getting to Nice Airport from Nice itself and the surrounding coastal resorts is easy, as there are excellent motorway and public transport connections. http://en.nice.aeroport.fr
The Nice Airport shuttle journey can cost as little as EUR 14.00 per person for up to 8 people, which makes this a very affordable mode of transport for passengers who feel uncomfortable driving themselves on French motorways. Sharing the shuttle with other passengers makes sense, since most people don't mind sharing the chauffeur driven limousine on such a short journey into the city.
Nice St Augustin is a small railway station located in close proximity to Nice Airport. A TER train service connects the station eastwards to Nice city centre, Monaco and the Italian border train stations at Ventimiglia. To the west this train station provides connections to Cannes and Antibes. It is possible to reach the train station on foot, walking for around 10 minutes from the airport, following the directions given on this website or following the instructions given on the official airport website.
An express link taking the motorway operates between the city centre and the airport via bus lines 110 and 210. The services operate 7 days a week between 07.00 am and 09.00 pm. On the direct routes the buses do not stop anywhere other than the city centre and the airport, but passengers can also take buses that carry on the journey to Cannes (45 mins) and Monaco (ca. 30 mins). The buses operate on half hourly intervals.
Taxis from the Airport
The Nice Airport taxis waiting at the terminals are licenced and registered to operate within the airport, but passengers should always be vigilant not to fall into the trap of taking an unlicensed cab. It is best to negotiate fares prior to leaving the airport compound and if the cab does have a meter, passengers should insist on the meter running the whole time to avoid being cheated.
Fares for Nice Airport taxis going to the city centre should not be more than the usually fixed EUR 35.00 tariff, but may depend on the time of day one travels at. There may be surcharges for extra luggage or a 4th passenger – French cab drivers despise cab sharing and do everything in their power to dissuade passengers from doing so!
ShuttleDirect.com has proved a hit with internet-savvy travellers around the world. Here's why: Over 1000 routes to the major holiday destinations in 18 countries, and more destinations being added all the time. We are confident we have the best prices for transfers on the internet. Instant Confirmations. Most transfers are booked and confirmed immediately.
Football Trip to Nice – Travel By Train
Direct trains from London or Paris for example operate via the SNCF train network. A direct TGV train will cover the distance Paris – Nice in just 6 hours and will stop at the main train station in Nice. On the Italian side Nice is connected via the Trenitalia train network that offers direct trains from Venice, Rome, Milan and Genoa to Nice.
Tickets start at £51 via Voyages SNCF.
Football Trip to Nice – Travel By Coach
Eurolines offer travel by coach from London Victoria Coach Station to Nice Ville in 10h36m. Fares are from just £59 one way.
Football Trip to Nice – Travel By Ferry
Nice is a 11 to 12 hour drive from Calais. Book tickets via DFDS Seaways.
Football Trip to Nice – Travel Around Nice
A lot of the City Centre is easily manageable by foot.  There is also a tramway : the N° 1 line offers a north-east connection passing through the city centre along the avenue Jean Médecin and through the Place Masséna 21 hours a day! Every day from 4am to 1am.  A single ticket can be used for bus and tram journeys and costs 1.50 Euros.  There are over a hundred different bus day-time bus routes in the 27 towns of Nice Côte d'Azur including 5 night-time bus routes from 9:10pm to 1:10am.
Football Trip to Nice – How to Get to the Match
Football Trip to Nice – Getting to the Stadium
By Train – 6 minutes ride from Nice Ville. Free shuttle service available every 3 minutes before the Mearelli stage via a secure channel (5 minutes walk). All times on the site www.ter-sncf.com.  There is also a train from the center of Nice (South Station). Stop Nice Saint-Isidore, then 10 minutes of secure pedestrian path to the stadium.  Extra Trains are provided on match days.  http://www.allianz-riviera.fr/en/practical-information/access-transports
Downloadable PDF of Train Plan for Allianz Arena – http://files.ogcnice.com/images/pages/stade/pictobig-train.png
Bus Line 95 – An exceptional semi direct line (departure city center St Roch Hospital), will be available match days at the Allianz Riviera and offers direct access to the foot of the stage. Check every 6 minutes – Approximate travel time from Jean-Doctor: 50 minutes
There are also 'Football Special' Buses – Information and schedules on the site www.lignesdazur.com
Downloadable PDF of Bus Plan for Allianz Arena – http://files.ogcnice.com/images/pages/stade/pictobig-bus.png
Football Trip to Nice – The Stadium
OGC Nice stage played at the Stadium Ray from 1927 to 2013 when in September 2013 they moved to their new stadium, Allianz Riviera.
The Allianz Riviera is a multifunctional infrastructure hosting sporting events, concerts with a capacity of 35 to 45 000 spectators but also conferences and seminars. Designed by the architect Wilmotte & Associés and firm Vinci, it implements the most innovative technologies that will contribute to the Allianz Riviera one of the first Eco-Stadiums of the world.
The National Museum of Sport will be installed in the new enclosure. The 5,000 m² of which will be dedicated to help make Allianz Riviera a living part of everyday life of the inhabitants of the region.
Football Trip to Nice – Tickets
2 options: Via the Internet and on-site at the ticket Stadium, detailed plans of the stadium stands will be posted and available. Tickets can also be bought at the club store at the Place Masséna in Nice's city centre,
You can also Contact OGC Nice by phone at 04 93 84 05 43 or by email billetterie@ogcnice.com
Tickets can also be bought by re-sellers such as Viagogo.
HotFootballTickets.com – was created to provide Football fans in Europe as well as fans from all over the world an easy and simple way to purchase online from the convenience of their home or Offices, football Tickets at excellent prices with delivery directly to their Home or Hotel.
Buy your football tickets on the official site of LiveFootballTickets.com. We offer tickets for the best matches in England and European leagues online.
Football Trip to Nice – Fixtures
Plan your Football Trip to Nice with our full list of fixtures.
Football Trip to Nice – Where to stay. What to See. Where to Eat. Where to Drink
Football Trip to Nice – Where to stay
I would stay as close to the Promenade des Anglais as possible.
You may find cheaper accommodation for your Football Trip to Nice if you book a hostel via our sponsors HostelWorld.com
In many cities the most cost effective accommodation choice for groups is to hire and apartment. Our sponsors Citybase appartments specialises in serviced apartments. The link below offers online apartment search and booking for destinations around the world.
Football Trip to Nice – What else to see & do.
When planning a football trip to Nice it is always good to know what else there is to see and do in the city. Here are a selection of the best things which I found using our sponsor Lonely Planet. Lonely Planet also has maps of the city, details of all the best pubs, bars and restaurants and travel information from the city.
Taking a walk up the Promenade des Anglais is the very first thing you must do. It's a great way to find your bearings and get a feel for the place. You can take in all of the beautiful old buildings and the lush palm littered public gardens along the seafront before the walk ends atop a rocky outcrop overlooking the crystal blue of the Med.  Nice has miles of pebble beach. Unfortunately, there is a system of alternate public/private beaches, which limits long walks along the surf. The beaches are crowded but not full, even in high season. I parked my towel at the seashore on a central public beach at 3pm on Saturday with little bother.
Situated between the Promenade des Anglais and the Boulevard Jean Jaures, Nice Old Town is the cultural and social epicentre of the city.  Most of the must-see sights are found here, the best of which in my opinion is Castle Hill, or Colline du Château. The steep climb up from the promenade is oh so worth it, as you will find yourself in a historical and visual wonderland. The ruins of the Château, along with the ancient Roman ruins and waterfall make it really quite special, and for those uninterested in history, the unparalleled photo opportunities over the old town and harbour will definitely satisfy.
Musée Matisse(164, av des Arènes de Cimiez, +4 9381 0808, musee-matisse-nice.org). Henri Matisse wintered in Nice from 1918 until his death in 1954, and this museum in the hills used to be his house. It displays the private collection he bequeathed to the city.
The Musée Marc Chagall (Av du Docteur Ménard) is a national museum dedicated to the work of painter Marc Chagall – essentially his works inspired by religion – and located in Nice
Musée d'Art Moderne et d'Art Contemporain (Promenade des Arts, +4 9362 6162, mamac-nice.org) features the movement's most famous artist, Yves Klien, as well as work by Warhol, Lichtenstein and Gilbert and George. You can get in free on the first and third Sunday of every month.
Galerie Jean Renoir is a champion of up-and-coming, young local talent, and it's free.
Musée des Beaux-Arts, the former residence of a Ukrainian princess, is itself is a work of art, but the real treasures are to be found within, from 15th century altar pieces to Rodin's imposing sculpture 'The Kiss'.
Football Trip to Nice – 10 Great Pubs and Clubs in Nice
Waynes – the heart of the Old Town, it offers reasonable pub grub), live music until 10.30pm to 12.30am and DJs afterwards. If you require a night of magical Mediterranean romance, go elsewhere. But, if you want to rock, eat a Full English or watch sport on wide-screen TVs you could do worse and it's always full of backpacking tourists.   Sunday is live karaoke night, Monday is 'Bingo Monday' while Thursday is 'Lady's Night'. Lots of dancing on the tables also.  Address: 15 Rue de la Préfecture. www.waynes.fr
High Club / Studio 47 (45 Promenade des Anglais; www.highclub.fr) – Two clubs in one for what may be Nice's hippest, hottest spot. The High hits a younger age group – 20s-30s, the ones who appreciate crowds and well-dressed pandemonium, and who can tell one DJ mixer from another. It's large, lively, crassly classy and has all the big screen and lighting effects that the modern age demands.  Studio 47, meanwhile, is mildly more tranquil, with leather armchairs and similar, in what looks surprisingly like a TV studio. If you're over 35, I'd head here.
Les 3 Diables (2 Cours Saleya) attracts a young and rowdy crowd in the mood for sinning and helps that urge along with dark red lighting, loud music, and cheap drinks.
Blue Whales (1, rue Mascoïnat) After a couple of nights out in Nice you'll begin to notice it gets surprisingly timid after 2am. Thankfully, Blue Whales keeps things ticking in the Old Town until 4.30am. It attracts a slightly grungy crowd due to its blend of live bands and rock music. Between 6pm and 9pm is happy hour.
Checkpoint (2 Rue Desboutin) – This self-styled 'Irish disco pub' is where sports fanatics go in their droves to see football, rugby and more. As with all Irish bars, you can get typical pub grub, while there's lots of live music too, so something for everybody. Free Wifi too which is always handy.
LD retrad Oxford (4, rue Mascoïnat) – A lively pub with live music playing regularly and cheap beer. Hence, definitely worth a visit.
Samsara(2 rue Rosetti, +4 9380 7063), serves food that is pure Provençal, and not expensive.
Le Master Homme (11, rue de la Préfecture, Vieux Nice) – Along with a wide variety of beers and whiskeys there is an internet cafe also in this Scottish themed pub.
Snug & Cellar Gastropub (22 Rue Droite)
Le Lafayette (64, rue Gioffrédo) – The decor alone will keep you occupied in this pub. With a great atmosphere also, all spread out over two floors, try and pay a visit if you are visiting Nice.
Football Trip to Nice – 6 Great Places to Eat in Nice
Cave de la Tour (3 Rue de la Tour; www.cavedelatour.com) – It's mainly a wine bistro for solid local eating among solid locals. But it's also a bar with as good a selection of regional Provençal wines as you'll find in town. It's been in the same family since 1947 and hasn't, I'd say, changed enormously over the intervening years.
La Tapenade (6, rue Sainte Reparate); a little corner restaurant with an outdoor terrace sited where Rue Sainte Réparate meets Rue de la Préfecture. It is not too expensive and does beautifully made pasta and pizza dishes.
Acchiardo (38 rue Droite) Located on rue Droite in the heart of the old city this local Nicoise eatery has very diverse clientele
La Pizza (34 rue Massèna) – La Pizza and Taverne Massena are both owned and operated by Francis Cresci. Both establishments contain wood burning ovens and prepare among the best pizzas on the Riviera.  Tavern Massena serves a full menu including wood oven pizza; excellent lunch and daily specials: mussels, choucroute.
Nicca Socca, (5 rue Ste-Reparate) – This is a very popular and well-known restaurant which serves great food and is excellent value also. Try their oven baked pizzas.
L'Olivier (3 place Garibaldi) – Since opening in 1989 this French resturant has built up a good reputation due to its quality food and value for money. Good choice of Sicilian meals also.
Football trip to Nice – Useful Guides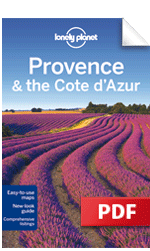 Coverage includes: Nice, Arrière-Pays Niçois, Peillon, Peille, Corniche inférieure, Moyenne Corniche, Grande Corniche, Monaco, Roquebrune-Cap-Martin, Menton, Ste-Agnès and Gorbio.
Chapter – £2.99
Football trip to Nice – Useful links
http://www.simonseeks.com/food-drink/restaurants/europe/france/provence/french-riviera-cote-dazur/nice__166265
http://www.hostelworld.com/guides/city-guides/nice/france/eating-out
http://www.edinformatics.com/travel/Nice_France/great_value_nice.htm
http://www.partyearth.com/french-riviera/pubs/irish-pubs/
http://www.theguardian.com/travel/2004/jul/17/nice.france.budgettravel