Planning a Football Trip to Nimes? Free guide – where to stay, eat, drink and how to get tickets & to the stadium.
Nîmes is one of the oldest cities in Europe. It is also the city of spring, named after the Roman God Nemausus. In recent years Nîmes has been rediscovered as a weekend destination, thanks to in large part to its beauty, rich architectural heritage and proximity to both the Mediterranean and Provence.
Football Trip to Nimes – How to get to Nimes & How to get around
Football Trip to Nimes – Fly to Nimes
Ryanair is currently the only airline operating direct flights to Nîmes from the UK.
Start your holiday in style and enjoy the experience of VIP travel – book an airport lounge with Lounge Pass from as little as £13.50. With 200 airport VIP lounges worldwide, including 35 UK airports you can add an extra touch of luxury to your next trip and make the travel experience a whole lot better.
Directions from the Airport
The Nimes Airport (code FNI) is located in the town of Garons, about 12 miles (20 kilometers) southeast of Nimes.
There is regular shuttle service between the Nimes Airport and the city of Nimes. The shuttle can be found to the right when exiting the airport terminal. The cost to go from the airport to the city centre is 5 euros. The shuttle is synchronized with arrivals and leaves 15 minutes after the arrival of regular scheduled flights and 2 hours from the train station in Nimes for departing flights.
The shuttle arrives at the train station in Nimes, stop Feuchères (Gare). You can ask the driver to drop you off at a hotel in the centre if need be. Other stops are Esplanade (Atria), Gambetta, Pt de Vierne (Imperator), Jaurès, Colisée and Ville Active (Zone Hôtelière).
Taxis from the Airport
There is a taxi rank in front of the airport terminal. The cost to go from the airport to Nimes is about 25 euros.
ShuttleDirect.com has proved a hit with internet-savvy travellers around the world. Here's why: Over 1000 routes to the major holiday destinations in 18 countries, and more destinations being added all the time. We are confident we have the best prices for transfers on the internet. Instant Confirmations. Most transfers are booked and confirmed immediately.
Football Trip to Nimes – Travel By Train
It takes between 6 and 7 hours to get the train from London to St Pancras via the Eurostar. Tickets start at around £50 via Voyages SNCF.
Football Trip to Nimes – Travel By Coach
Eurolines provide coaches to Nimes from London. They offer an overnight service leaving London around 13.30 and arriving at around 10:30 the next day. Tickets start at around £52 each way
Football Trip to Nimes – Travel By Ferry
It takes between 9 and 10 hours to drive to Nimes from Calais. Book tickets via DFDS Seaways.
Football Trip to Nimes – Travel Around Nimes
Nimes is a compact city, the attractions in the centre and all the bars and restaurants are close together so walking is the best way to get around.
Football Trip to Nimes – Getting to the Stadium
Tthe stadium is at walking distance from Nîmes centre, an alternative is taking a bus, which can be done from the Amphitheatre or main railway station. Take bus I in the direction of Mas de Vignolles and get off at stop Costières right in front of the stadium. Buses run regularly and the journey only takes 10 minutes.
Football Trip to Nimes – The Stadium
Stade des Costières is a football stadium in Nîmes, France. It is the current home of Nîmes Olympique. The stadium is able to hold 18,482 people and opened in 1989
The attendance record is set during the 1991-92 season, when 25,051 spectators attended the match between the Division 1 Nîmes Olympique in the Olympique de Marseille .
Football Trip to Nimes – Tickets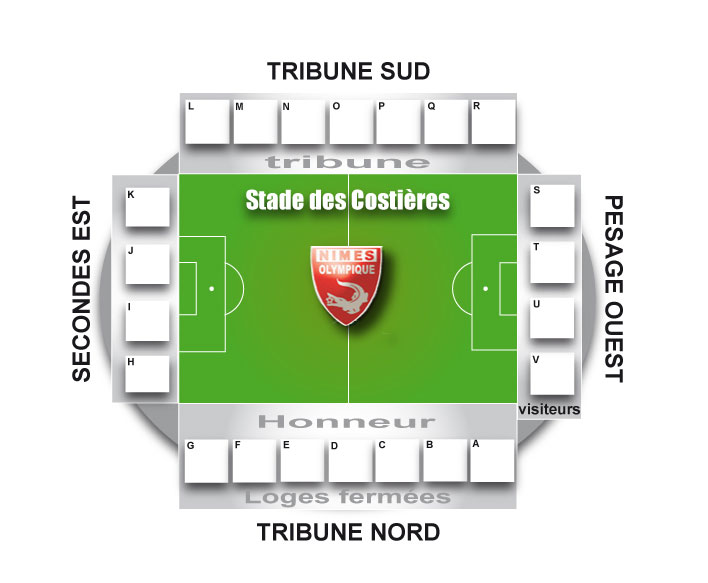 There are a few different ways to get tickets;
Online – http://www.nimes-olympique.com, although you have to register and I had problems registering with a UK Postcode.
At the official club shop Boutique Officielle du Nimes 44, Boulevard Victor Hugo 30000 NIMES From Tuesday to Saturday: 10:00 to 12:00 and 2:00 p.m. to 7:00 p.m.
From the ticket office at the stadium – Game days from 09:00 to 13:00. Gala Match: from 9:00 to halftime of the game without interruption.
Tickets cost €2.00 for a place at the terraces behind the goal, €15.00 for a seat at the south stand, or €20.00 for a seat at the north stand.
Football Trip to Paris – Where to stay. What to See. Where to Eat. Where to Drink
Football Trip to Paris – Where to stay
Stay in the centre, then everything is walking distance.
You may find cheaper accommodation for your Football Trip to Nimes if you book a hostel via our sponsors HostelWorld.com
In many cities the most cost effective accommodation choice for groups is to hire and apartment. Our sponsors Citybase appartments specialises in serviced apartments. The link below offers online apartment search and booking for destinations around the world.
Football Trip to Paris – What else to see & do
When planning a football trip to Nimes it is always good to know what else there is to see and do in the city. Here are a selection of the best things which I found using our sponsor Lonely Planet. Lonely Planet also has maps of the city, details of all the best pubs, bars and restaurants and travel information from the city.
Maison Carré.Dedicated to Emperor Augustus, this Roman temple dates from the fourth or fifth Century BC and is one of the best preserved anywhere in the Roman world. Used over the centuries as horse stables, a meeting chamber and as an archive, today it houses a small museum and bookshop. Sip a coffee atop the Carré d'Art, adjacent, and admire its simplicity of form.
Les Arènes. Inspired by the Coliseum in Rome with two stories of vaulted arches, this is one of the most intact amphitheatres to be found anywhere in the world today. It has seating capacity for an amazing 20,000 people over 34 tiers and is used for bull fights, pop concerts and sporting fixtures.
Carré d'Art. Nîmes's museum of contemporary art sits proudly opposite the Maison Carré. Its glass and chrome façade are the work of British architect, Sir Norman Foster, as part of an ambitious plan by local worthies to regenerate the city.
Pont du Gard.No visit to Nîmes would be complete without a trip to the Pont du Gard, just 20km or so northeast of the city. The aqueduct was constructed some time during the first century AD to supply the city with fresh water from the Eure river. Three tiers of arches span a jaw-dropping 275m across the Gardon river at a height of 49m.
Uzès. This medieval market town is a gem. Easily taken in on a round trip from Nîmes also including the Pont du Gard (just 20km away), it's a place to wander around antique shops and sit in shady squares sipping coffee. Make sure, too, to see the old ducal castle and the Tour Fenestrelle, a local equivalent of Pisa's Leaning Tower.
Le Tour Magne – The tower stands in the highest point of the city and played a military role as it was part of the walls built sorrounding the city . The view from the top is spectacular and you get to go up for just 3 euros.  To get to the Tour-Magne you have to enter the "Jardins de la Fontaine" ("Fountain Gardens").
The three-tiered Pont du Gard lies 12 miles north-east of Nîmes, a half-hour bus ride from the central station. The gold-stone structure, built to extend the Nîmes aqueduct over the river Gardon, is a feat of Roman engineering.
Football Trip to Nimes – Eating & Drinking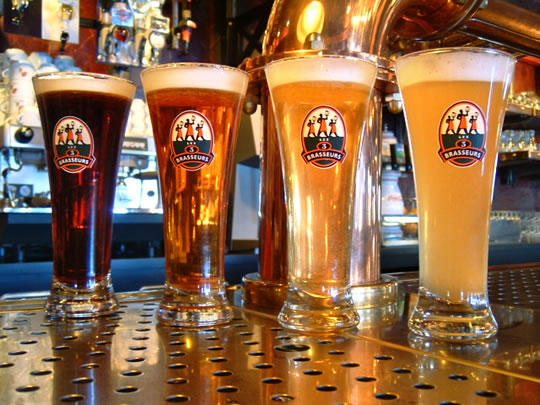 Near the ground the best place to go is the Brasserie 3 Brasseurs, it is a micro-brewery offering at least beers brewed on site on draft and several different bottles of craft brew.  We stayed there for a few hours and had enjoyed all the beers they had to offer.
The squares and alleys of Old Town are full of bars, but there are few clubs. For a city with a population of only 148.000, the nightlife is surprisingly good – especially in the summer.
Le Victor Hugo (36 boulevard Victor Hugo) – This popular bar/club attracts both those who want to party and those who simply want to listen to a hip French house DJ.
Au Bureau (24 bd Amiral Courbet) – Despite its name, this is a British-style pub, complete with pints of beer and a popular, and cheap, bar menu.
O Flahertys (21 Boulevard Amiral Courbet,) Its an Irish pub with music on Weds and Thurs night and sport on TV.
Le Wine Bar (1 Place des Arènes) – With over one hundred different wines available by the glass, Le Wine Bar is popular with wine connoisseurs. Others will also appreciate the art nouveau bar with its leather sofas, mahogany panels and painted lamps. Le Wine Bar also serves good food.
Le 421, (rue Fresque) – small, tight and traditional, it's full of bullfighting fans and others favouring high-volume conversation. By night, spills out on the tiny street.
L'Exaequo (11 rue Bigot) gives an inventive twist to traditional tastes. From £25. Best local dish Most celebrated is brandade-de-morue, which is lovely if you like mashed cod. I prefer gardianne-de-taureau – Camargue beef marinated in the local Costires-de-Nîmes wine.
Zinc Café used to be known as Haddock Café (13 rue de Augu) Traditional foods, local wines and live music a couple of nights each week
Café le Napoléon. (42 boulevard Victor-Hugo) offers both snacks and wine. What is interesting about this place, most of all, is that the crowd that it attracts is not merely students, but soldiers, as well.
La Comédie, (rue Jean-Reboul, 28). A highly attractive and well-known spot for hip nightlife
Les Alizes, (26 boulevard Victor Hugo) This pavement bistro serves local dishes: brandade – salt cod mashed with olive oil, garlic, milk and cream – and olive tapenade, plus delicious goat's cheeses.
Le Cardinal (30 place Jean Robert) 10 Euro Menu
Buffalo Grill (ZAC Ville active, Nîmes) is inspired of the Wild West which is shown by the décor and on the menu. On the menu you will find barbecue ribs, cowboy steak, chicken, burgers and a lot more. There is also kids menu here. Very good value for money.
Football trip to Nimes – Useful links