Planning a Football Trip to Toulouse? Free guide – where to stay, eat, drink and how to get tickets & to the stadium.
Football Trip to Toulouse – How to get to Toulouse & How to get around
Football Trip to Toulouse – Fly to Toulouse
Direct flights to Toulouse are available from Chester, London Gatwick, London Heathrow, Bristol. There are also many flights a day from Paris so you can fly from most UK airports to Paris and then onto Toulouse.


Start your holiday in style and enjoy the experience of VIP travel – book an airport lounge with Lounge Pass from as little as £13.50. With 200 airport VIP lounges worldwide, including 35 UK airports you can add an extra touch of luxury to your next trip and make the travel experience a whole lot better.
Directions from the Airport
To go to Toulouse or to go to the airport you can use bus, or any metro line that with like you to the shuttle stops.
• Bus number 25 : Blagnac Emile Zola – Toulouse-Blagnac Airport
• Bus number 30 : Fenouillet Centre Commercial – Toulouse-Blagnac Airport
• Bus number 66 : Toulouse St Cyprien – Toulouse-Blagnac Airport
• Bus number 88 : Grenade – Seilh – Toulouse-Blagnac Airport
• Airport Shuttle
Use the shuttles to take you to the airport.
• From 05h00 to 00h15
• Leaving every 20 minutes
• Approximately 20 min to go the the city centre
• 4 different stops
All rates are valid throughout the entire bus-underground network and the Airport Shuttle
The Flybus airport shuttle to the city centre can take you directly to the train station Matabiau.
Taxis from the Airport
The taxis of Toulouse Airport are found on the ground floor level of the terminal building, nearby to the arrivals area. Passengers should collect their luggage and make their way to gates C and D, should they require a taxi. Airport taxis are available twenty-four hours a day, seven days a week. Passengers will therefore usually not need to wait for a taxi, however, if arriving during the early morning hours, it may be best to pre-book a taxi service. A reservation is not required, but sometimes it brings peace of mind knowing that a car will be waiting for you at your time of arrival.
A taxi to the city centre of Toulouse will cost approximately 22 Euro, while a taxi to Colomiers, Sesquieres and Mirail will cost approximately 23 Euro. Around 34 Euro will be charged for a trip to Labege, Le Palays, La Plaine and the Eurocentre. These rates vary according to the actual destination requested by the customer. These are also the daytime rates charged. During later night hours and early morning hours taxi rates are more expensive, for example, a trip to the city centre of Toulouse at night will cost 25 Euro. The higher rates are charged on Sundays and public holidays as well.
ShuttleDirect.com has proved a hit with internet-savvy travellers around the world. Here's why: Over 1000 routes to the major holiday destinations in 18 countries, and more destinations being added all the time. We are confident we have the best prices for transfers on the internet. Instant Confirmations. Most transfers are booked and confirmed immediately.
Football Trip to Toulouse – Travel By Train
Trains from Paris Austerlitz via Limoges and Brive are conventional 125mph trains using the classic Paris-Toulouse route, most now composed of stylish and comfortable Téoz carriages, see the photos below. The trains from Paris Montparnasse to Toulouse are 186mph TGV trains, using the high speed line the long way round via Bordeaux.
For more information on trains to Toulouse.
Tickets start at £60.5050 via Voyages SNCF.
Football Trip to Toulouse – Travel By Coach
Megabus offer a coach to Toulouse via London with prices starting as low as £1. Services leave London at 10.30am and arrive in Toulouse at 6.25am the next day. There's a one-hour time difference between London and Toulouse. The return journey leaves Toulouse at 9.30pm and arrives in London at 6pm the next day.
Journey Time – Journey time from London to Toulouse will be 19 hours, with a further 5½ hours from Toulouse to Barcelona. The journey time includes the English Channel crossing and a break in Paris.
Football Trip to Toulouse – Travel By Ferry
Toulouse is a 9 to 10 hour drive from Calais. Book tickets via DFDS Seaways.
Football Trip to Toulouse – Travel Around Toulouse
Toulouse is a big city, but the historical centre (downtown) is quite small, so you can walk to most destinations in the inner city quite comfortably. This is definitely the best way to explore the city.
Tisseo operates a network of bus, tramway and metro lines throughout the city. The website features an online route planner as well as maps and schedules. Bus tickets can be bought from the bus drivers for €1.60. Note that most bus lines stop operating at 22:00, but some of the most popular lines operate until 01:00. When purchasing tramway tickets at vending machines, which are conveniently located at every tramway stop, keep in mind that ticket dispensers might not accept non-French credit cards, so have enough coins to hand just in case (banknotes aren't accepted either, and change is hardly available even at the central metro stations).
A free shuttle bus circles the historic centre of the city throughout the day on all days except Sunday. These buses are usually green and don't have set stops, so if you see one, flag it down.
The metro is relatively small, there are two lines, one going east-west (line A), and the other going north-south (B), but is modern and easy-to-use. The metro operates from 05:00 until midnight (3:00 on Friday and Saturday nights).
Football Trip to Toulouse – How to Get to the Match
Football Trip to Toulouse – The Stadium
Constructed in 1937 for the 1938 World Cup, Stadium Municipal underwent a huge revamp ahead of the 1998 tournament, and later hosted Rugby World Cup matches in 2007.
The venue is currently shared between Ligue 1 strugglers Toulouse FC, the French national rugby union team and Stade Toulousain, a major force in French rugby who play Heineken Cup matches there.
Nestled on an island in the river Garoone, three kilometres south of Toulouse's historical centre, Stadium Municipal will host three group stage matches and a round of 16 fixture during Euro 2016.
Football Trip to Toulouse – Getting to the Stadium
Stadium de Toulouse is located in central Toulouse on an island in the river Garonne. It lies about 3 kilometres south of Place du Capitole in the historic centre, and a good 4 kilometres from the central railway station.
The nearest metro stations are Empalot and St Michel, both on the yellow line, from where it is a 15-minute walk to the stadium. The yellow line crosses through Toulouse's historic centre and passes close to the central station (and can also be reached with a change from the red line).
From the southern part of the historic centre (Pont Neuf, Esquirol) one can take bus 12 (to Basso Cambo), which leaves you right in front of the stadium. Get off at stop Stadium Est (or Stadium Ouest).
An alternative is bus 38, which passes a short walk away from the stadium (on the east bank of the river). Take the bus from, for example, Jean Jaurès in the historic centre (direction Empalot). Both buses generally go every 10 to 15 minutes.
On matchdays free shuttle buses run from train and metro station (red line) Arenes, which is located towards the east of the city.
Football Trip to Toulouse – Getting Tickets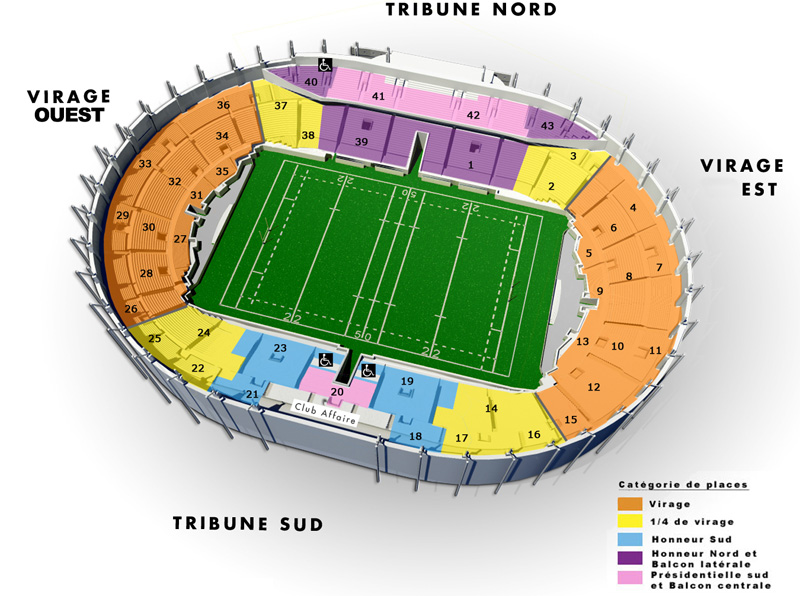 Buy Toulouse FC Tickets using the following link. https://billetterie.tfc.info/
You can also usually buy tickets on the day of the game at the stadium
Ticket prices for a regular matches range from €10.00 for a seat at one of the curves to €25.00 for a seat at the upper-tier of the main stand. For a number of select matches prices are higher, for example starting at €35.00 for the PSG match.
Tickets can also be bought by re-sellers such as Ticket Bis and Viagogo.
HotFootballTickets.com – was created to provide Football fans in Europe as well as fans from all over the world an easy and simple way to purchase online from the convenience of their home or Offices, football Tickets at excellent prices with delivery directly to their Home or Hotel.
Buy your football tickets on the official site of LiveFootballTickets.com. We offer tickets for the best matches in England and European leagues online.
Football Trip to Toulouse – Fixtures
Plan your Football Trip to Toulouse with our full list of fixtures.
Football Trip to Toulouse – Where to stay. What to See. Where to Eat. Where to Drink


Football Trip to Toulouse – Where to stay
You may find cheaper accomodation for your Football Trip to Toulouse if you book a hostel via our sponsors HostelWorld.com
In many cities the most cost effective accommodation choice for groups is to hire and apartment. Our sponsors Citybase appartments specialises in serviced apartments. The link below offers online apartment search and booking for destinations around the world.
Football Trip to Toulouse – What else to see & do
When planning a football trip to Toulouse it is always good to know what else there is to see and do in the city. Here are a selection of the best things which I found using our sponsor Lonely Planet. Lonely Planet also has maps of the city, details of all the best pubs, bars and restaurants and travel information from the city.
A great way to begin a tour of Toulouse is by journeying back in time to the era of medieval pilgrimages at the UNESCO-listed Basilique Saint-Sernin. Next, visitors can explore a 13th-century convent exemplifying Southern Gothic style or spend time walking around the Place du Capitole, lined with red-brick architectural landmarks.  One of the most glorious churches on the medieval pilgrimage road to Santiago de Compostela in Spain, the Basilica of Saint-Sernin is a masterpiece of Romanesque art. This exquisite church, built in the 11th to 13th centuries, is a UNESCO World Heritage Site.
A beautiful example of Southern Gothic architecture, the Couvent des Jacobins was founded as a Dominican monastery in the 13th century. The convent, built between 1260 and 1292, was constructed entirely from the red bricks of Toulouse and has a similar tower as the Basilique Saint-Sernin.
The hub of Toulouse life is the bustling Place du Capitole. This town square showcases the classic architecture of Toulouse. On the west side of the square, there are beautiful arcades. On the east side of the square is the celebrated 18th-century Capitole building.
The Musée des Augustins presents a well-rounded collection of paintings and sculptures. The painting collection represents works from the Middle Ages to the 20th century. The sculpture collection ( in the 14th-century cloisters) spans the Romanesque period to the modern era, with wonderful examples of Early Christian sarcophagi, medieval religious art, and Renaissance works.
Toulouse boasts a variety of museums to represent every genre of art. Les Abattoirs is the modern and contemporary art museum. With a collection of more than 2,300 works, the museum brings together paintings, photographs, drawings, and graphic works along with a small group of sculptures.
The remarkable UNESCO World Heritage City of Albi lies on the Tarn River about 80 kilometers north of Toulouse. An important medieval Episcopal city, Albi is graced by an impressive fortress-like cathedral. The Cathédrale Sainte-Cécile is the largest cathedral built of brick in the world and is one of the most magnificent Gothic cathedrals in southern France.
About 54 kilometers from Toulouse, Montauban enjoys a picturesque setting on the Tarn River and has a rich cultural heritage. The 18th-century Cathédrale Notre-Dame contains an exceptional painting by Jean-Auguste-Dominique titled Louis XIII's Vow. The town also boasts an entire museum dedicated to Ingres, the Musée Ingres (9 Rue de l'Hôtel de Ville), in the former Bishop's Palace that was built in the 17th century.
Football Trip to Toulouse – 10 of the Best Pubs in Toulouse
The Frog & Rosbif, Toulouse
The Thirsty Monk Pub: Great choice of craft beer, Toulouse
Melting Pot Pub, Toulouse
George & Dragon, Toulouse – http://www.georgeanddragonpub.fr/
Killarney Irish Pub – Irish pub with stout and darts. Open Tuesday to Friday 18:00-02:00 and Saturday 18:00-04:00. Located at 14 rue Alfred Dumeril in Toulouse.
De Danu Irish Bar – rish bar with music, live entertainment, widespread sports coverage and an Irish breakfast on Saturday and Sunday afternoons. Open Sunday to Friday 11:00-02:00 and Saturday 11:00-04:00. Located at 9, rue du Pont-Guilhemery in Toulouse
La Tireuse – Pub with a long wooden bar and at least 15 beers on tap. Tables outside in warm weather. Open 18:00-02:00. Located at 24 rue Pargaminieres in Toulouse.
La Pere Louis – An institution in Toulouse. Founded in 1889 and Monument historique since 1991. Old fashioned fittings and atmosphere. Br food in the form of charcuterie. Open 9:00-14:30 and 17:00-22:00. Located at 45 rue Tourneurs in Toulouse.
Mulligans Irish Pub – Irish pub with live music and live sport on TV. Open every day 17:00-02:00 (later on Saturday nights). Located at 39 Grand Rue St Michel.
Dubliners Irish Pub – Irish pub which holds music nights. Open Monday to Friday 17:00-02:00 and Saturday 18:00-04:00. Located at 46, av Marcel Langer.
Football trip to Toulouse – Useful links
http://theculturetrip.com/europe/france/articles/top-10-restaurants-in-toulouse-from-local-eats-to-fine-dining/
http://www.thefork.com/restaurant+toulouse