Planning a Football Trip to Antwerp? Free guide – where to stay, eat, drink and how to get tickets & to the stadium.
Football Trip to Antwerp – How to get to Antwerp & How to get around
Football Trip to Antwerp – Fly to Antwerp
Antwerp Airport offers daily flights to and from London City airport.
The nearest major airport that you will be able to fly to is Brussels. Read about flying to Brussels in our guide to Planning a Football Trip to Brussels
Start your holiday in style and enjoy the experience of VIP travel – book an airport lounge with Lounge Pass from as little as £13.50. With 200 airport VIP lounges worldwide, including 35 UK airports you can add an extra touch of luxury to your next trip and make the travel experience a whole lot better.
Directions from the Airport
The railway station Antwerpen-Berchem is located near Antwerp Airport and provides national train connections. International trains depart from the railway station Antwerpen-Centraal.
Please visit www.nmbs.be for more information on train connections.
Bus 51, 52 or 53 brings you from Antwerp Airport to Antwerpen-Berchem railway station in 10 minutes where you can take bus 21 and 32 or tram 9 and 11 to Rooseveltplaats (Roosevelt Square), near Antwerpen-Centraal railway station.
Hourly direct trains link Antwerp central station with Brussels airport, with a travel time of approximately 35 minutes (45 minutes on weekends and public holidays). Single adult tickets are €11,20 (Aug. 2014).
Charleroi Airport – Belgian Railways sell a combined expressbus + train ticket: from Antwerp Central Station the trip takes 2 hours and costs about €20.
Schiphol Airport (IATA: AMS). There are two options to take the train from Amsterdam Schiphol airport to Antwerp central station. First, the regular intercity Amsterdam -Brussels service runs 16 times daily.
Düsseldorf Airport (DUS) is the third largest airport of Germany. There is no easy train connection to Antwerp, but since June 2014, a bus service by Deutsche Bahn railways connects Antwerp directly to Düsseldorf Airport 3 times daily.
Taxis from the Airport
Upon arrival of scheduled flights taxis are available at the exit of the airport building. In case the number of taxis is insufficient, you can ask the Airport Security Service to call additional taxis.
The journey takes about 10 minutes and costs about 16 euros
ShuttleDirect.com has proved a hit with internet-savvy travellers around the world. Here's why: Over 1000 routes to the major holiday destinations in 18 countries, and more destinations being added all the time. We are confident we have the best prices for transfers on the internet. Instant Confirmations. Most transfers are booked and confirmed immediately.
Football Trip to Antwerp – Travel By Train
In 3 to 4 hours the Eurostar high-speed train and Thalys or Intercity Brussels will take you from London St. Pancras to Antwerp Central Station with a change of trains in Brussels-Midi. Tickets start at around £35 via Voyages SNCF.
Football Trip to Antwerp – Travel By Coach
Megabus.com offers frequent, reliable bus service to Antwerp and other destinations in Europe like Rotterdam and Ghent
Eurolines offers two coaches per day from London Victoria to Antwerp. You can leave at 8:00 and arrive at 16:20 or at 21:30 and arrive at 8:00am on a Friday and Saturday. Return on the Sunday is possible leaving at either 11:50 and arriving at 18:30 or at 21:00 and arriving at 5:30 but there doesn't seem to be anything after that until Thursday
https://www.eurolines.co.uk/assets/timetables/eurolines-belgium-timetable.pdf
Football Trip to Antwerp – Travel By Ferry
All three of the UK to Belgium ferries will get you within 75 miles of Antwerp, then it's an easy drive that wont take you much more than an hour.
The closest DFDS Seaways ferry port to Antwerp is Dunkirk. Book tickets via DFDS Seaways.
Football Trip to Antwerp – Travel Around Antwerp
Antwerp is a pocket-sized city. Many of the attractions are within walking or biking distance of each other. Another way of getting around the city is on the trams and buses of De Lijn. A word of caution though – the city centre itself is not terribly kind to car travel, especially the congestion-prone ring road. You may want to consider parking the car up, once you've arrived in the City of Diamonds.
The city has a dense network of tram and bus lines connecting the main town to the suburbs, as well as shorter journeys within the centre itself. There are 12 lines in all on the tram network, which includes 4 lines running underground section, called the Premetro.
This also includes a tunnel under the Scheldt, to get you over onto the Left Bank of Antwerp. But the best way to enjoy the city on the move is probably by walking or cycling – like most Belgian cities, Antwerp rewards those who amble around using just their own two-feet.
Tip: buy your tram or bus ticket in a point of pre-sale (newsagent's, supermarket, the vending machines at the various stops or in the visitor centres of Visit Antwerp), where tickets are cheaper.
You can also buy an Antwerp City Card, which includes the use of public transport in the city for the time your card is valid.
Football Trip to Antwerp – How to Get to the Match
Football Trip to Antwerp – The Stadium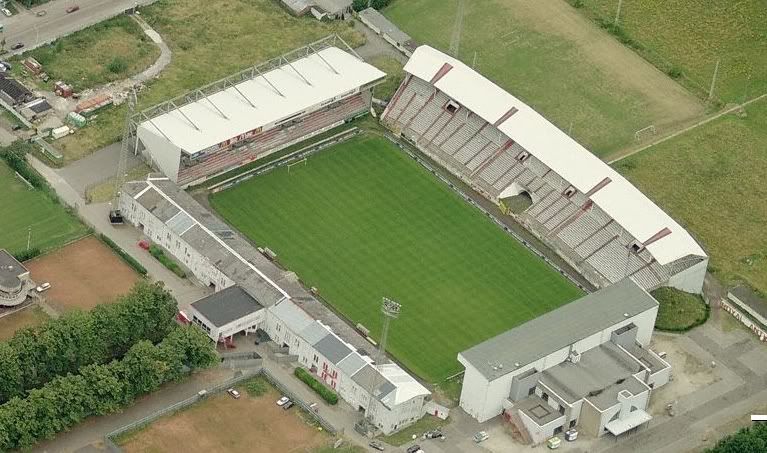 Royal Antwerp play at the Bosuilstadion. It hosted the 1964 European Cup Winners' Cup Final second leg, which sealed the victory of Sporting Clube de Portugal against MTK Budapest FC. It also hosted the UEFA Euro 1972 semifinal between Belgium and West Germany, won by West Germany. A large number of friendly international games of Belgium were played at the Bosuil, many of which against the Netherlands. However, the stadium has not hosted an international game since a friendly match Belgium against Brazil in 1988.
The stadium also known as the Tawny Owl is composed of four separate stands, and on 08/27/2015 a total capacity of 12,975 people .
Stand 1, the AVT Stand : seats, press box, grandstand and lodges. Stand 1 is one of the ancient stands of Tawny Owl (° 1923), and was completely renovated between 2013 and 2015. On Sunday 23/08, the stand was first put into use again. Current capacity: 2373 places.
Stand 2 : seating. The legendary wooden benches are imbued with the football sense. Stand 2 is known for its authentic football experience and the inimitable atmosphere that is created there by the Antwerp fans. Actual capacity: 7760 places. Permitted capacity: 6810 places.
Stand 3 Vic Mees Tribune : seating. The latest addition to the Bosuil Stadium was opened in 2001 and provides the modern football fan all the comforts that one would expect from a football evening. She is also very suitable for families. Since 2012 visiting supporters were housed in box Z5 (858 places) of Stand 3, separated by a wall of plexiglass and nets. Current capacity, incl box Z5:. 2992 places.
Stand 4 / business seats : seats. Opened in 1991, this lodge complex was ahead of its time. The Business Seats are well equipped with comfortable seats, so you should not miss thanks to the speakers of the football atmosphere of the Tawny Owl. In addition, you may, expect during and after the game on an extensive catering service. The Seats are ideal for our business partners, sponsors and VIPs. Current capacity: 800 places.
Football Trip to Antwerp – Getting to the Stadium
Access route organized bus transport
from Ghent: A14-E17 Ghent / Antwerp> Kennedytunnel> Breda / Bergen-Op-Zoom> E34 / E313 towards Hasselt> exit Wommelgem> down left at the roundabout> under the bridge> reception by motorcyclists> escorted to the rendez -vouspunt August of Wielelei> escort to the Bosuil Stadium.
from Brussels: E19 / A12 Brussels-Antwerp> Breda / Bergen-Op-Zoom> E34 / E313 towards Hasselt> exit Wommelgem> down left at the roundabout> under the bridge> reception by motorcyclists> escorted to the rendezvous point August of Wielelei> escort to the Bosuil Stadium.
from Genk: E34 / E313 Liège-Antwerp (Baudouin Motorway)> direction Antwerp> exit Wommelgem – down left at the roundabout> under the bridge> reception by motorcyclists> escorted to the rendezvous point August of Wielelei> escort to the Bosuil Stadium.
Road access personal transportation
from Ghent: A14-E17 Ghent / Antwerp> Kennedytunnel> Breda / Bergen-Op-Zoom> E34 / E313 towards Hasselt> Wommelgem> exit down> turn left at the roundabout under the bridge> straight Autolei> Krijgsbaan> Houtlaan> Merksemsebaan> left> Bisschoppenhoflaan> Jan Welter Hitting> left> vehicle parking near the stadium.
from Liège / Genk: E19 / E34 / E313 Liège-Antwerp (Baudouin Motorway)> direction Antwerp> exit Wommelgem> down> turn right at the roundabout> Krijgsbaan> Houtlaan> Merksemsebaan> left> Bisschoppenhoflaan> Jan Welter Hitting> left> vehicle parking near the stadium.
Football Trip to Antwerp – Getting Tickets
You can buy tickets online via the club website.
Football Trip to Antwerp – Fixtures
When planning your football trip please note that the dates shown represent the weekend that the game is scheduled to take place and games are likely to change through the season and be moved for TV scheduling.
Plan your Football Trip to Antwerp with our full list of fixtures.
The schedule for kick-off times in Belgium can be found our Planning a Football Trip to Belgium page (COMING SOON)
Football Trip to Antwerp – Where to stay. What to See. Where to Eat. Where to Drink
Football Trip to Antwerp – Where to stay
Definitely try and stay in the Grote Markt area, in the old town. The area around Central Station is all fast food restaurants and cheap shops, the diamond district excepted.
In many cities the most cost effective accommodation choice for groups is to hire and apartment. Our sponsors Citybase appartments specialises in serviced apartments. The link below offers online apartment search and booking for destinations around the world.
6 Must See Attractions on your Football Trip to Antwerp
When planning a football trip to Antwerp it is always good to know what else there is to see and do in the city. Here are a selection of the best things which I found using our sponsor Lonely Planet. Lonely Planet also has maps of the city, details of all the best pubs, bars and restaurants and travel information from the city.
Self-guided Walking Tours in Antwerp, Belgium
The Olympisch Stadion was built as the main stadium for the 1920 Summer Olympics in Antwerp. For those games, it hosted the athletics, equestrian, field hockey, football, gymnastics, modern pentathlon, rugby union, tug of war, weightlifting and korfball (demonstration)events. It is currently used as the home ground of FCO Beerschot Wilrijk, a Belgian football club.
The Plantin-Moretus Museum is a printing museum in Antwerp, Belgium which focuses on the work of the 16th century printers Christophe Plantin and Jan Moretus. The museum is a UNESCO World Heritage site as the as the first industrial printing works in history. Granted by Unesco in 2005, the museum demonstrates the entire book production process from the 15th to the 18th century.
MAS Museum (next to the port). MAS contains different collections – each telling the story of Antwerp's place in the world. You can spend a day riding its exterior escalators, exploring its airy terraced spaces and feasting – book well ahead – at the Zilte, its exotic restaurant.
Not far from the port, Rubens House, The Rubenshuis is the former home and studio of Peter Paul Rubens in Antwerp. It is now a museum.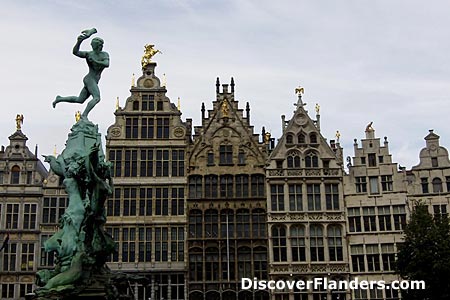 The Grote Markt, Antwerp's compact main square is pedestrianized, so you can safely admire the monumental fountain and the magnificent buildings surrounding the square.
Still the tallest building in Antwerp (123 meters), the gothic Cathedral of Our Lady was started in 1352 with the first stage of construction ending in 1521. The cathedral houses some impressive huge paintings by P.P. Rubens, and is on the list of Unesco World Heritage sites. P.P. Rubens works in the church include : Raising of the Cross, and, Descent from the Cross
The Saint Paul's church was consecrated in 1571. In 1679 a new baroque tower was built after a fire. The church has been damaged extensively over the last few centuries, last by a great fire in 1968. Now however, it has been restored. The church contains a vast array of works of art, with paintings by P.P. Rubens, Van Dyck, Jordaens etc. The work by P.P. Rubens is "Adoration of the Shepherds".
Stadhuis (tours Mon, Tues, Wed, Fri 9am-3pm, Sat 12am-3pm; Bfr30/48p; 220 8211). Completed in 1564, Antwerp's town hall is widely recognised as one of the most important buildings of the northern Renaissance. Tours can be arranged through the tourist office.
Boat trips (until 1 May Sat & Sun only, after 1 May daily; 11.30am, 1pm, 2.30pm, 4pm; adults Bfr25/pounds 4; children Bfr150/pounds 2.50). A one-and-a-half-hour tour up and down the Schelde river offers a relaxing way to take in the cityscape and Antwerp's huge dockland area, which has traditionally formed the basis of the city's wealth. In summer there are romantic early-evening tours (see Information).
The Royal Museum of Fine Arts Antwerp is closed for renovation until 2019. Consequently the holdings can, for the time being, not be displayed at the familiar building in Antwerp's Zuid or ' South' quarter.
10 Great Pubs in Antwerp
Billies Beer Kafeteria – Kammenstraat 12, 2000 Antwerpen, Belgium
Paters Vaetje is one of the better brown bars, and is situated under the watchful eye of the Cathedral. This cozy old bar in the middle of the historic centre of Antwerp welcomes all who like anauthentic atmosphere. We can be found next to the Cathedral of Our Lady, at the Blauwmoezelstraat 1.
Bette's Pic-Nic – Lijnwaadmarkt 14, Antwerp 2000, Belgium
't Oud Arsenaal – Something you must visit when in Anterp is the street market on Wapper and Graanmarkt, just off the main shopping drag Meir. A seconary reason for having a look at the market is Oud Arsenaal, very handily placed half way along it. The bar – with a lovely leaded glass screen at one end – offers only limited standing opportunities. An impressive array of beer memorabilia hides all the vertical surfaces. Below, a long bench, a succession of tables crushing in front of it, stretches the length of the wall.
In De Vagant you can enjoy a wide range of Belgian jenevers (they serve over 200 different ones!). The café is situated on a picturesque street, with a stunning view of the Cathedral.
Kulminator is an excellent specialist bar, a pioneer in beer aging. The beer selection is outstanding. Just the new beers would make it an excellent beer pub. What tips it over into the wonderful, is an unrivalled choice of old beers.
Pakhuis is a huge brewpub that stretches over two floors of an old warehouse. The cavernous interior has bare brick walls and a parquet floor. The spartan central bar has tiled sides and no barstools. The ground floor houses the stainless steel brewing vessels, which rest againt one wall.
Stamineeke – Of the many pubs on Vlasmarkt, Stamineeke is the one true specialist beer café. It's a two-storey affair, in another 17th century house in the Antwerp style.
Het Stookpe – A pub opposite the De Koninck brewery and used by its workers. Opened in 1955. It claims that the Koninck is pumped directly from the brewery to the pub.
Celtic Ireland, Groenplaats 1 – Located in Groenplaats, this Irish pub gets crazy. It is an open, wooden bar with a good selection of beers available.
De Groote Witte Arend, in a secret courtyard near the Jordaens house, is in a former convent. The background music tends to be Vivaldi or Telemann, the atmosphere is genteel without being snobbish. De Groote Witte Arend specializes in Trappist and other strong beers.
Bier Central serves more than 3,000 beers in a bottle and more than 20 other beers on tap. The menu features an array of traditional Belgian dishes such as mussels, oven-baked Brussels endives, and beef stew prepared with Belgian beer.
Pelgrom, +32 (0)3 234 0809 [38]. This building combines both an impressive bar in the basement, plus the 'poortershuis', which is a replica of the house of businessmen in Antwerp during the 17th century.
5 Recommended Antwerp Restaurants
Rooden Hoed Corner of Oude Koornmarkt and Tempelstraat. The oldest restaurant in Antwerp, specializing in seafood, especially mussels. Very popular with locals, but few tourists, so you know it's good. Mains starting at €20.
Bia Maria – Fish, rolled in tempura or panko, comes in different tastes (all of them are delicious). Combined with the seaweed salted chips and matching sauce, you have the option to order some sides too. If you're with a bunch of people, order them all. If you have to make a choice, go for the minty mushy peas. The freshness of the peas goes great together with the fish and chips. (Maalderijstraat 1, Antwerp
Black Smoke – Black Smoke is a new restaurant (opens on November 4) on the roof of our city brewery 'De Koninck' (check the Brewery De Konick article). Belgian people prefer their meat in 4 categories: blue (almost raw but warm), saignant (bloody inside, crusty outside), A point (pink inside, crusty outside), bien cuit (well backed inside, crusty outside). Tip: if you order you meat, try to use those terms. 'Medium' is not a well defined term in Belgium (it's between saignant and à point).(Boomgaardstraat 17)
De Talorkes – Traditional Belgium dishes at good prices (Lange Koepoortstraat 61)
Balls & Glory -What do they serve: meat and vegetarian balls. Balls!? Yes, Belgian people love eating minced meat, and Balls & Glory rolls and stuffs them with delicious sauce (e.g. mushroom and pepper, chicken and truffle, cauliflower and pickles, …). The balls are accompanied with a fresh funky salad or with mashed potatoes. (Godefriduskaai 30)
Useful Links
http://www.visitantwerpen.be/detail/public-transport
http://www.dailymail.co.uk/travel/article-2227634/Antwerp-city-breaks-Belgiums-best-kept-secret-true-treasure-trove.html
http://www.travelocafe.com/2014/12/antwerp-food.html
http://www.telegraph.co.uk/travel/destinations/europe/belgium/722917/Antwerp-Weekend-to-remember.html
http://www.spottedbylocals.com/antwerp/category/activity/restaurants/
http://www.independent.co.uk/travel/48-hours-in/48-hours-in-antwerp-1855089.html
http://www.europeanbeerguide.net/antwpubs.htm
http://www.beertutor.com/city_guides/antwerp.shtml
http://belgium.beertourism.com/cities/antwerp
http://www.gpsmycity.com/gps-tour-guides/antwerp-2513.html
http://www.planetware.com/tourist-attractions-/antwerp-antwerpen-anvers-b-a-aaa.htm
http://theculturetrip.com/europe/belgium/articles/the-10-best-bars-and-cafes-in-antwerp/
http://www.arrivalguides.com/en/Travelguides/Europe/Belgium/Antwerp/barsandnightlife
http://www.adrianbell.co.uk/pubs/antwerp/