Planning a Football Trip to Bologna? Free guide – where to stay, eat, drink and how to get tickets & to the stadium.
Football Trip to Bologna – How to get to Bologna & How to get around
Football Trip to Bologna – Fly to Bologna
Multiple airlines fly to Bologna every day and you are able to fly direct from Bologna from London, Manchester, Edinburgh, Bristol from as low as £30.
Start your holiday in style and enjoy the experience of VIP travel – book an airport lounge with Lounge Pass from as little as £13.50. With 200 airport VIP lounges worldwide, including 35 UK airports you can add an extra touch of luxury to your next trip and make the travel experience a whole lot better.
Directions from the Airport
The Guglielmo Marconi airport is just 6 kms northwest of the city. Aerobus-BLQ is the express shuttle bus service connecting Bologna Marconi Airport to the Bologna Central Railway Station. There are regular services with the first bus from the airport leaving at 05:30 and the last bus at 00:15. Travel time is 20 minutes. For more information about schedules see TPER. Tickets currently cost €6 one way.
Taxis from the Airport
Taxi costs around €15 so if you are travelling in a group, better take a cab. Taxi rank is just outside the arrivals entrance.
HolidayTaxis.com is a worldwide transport service, offering you airport to city and resort transfers in over 11,000 destinations in over 120 countries around the world.
Football Trip to Bologna – Travel By Train
The average journey time between London and Bologna Centrale is 16 hours and 27 minutes and the fastest journey time is 11 hours and 57 minutes. On an average weekday, there are 9 trains per day travelling from London to Bologna Centrale.
Tickets start at around £50 via Voyages SNCF.
Bologna is an easy one hour train ride from Milan. Read our guide to Planning a football trip to Milan 
Football Trip to Bologna – Travel By Coach
Baltour and Eurolines run a coach from London to Bologna. It takes 27hours leaving at 8.00am and arriving at 11.00am the next day. Prices start at £80.
A bus from Bologna to London and return is currently available from 2 providers, namely Baltour and AGAT. The choice is yours! You can opt for the fastest bus on this route, which is operated by AGAT or you can go for the cheapest bus from London to Bologna, which is only £120.00.
Football Trip to Bologna – Travel By Ferry
It takes between 13 and 14 hours to drive to Bologna from Calais. Book tickets via DFDS Seaways.
Football Trip to Bologna – Travel Around Bologna
Most of centre is ccompact and can be walked around.
The TPER company is in charge of the buses in Bologna.  Tickets may be purchased prior to boarding the bus, or on the bus where there are ticket machines. If you see 2 machines on a bus (usually one red and one yellow) the red one will sell you a ticket (€1.5, valid for 75 minutes) and the yellow one will validate a 'season' or multi-trip ticket. Information and ticket centres can be found in central locations (railway station, coach station, city centere). Useful bus maps are also available there. These main ticket centres often sell multi-trip tickets at a discount (e.g. 10-trip ticket for €12). You can also purchase tickets in many shops (newsagents, tobacconists, cafés). The 24h ticket cost €5.
Football Trip to Bologna – How to Get to the Match
Football Trip to Bologna – The Stadium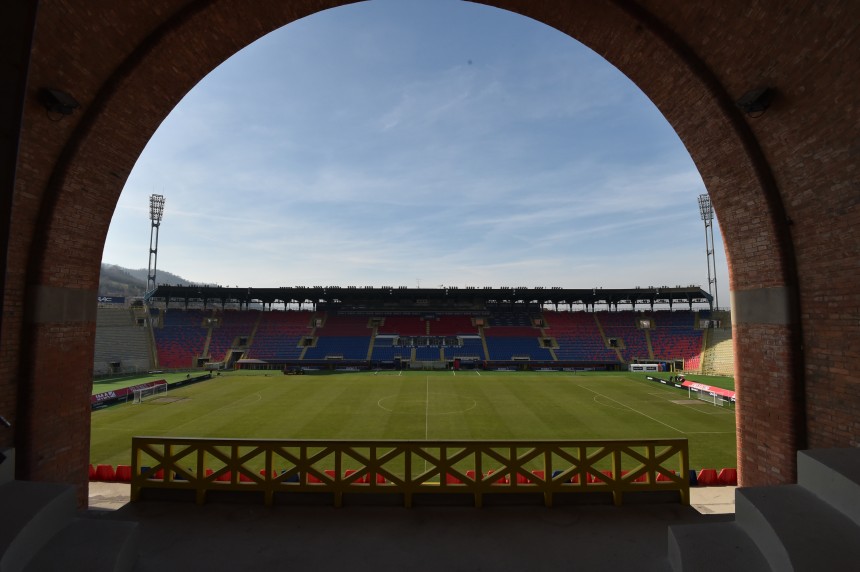 The stadium's name leaves little doubt as to the political motivation behind the building ("Littoriale" was synonymous with Mussolini's government propaganda) which, appropriately enough, was sponsored by Leandro Arpinati, FIGC president and fascist mayor of Bologna. The construction of a large arena in Bologna was one of Arpinati's major ambitions and his dream was realised between 1925 and the 29th May 1927 when the "Littoriale" opened and became the first stadium in Italy to be funded by a public body. This coincided with a real turning point in the popularity of football as a spectator sport.
Bologna's Stadio Littoriale, was developed as a multi-sport venue in keeping with fascist government policy. The pitch was surrounded by a six-lane running track and the stadium itself was surrounded by two swimming pools and four tennis courts making it a veritable sporting metropolis.
Built on the edge of the city, the stadium's architecture drew on inspiration from Acient Rome although it was a long way from the excessive monumentality of typical fascist buildings. The walls were built from typically red Bologna brick and the arched windows helped make it an attractive building. A final peculiarity was added, in addition to the stadium being connected with the world's longest portico (the portico di San Luca), by the construction of the Maratona Tower in the sector facing the main stand.
The Stadio Littoriale had state-of-the-art capabilities: the 50,100 capacity was enough to frighten opponents who found themselves playing both Bologna the team and Bologna the crowd. There was a capacity crowd at the first official match at the new stadium. On the 29th May 1927, a crowd of 55,000 witnessed Italy's 2-0 win over Spain with one goal from home-town captain Della Valle. This was a record for the 1920s. Fulvio Bernardini was playing for Italy at the time and remembers how, during the match, Bologna was in complete lock down and seemed to be the scene of a great national festival.
The England against Belgium match (1–0, goal scored by David Platt in the 119th minute) of 26 June 1990, in the Round of 16 of the World Cup, was the last of four matches in the tournament played in Bologna.
Football Trip to Bologna – Getting to the Stadium
The Renato Dall'Ara stadium is located in the heart of the city, in the Costa Saragozza district. The stadiums is 3 kms away from the town centre, 3.5 kms from Bologna's train station and 7 kms from the Guglielmo Marconi international airport.
Via Andrea Costa 174, 40134 Bologna. Phone +39 051 6142215
BY TRAIN:
A shuttle service has been introduced between Bologna's train station and the stadium for the away fans.
Football Trip to Bologna – Getting Tickets
You can buy tickets online via the club website. Prices start at 15 euros for a ticket with the ultras behind the goal. Tickets can be emailed to you and then scanned on the entrance gate.
Tickets can also be bought by re-sellers such as Ticket Bis and Viagogo.
HotFootballTickets.com – was created to provide Football fans in Europe as well as fans from all over the world an easy and simple way to purchase online from the convenience of their home or Offices, football Tickets at excellent prices with delivery directly to their Home or Hotel.
Buy your football tickets on the official site of LiveFootballTickets.com. We offer tickets for the best matches in England and European leagues online.
Football Trip to Bologna – Fixtures
When planning your football trip please note that the dates shown represent the weekend that the game is scheduled to take place and games are likely to change through the season and be moved for TV scheduling.
Plan your Football Trip to Bologna with our full list of fixtures or Check the Serie A website when planning your football trip to Holland for latest fixture information.
The schedule for kick-off times in Italy can be found our Planning a Football Trip to Italy page (COMING SOON)
Football Trip to Bologna – Where to stay. What to See. Where to Eat. Where to Drink
Football Trip to Bologna – Where to stay
I stayed at the Grand Hotel Elite which was a 20 minute walk into the centre of town and also a 20 minute walk to the stadium. Anywhere near the centre of town and you should be able to get around easy enough. It's not that big.
In many cities the most cost effective accommodation choice for groups is to hire and apartment. Our sponsors Citybase appartments specialises in serviced apartments. The link below offers online apartment search and booking for destinations around the world.
Football Trip to Bologna – What else to see & do
When planning a football trip to Bologna it is always good to know what else there is to see and do in the city. Here are a selection of the best things which I found using our sponsor Lonely Planet. Lonely Planet also has maps of the city, details of all the best pubs, bars and restaurants and travel information from the city.
Sooner or later you will find yourself on Via Emilia which is an excellent reference point to any adventure in Bologna. 2200 years old, this is the original roman road that connected Rimini with Piacenza. A grand boulevard, flanked by historic colonades and a string of designerwear shops, at its crown lies the spectacular 318 feet tall Torre degli Asinelli, the symbol of Bologna and the perfect point to start your adventure. When you look at these awe inspiring towers, remember these twin towers were kinda like the Manhattan of their age. They marked the gateway to the city. The towers were symbols of prestige to their owners. Higher, the more prestigious. To the point where they started groaning under the weight of gravity and started leaning. At one point they were 100 of these towers so you can imagine how breathtaking the city skyline must have been like. Now only 20 of these towers exist. It's a 498 step climb to the top but once you've made it to the top you are rewarded with stunning views of Bologna and the surrounding countryside. Cost: €3
Museum of the History of Bologna housed in the beautiful Palazzo Pepoli. The museum condenses the 2220 years of the city's history into a few hours helping you retrace the amazing historical, cultural, artistic and scientific heritage of the city of Bologna. Cost: €5
Archiginnasio, home once upon a time to the oldest university of Western Europe ( 1088 )- the University of Bologna. Present day it functions as a library. However the main draw for visiting here is the wooden Teatro Anatomico. It's quite morbid and fascinating at the same time sitting on the benches of the theatre gazing up at the skinless humans of Enrico Lelli overlooking the dissecting table. Dating from 1637, this was the first university to allow dissection of the human body. Cost: € Free
Riva di Reno for example, one of the city's major waterways which once traversed through half of the city now runs beneath the streets. A shame. If you visit Via Piella, you'll find a small window hidden in the wall which opens up onto the Moline canal. These canals back in the 13th century were the most advanced waterway system in Europe. Bologna was then the fifth largest city in Europe (after Cordova, Paris, Venice, and Florence) with over 60000 inhabitants.
A tour of Bologna's ancient market that crisscrosses the backstreets behind the landmark Piazza Maggiore is a must for anyone interested in food, from the bustling fruit and vegetable stalls to salumerie where the seductive aroma of prosciutto and mortadella wafts out on to the street. La Baita is the most renowned cheese shop, and at lunchtime shoppers can stop off for a proper meal of affettati (cold cuts), not just fabulous cheeses like a unique black Parmigiano or succulent fresh ricotta, but also frittata di verdura, a light omelette, smoked ham and tasty salami, priced from €10-€15 depending how carried away you get when ordering.• 3 Via Pescherie Vecchie
Pinacoteca is located not far from Le Due Torri (the two towers, symbols of Bologna), inside the former Noviziato Gesuita di Sant'Ignazio, a place built in the second half of the 15th century in order to welcome young people who wanted to take part of the Society of Jesus.
Apart from the Pinacoteca, the building also hosts Accademia delle Belle Arti and Sopraintendenza per il Patrimonio Storico Artistico ed Etnoantropologico, thus including exhibitions and safeguard, preservation or research activities related to the historic and cultural heritage.
Great Bars in Bologna
Birroteca Tana del Luppolo was the first shop of its kind to open in Bologna. In the 90s it was located within the University area, but in 2004 it moved to its current location (Piazza Azzarita), a bit off the beaten track. Since 2011, this beer shop also offers some 12 beers on tap (11 kegs and one cask), constantly rotating.
Baladin Bologna (a bar/shop owned by arguably the best known Italian microbrewery abroad) is not far from Eataly, and can be easily found by walking from the main square towards the iconic twin towers.
Il Punto, has eight beers on tap (7 kegs, 1 cask) and about 100 carefully-selected bottles. Most beers are local or at least Italian, but it's also possible to find some very intriguing foreign brews. The food is also of good quality and is in most part cold, such as charcuterie, cheeses, paninis and bruschettas.
Brewdog Bologna – To a city home to the world's oldest University, we have added the perfect classroom from which to educate yourself about the majesty of craft beer, with 16 tap lines pouring a constantly-rotating selection of the very best European beer.
Zapap brewery opened a small pub in the Pratello area. It's pleasantly unpretentious; it serves decently-priced pizzas and pints (4 kegs, 1 cask), and the offer is not limited to the Zapap range.
Lab Sedici is one of the best haunts for a traditional aperitivo. They offer an excellent range of beers and cocktails. Via Zamboni
Another very decent aperitivo option in Bologna is La Stanze. A former 16th-century private chapel of the Palazzo Bentivoglio, one of the highlights of a visit here is the high ceiling which is adorned with beautiful pastel frescoes. Aperitivo. Expect plates of pasta, grilled vegetables, bite-sizedpizzette, cheeses and prosciutto. Cost: €7 which includes any drink or cocktail.
Caffè Zamboni is the hottest appertivo spots right now and with the panoply of dishes displayed as you walk by it is no surprise. For €7 the preferred drink is an Aperol Spritz, and while vegetarians will be pleased to see grilled aubergines and zucchini, most people head straight for the huge chunks of mortadella. • 6 Via Zamboni
The bar at MAMBo, the modern art museum, attracts the young and the artistic intelligentsia. Sometimes at the weekend there will be a DJ playing the classics of the past 50 years. The drinks are standard but the buffet is more like a vegetarian feast, with lots of wholesome salads. You can stand at the dimly lit bar, or sit either inside or under the portico outside. Depending on the season, you can stay warm and dry or bask in the evening sun. • Via Don Minzoni 14, mambo-bologna.org/en/ristorante/
13 Great Places to eat in Bologna
Gelato No 1-Gianni – The perfect way to reward your epic climb is by having a gelato at Gianni. For me personally it's not the best gelato in the city but still is pretty epic compared to the gelato I've tasted anywhere in the world. You can choose from flavours like ricotta, mascarpone , cocoa, pistachio, nocciola, crema, chocolate, coconut or if you're looking for something light and fresh, go for their strawberry and lemon sorbet.
Sorbetteria Castiglione (Via Castiglione, 44 www.lasorbetteria.it), a classic gelato shop where there's always a busy hive of locals tucking into some of their mouth-watering flavors which include cremino ludovico, hazelnut and cocoa butter; dolce contagio, with pine nuts and carmelized walnuts and dolce emma, with ricotta and figs carmelized with honey.
Eataly, a chain of Italian gourmet restaurants that lies in the midst of the chaos of Mercato di Mezzo. They have an excellent wine bar and restaurant upstairs but if you're looking for a quick but tasty bite, pop into the deli downstairs. I grabbed a delicious sandwich with potatoes, beans dressed with some olive oil and pesto. Simple but so damn tasty. Italy in one bite.
For traditional, unfussy Bologna food, Autotreno is a good bet. It opened in 1953 and the pasta is hand-made by a 90-year-old grandmother. The roast rabbit served with stuffed tomato and a lemon is a treat. As is the tortellini with cheese and walnut. The bill: 28.95 euros. Via della Secchia 3,
Osteria Dell'Orsa – Great place to meet the locals as everyone sits down at communal tables, and at night you might find yourself listening to a live band, a poetry reading or heated philosophical discussions. Pasta of the day could be artichoke lasagna or gnocchi with courgettes, priced at €6. • 1 Via Mentana
Trattoria Amedeo – Via Saragozza 88 – Lovely small restaurant packed with locals. Family atmosphere and good service. Very friendly helpful waiter. Generous portions. Antipasti, pasta, main, litre of house wine and liquor for a very reasonable price.
Trattoria Anna Maria – as been serving the finest tortellini in brodo (tortellini in broth, €14) in Bologna for 26 years now in her marvellous trattoria. Although prices may be a bit above average – €28 for two hearty courses – you are assured of an unforgettable meal
Osteria del Sole – Perfect time for another pit stop. Duck into the maze of streets of the market and locate 13, Vicolo Ranocchi where you find the locals spilling out into the street from the city'd oldest wine bar, Osteria del Sole which has been serving thirsty locals since 1465. The great thing about this place is that it's unprententious, a relaxed vibe with a great mix of people from all walks of life. You can bring your own food here and have a inexpensive picnic with some gourmet treats from the Quadrilatero. Wine by the glass, red or white, is just €2. Last time I came here I had an excellent Pignoletto. Have a few glasses as the day melts into night. Cost: Two glasses of Pignoletto: €4
E' Cucina Bologna – a funky, design bistro where the light, creative cuisine revolves around fresh, seasonal produce. The three course set menus at lunch range from €10-€20 and include mineral water, a glass of wine and coffee, while main courses at night are priced at €8. 42 Via Senzanome
Pizzeria Tonino / LA Verace – Via Cairoli 16 – ne of the best pizza in town (this restaurant is the only one in Bologna associated with AVPN, the organization to promote the real pizza from Naples) pizza and coke (or beer) for 13€.
Pizza Casa (Via delle Belle Arti, 6,) just up the road a few hundred yards is a simple pizzeria that does great pizzas, freshly baked in their huge oven. It's popular with students and locals. Pizzas are very competitively priced with a margharita pizza costing just €2.50. You can create your own, which I did. My pizza ( I called it 'Kashizza) consisted of tomato, garlic, potatoes and topping of rocket leaves. Delicious. Pizza and potatoes is a Michelin star winning combo. Cost: €3.50
Pizzeria Ristorante La Brace, when the Bolognesi want to go out to eat fish they will invariably choose a pizzeria, first because they are run by supposed seafood experts from Napoli or Sicily, and secondly because they are invariably less expensive than a formal restaurant or trattoria. The Brace is a classic example, cheap and cheerful, with a fun decoration of famous footballers' shirts hanging from the ceiling, and a menu that ranges from Pizza
Positano, with cherry tomatoes and mozzarella, to grilled squid and prawns, sea bass and tuna. A set menu is priced at €12, and pizzas cost from €4-€8. • 15 Via San Vitale
La Prosecutteria Bologna – Via Oberdan 19/a | angolo Via San Simone – Unique experience. Good value Meat & cheese platters and wine cheap & very good measures. Staff are very friendly & helpful. Would certainly go back on next visit.
Football trip to Bologna – Useful links
http://www.bloomberg.com/news/articles/2014-12-26/where-to-eat-in-bologna-italy-best-restaurants-and-delicious-dishes
http://budgettraveller.org/48-hours-bologna-200/
https://www.theguardian.com/travel/2011/nov/22/10-best-budget-eats-bologna
https://www.tastebologna.net/blog/bologna-low-cost-eat-and-be-happy-with-less-than-25
https://www.theguardian.com/travel/2012/may/10/bologna-italy-aperitivo-bars-drinks
http://www.independent.co.uk/travel/europe/trail-of-the-unexpected-gourmet-bologna-8114042.html
http://www.bolognamagazine.com/content/top-5-restaurants-bologna