Planning a Football Trip to Boston? Free guide – where to stay, what to see, where to eat & drink and how to get tickets and get to the stadium.
Football Trip to Boston – How to get there and How to get about.
Football Trip to Boston – Fly to Boston
Multiple airlines fly to Boston every day and you are able to fly direct from Boston from London and Manchester in the UK

Start your holiday in style and enjoy the experience of VIP travel – book an airport lounge with Lounge Pass from as little as £13.50. With 200 airport VIP lounges worldwide, including 35 UK airports you can add an extra touch of luxury to your next trip and make the travel experience a whole lot better.
Directions from the Airport
The MBTA offers Blue Line Subway services and Silver Line Bus Rapid Transit service to and from Downtown Boston. The MBTA is the most economical and environmentally friendly way to get Logan.
To and From Logan:
• Silver Line to and from the Airport – with connections to the Red Line and Commuter Rail at South Station
• Blue Line to and from the Airport – with connections to the Green Line, Orange Line and Commuter Rail at North Station
• Commuter Boat/Ferry to and from the Airport
• To and from the Airport – Directions From All Points
• Paying Your Fare
• Thinking of Taking Other Transportation to Logan?
Silver Line to and from the Airport – Silver Line is FREE from Logan Airport inbound to South Station (including a free transfer to the Red Line).
With the Silver Line Route SL1 (Logan Airport – South Station via Waterfront) bus rapid transit service as your best direct connection to and from the Red Line at South Station, this is your best option for transportation to:
• Cambridge
• Downtown Boston
• Harvard University
• Massachusetts General Hospital
• MIT
The Silver Line SL1 is the most convenient option and your best connection to and from the Airport with drop-off and pick-up directly in front of each Logan Terminal. There are no shuttle transfers and room to store your luggage.  For service to Logan Airport using the Silver Line SL1, take the MBTA Red Line or Commuter Rail to South Station and transfer to the Silver Line Route SL1. The Silver Line SL1 will drop you off in front of your Logan terminal.  The Silver Line SL1 is accessible for the disabled and runs from approximately 5:30AM to 12:30AM every day of the week.
Blue Line to and from the Airport – The Blue Line Subway is your best connection to the Orange Line at State Street Station. This route is the best option for transportation to:
• Back Bay
• Boston College
• Boston University
• Brookline
• Downtown Boston
• Fenway Park
• The Longwood Medical Area
• Newton
• Northeastern University
For service to Logan Airport using the Blue Line, take the MBTA Blue Line to the Airport Station and board free Massport shuttle buses to all airline terminals.
For service from Logan Airport using the Blue Line, board free Massport shuttle buses (Route Nos. 22, 33, or 55 to "MBTA Blue Line") outside your terminal. The Massport shuttle buses, which have storage space for luggage, will drop you off directly in front of Airport Station where you can purchase your CharlieTicket at the ticket machines inside the station's lobby. Insert your CharlieTicket in the turn style to access the station platform.
The Blue Line runs from approximately 6:00AM to 12:30AM every day of the week.
MBTA Commuter Boat to and from the Airport – Take MBTA ferries to Logan Airport from the commuter boat terminal located at Fore River Shipyard, 703 Washington Street in Quincy, or from Pemberton Point in Hull. Upon arrival at the Logan dock, take the free Massport Route 66 Shuttle Bus, which services all airport terminals. Commuter Boat service from Quincy operates 7-days-a-week. Hull services operate weekdays only. Overnight parking at Quincy is affordable and discounted weekly rates are also available. For more information about MBTA ferries to Logan Airport, please call the carrier at (617) 770-0040.
Taxis from the Airport
ShuttleDirect.com has proved a hit with internet-savvy travellers around the world. Here's why: Over 1000 routes to the major holiday destinations in 18 countries, and more destinations being added all the time. We are confident we have the best prices for transfers on the internet. Instant Confirmations. Most transfers are booked and confirmed immediately.
Getting Around Boston
Boston's public transportation system is operated by the Massachusetts Bay Transportation Authority, but locals know it simply as the "T".It offers subway, bus, trolley car and boat service to just about everywhere in the Greater Boston area and beyond. Subway stops are color coded – Red Line, Green Line, Blue Line, Orange Line or Silver Line.
To ride the T, you need to purchase a CharlieCard or CharlieTicket.These can be purchased at every subway station at vending machines and at select convenience stores. The basic fare is $2.00 and kids – 11 years and younger – ride free! And your Charlie Card will provide you with more than 75 discounts on attractions during your visit. The "T's" Day/Week LinkPassgives visitors unlimited travel on Subway, Local Bus, Inner Harbor Ferry and Commuter Rail Zone 1A for one day ($11) or seven days ($18). More than 500 fare-vending machine are located throughout all subway stations.
Operated by the Massachusetts Bay Transportation Authority, Boston's Commuter Rail services the outlying Boston suburbs. Service is available from several T stations, but most departures take place at South Station, North Station or South Station.
Taxi service is available throughout the city. From Logan International Airport to most hotels in Boston and Cambridge, current fares are approximately $25-$35.00, one way.
Football Trip to Boston – Getting to the Stadium
There is no public transportation directly to the Gillette stadium.
Take the Commuter Rail Attleboro line to Sharon (or Mansfield) Station, and pick up a taxi there to take you to Gillette. A taxi or car service from downtown Boston to Gillette will be much, much more expensive.
Football Trip to Boston – The Stadium
Gillette Stadium is the home field of the New England Patriots, New England Revolution and University of Massachusetts Amherst Football. The stadium regularly hosts other marquee sports events that include international soccer matches, NCAA lacrosse championships and high school football super bowls.
Fans have sold out Gillette Stadium for every Patriots home game since the $325 million, privately funded facility opened in 2002. According to the Patriots' media guide and website, the construction required the removal of more than 90,000 cubic yards of blasted bedrock.
The stadium's signature lighthouse, which rises 10 stories above the playing field, and the bridge were created to celebrate New England's heritage and offer signature vantages.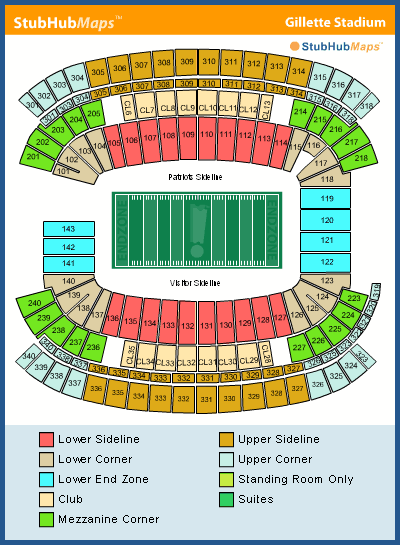 On May 11, 2002, Gillette Stadium opened its doors as the new home of the New England Revolution and has become one of the best home fields in all of Major League Soccer. With annual world-class soccer events staged at the facility, Gillette Stadium has also become the hub of soccer in the Northeast region.
Entering the 2014 season, the Revs have posted a 86-55-46 record (.583 winning percentage) in the confines of Gillette Stadium during the regular season, and a 10-1-4 postseason mark, including MLS Cup 2002 before 61,316 fans, an MLS Cup Playoffs attendance record.
Football Trip to Boston – Tickets
Individual game ticket prices, when purchased in advance are: Category 1 – $46 | Category 2 – $36 | Category 3 – $25 | The Fort (supporters section): $24
Tickets are available to buy online: http://www.revolutionsoccer.net/tickets/individual-tickets
Football Trip to Boston – Where to stay.
The Waterfront/North End/Faneuil Hall Marketplace – Businesspeople and sightseers dominate the hotels in these neighborhoods, which become increasingly desirable as the Rose Kennedy Greenway evolves. Best For — Travelers who want easy access to the Financial District and waterfront attractions, the airport, and Faneuil Hall Marketplace. Drawbacks — Touristy atmosphere, distance from the Back Bay and Cambridge, expense (at most properties).
Beacon Hill/North Station – These neighborhoods are home to many downtown workers; while they walk to work, visitors can stroll to the waterfront attractions. Best For — Access to public transit. Travelers who prefer the residential feel of Beacon Hill to the more businesslike atmosphere of downtown will be happy here. Drawbacks — Generally pricey; check with a B&B agency for more affordable alternatives. The narrow streets around North Station attract rowdy crowds after big events at the TD Garden arena and on weekend nights.
Chinatown/Theater District – This lively area — a small part of it was once the red-light district, but the whole neighborhood gets nicer by the day — is near the Public Garden, Boston Common, and the Rose Kennedy Greenway but not very green itself. Best For — A compromise if you need access to both downtown and the Back Bay, often for less than you'd pay in those areas. Drawbacks — Narrow, congested streets create a gritty atmosphere; the Theater District is crowded before and after performances but deserted late at night.
The Back Bay – Boston's widest variety of lodgings is in this neighborhood, which stretches from the area around the Public Garden past the Hynes Convention Center. Best For — Anyone who wants to be where the action is. The Boston area's best shopping and people-watching is here. Budget-conscious travelers have more options here than in any other centrally located part of town. The Esplanade, the recreational area on the Charles River, is a great place for a walk or run. Drawbacks — Rates can be extremely high, especially during citywide events such as the Marathon. Tour groups overrun the neighborhood year-round, especially during foliage season. The most convenient T access is on the unreliable Green Line. Reaching Cambridge isn't easy or consistently fast (the subway can be as slow as the pokey No. 1 bus).
 Football Trip to Boston – What else to see & do.
The largest city in New England is compact, clean and easily navigable. The Freedom Trail is a 2.5-mile stretch hosting 16 sites pertaining to the Revolutionary War. You could take a costumed guided tour or, more appealingly, download a map and follow your own itinerary. If you have limited time, concentrate on those sites in and immediately around the North End, which is also Boston's Little Italy. Among them are the home of Paul Revere, where you'll get a good sense of how people lived in 1770s (in a word, closely; the house is really small). You can also drop by the Old North Church, where those two famous lanterns warned Paul Revere the British were coming by sea in 1775, essentially igniting the American Revolution. Nearby are the Old State House museum (among the impressive memorabilia is a vial of tea salvaged from the original Tea Partiers), which is worth a visit, and Faneuil Hall Marketplace, which, unless you enjoy food courts and stores you can find at any mall in America, is not.
The Institute of Contemporary Art in South Boston is arguably more interesting for its architecture than its art. Designed by Diller Scofidio + Renfro, the museum is all glass and sharp angles, a stark departure from the city's presiding aesthetic. One of the most arresting features is the rear of the museum, a cantilevered glass expanse that hovers vertiginously over Boston Harbor.
Fenway Park sits smack in the middle of the city. This sucks for anyone interested in moving around Boston on a game day, but it's a convenient place for everyone else to gawk at and ponder the mythic Red Sox fan. Visitors and other observers can attempt, for example, to understand how so many people who presumably hold down day jobs manage to arrive three to four hours before the opening pitch to get hammered and watch batting practice. If you can't get tickets to a game, or the Sox are on the road, you can still pay to get a tour of the stadium and grab a beer at either the Bleacher Bar, built under the stadium stands, or at the Cask 'n Flagon, which proudly, if unambitiously, flies a banner boasting its ranking as "the second best baseball bar in America."
Havard is one of the most famous universities in the world.  A good way to see it is via a stroll around the campus, pop into Memorial Church for some perspective on the school's history, or visit one of the small, excellent museums, such as the Peabody Museum of archaeology or the Havard Art Museums, then be thankful that nothing you saw will be on a test. (Click here for an interactive campus map.)  Back outside the gates, there are any number of options for cheap, mediocre food, but for a reliable and reasonably priced lunch, try Cambridge 1 for thin crust pizza and good salads. If you'd like something more expensive, Harvest is a popular place for students to take visiting parents.
Boston Public Library – situated on one side of the impressively imposing Copley Square (which also houses Trinity Church) the library was designed by the New York firm McKim, Mead, and White and opened in 1895 (a Philip Johnson-designed addition was added in 1972). Noteworthy features include several vast murals by prominent artists, including a series by John Singer Sargent, and an Italian Renaissance-inspired interior courtyard with bubbling fountains and arched pathways.
To get an alternative view of the area's history, follow the Black History Trail, which traces the events central to the substantial African American population that lived here in the 19th century. A good starting point is the Museum of African American History on Joy Street; the museum's website offers an interactive map of the trail. Among the 14 sites is the African Meeting House, the oldest black church edifice still standing in the United States and the place where in 1860 Frederick Douglass delivered a seminal anti-slavery speech.
http://www.afroammuseum.org/images/trailmap.gif
Boston Sports Museum – Located in the TD Garden in Boston. The museum's exhibits focus on the history of various sports in the Boston area. http://www.sportsmuseum.org/
Boston Tea Party Ships & Museum – Come relive that historic night in the Boston Harbor on December 16th, 1773, when American Colonists took matters into their own hands to oppose British rule. The new Boston Tea Party Ships & Museum is located in the middle of the Fort Point Channel and includes interactive exhibits that will transport visitors back in time to Revolutionary Boston!
John F. Kennedy Library & Museum – Located on a ten-acre park, overlooking the sea that he loved and the city that launched him to greatness, the Library stands as a vibrant tribute to the life and times of John F. Kennedy. The Museum portrays the life, leadership, and legacy of President Kennedy, conveys his enthusiasm for politics and public service, and illustrates the nature of the office of the President.
U.S.S. Constitution Museum – Visitors to the USS Constitution Museum's galleries experience the Constitution's history and the lives of the men who sailed her. Along with artifacts in cases, the Museum's exhibits let visitors explore and experience the ship's history in engaging interactive exhibits that make a personal connection to Old Ironsides.
Football Trip to Boston – Eating & Drinking
Sam La Grassa (44 Province St) – Locals claim they're serving the world's best sandwiches here, and they may not be lying.  http://www.samlagrassas.com/home.php
Yankee Lobster (300 Northern Ave) – Seafood Restaurant in South Boston. Famous for Lobster Mac and Cheese. http://www.barkingcrab.com/menus/boston/
The Baking Crab (88 Sleeper Street) Located on the edge of Boston's historic Fort Point Channel, The Barking Crab has become one of the city's best-loved meeting and eating spots. 2007 marks our fourteenth year of operation.
Jamaica Pond Area
Canary Square (435 Huntington Avenue) Canary Square is a neighborhood bar and restaurant in Jamaica Plain focusing on new American food, craft beer and old world wine in a comfortable setting. http://www.canarysquare.com/menu-beer.htm
The Haven (2 Perkins Street) – The atmosphere is immersive: Belle & Sebastian on the soundtrack, tartan curtains, antler chandeliers and a bathroom plastered with obscure Scottish comics. Signature brew: Skull Splitter, a strong 8.5% wee heavy.
Brendan Behan Pub (378 Centre Street) – Popular Irish Pub
Cambridge
Cragie on Main (853 Main Street)
"One of the 'Hot 10' Best Brunch Places in the USA"  and famous for it's burgers –
http://eater.com/archives/2013/04/17/anatomy-of-an-icon-the-craigie-on-main-burger.php
  Central Kitchen (567 Massachusetts Ave) – Eatery & bar that's a lively late-night scene for New American eats & cocktails in modern environs.   Bricks & Mortar (567 Massachusetts Ave) – There's no sign outside this Central Square cocktail bar, but if you head up the stairs over Central Kitchen, you'll find the perfect mix of classy and cheeky. Records spin behind the copper-top bar, there are exposed brick walls, uber-chilled vibes, and excellent cocktails served along with (also excellent) shooters and shots 
Lord Hobo (92 Hampshire Street) – Enter through dark curtains and your attention is immediately drawn to the bar, with its 40 taps raised up in the center like an altar to the god of hops.
Cambridge Brewing Company (Building 100, 1 Kendall Square, at Hampshire Street) – Founded in 1989, it's the oldest brewery-restaurant in the city, and the first in the country to produce a Belgian-style beer: the Triple Threat. The room itself is spacious and comfortable, with lots of long, shiny pine surfaces. The brewing tanks are visible from every seat in the house, but the best tables are to be found on the front patio. Signature brew: Cerise Cassee, a tart, barrel-fermented ale made from sour cherries.   Meadhall (4 Cambridge Center, Kendall Square) Filled with techies flicking their fingers up and down their iPhones, Meadhall is Cambridge's answer to Allston's Sunset, with more than 100 beers on tap.   
Allston
Deep Ellem (477 Cambridge Street ) _ Deep Ellum stocks a stylish collection of everything from Abbey-style craft beers, for the adventurous and well-heeled, to PBR, for the bike messengers, students and other low-budget hipsters who flock here. Signature brew: G. Schneider + Sohn "Aventinus" Weizen-Dopplebock, a strong, dark German wheat beer.   Lone Star Taco Bar (
479 Cambridge St) –
Located in Allston, MA, 
Lone Star
 represents the ultimate in mezcal, tequila, and Mexican street food. Enjoy our 
tacos
, nachos, and authentic Mexican eats.  
Sunset Grill (130 Brighton Avenue) – Sunset is the true granddaddy of all the draft beer purveyors in town with over 100 taps
Paradise Rock Club (967 Commonwealth Ave) The Paradise Rock Club, formerly known as the Paradise Theater, is a small music venue in Boston, Massachusetts 
Near Fenway Park
Dirty Water Dough Co (22 Newbury Street) – Cape Ann Brewing Co. makes a special IPA called Dirty Water for this Back Bay joint, which is served on draft and used in their dough, rendering it exceptionally fluffy on the inside and crackly on the outside. Toppings are joyfully singular, too. Try the Fenway Frank, festooned with Kayem hot dogs, mozzarella, sauerkraut, mustard, white onions, and sweet relish.
Mistral (223 Columbus Ave) – Brunch is the most important portmanteau of the day, and Mistral has all the classics, perfected to a platonic ideal.
The Salty Pig (130 Dartmouth St) his funky, multilevel gastropub is the answer. The Pig boasts a great selection of porky housemade charcuterie, some strong cheeses, fine wood-fired pizzas, a few hearty pastas and entrees, well-chosen wines by the glass and a terrific beer selection.
Bukowski Tavern (50 Dalton Street) – Named for the booze-loving author, the Bukowski is all attitude. The style reflects the interests of the beer-slinging crew: Sex Pistols on the jukebox and a beer menu that lists "Ales," "Lagers" and "Funky Shit"—which includes a Brooklyn Chocolate Stout and a Blanche De Bruxelles Wit from Belgium. The usual local suspects, such as Pretty Things and Magic Hat, are also on tap
The Lower Depths (476 Commonwealth Ave) Join the mug club and you get six months to drink one glass of all 163 available beers, which works out at nearly one a day. The prize? A 25-ounce mug. You can fill it anytime, in case you haven't lost your taste for the brown stuff. Signature brew: a rare Belgian Duvel ("devil") Triple Hop, with a champagne-like effervescence and sugary taste.
Eastern Standard Kitchen & Drinks (528 Commonwealth Ave) – The wine list will impress and the beer selection is solid but the cocktails are where they shine.
Boston Beer Works (61 Brookline Ave) – The in-house brews have Boston-y names like Paul Revere Rye Lager and Boston Garden Golden. Signature brew: Blueberry beer, which has a light, fruity taste; but it's really all about the optics, as the blueberries waft up and down like sea monkeys.
Sweet Cheeks (1381 Boylston St) Sweet Cheeks turns out terrific versions of the Texas-style 'cue, especially brisket and sausages, and great sides, including heavenly biscuits, really fine BBQ beans and (oddly enough) broccoli casserole, in a noisy, appropriately casual setting in the Fenway. The fine beer list surely doesn't hurt.
B & G Oysters (550 Tremont Street) Popular, high-end raw bar & seafood restaurant with a cozy interior & patio seating.
Picco (513 Tremont Street) This is the crust that aficionados live for. A two-day cold fermentation is the secret behind the dense yet airy dough, which is fired till it's dotted with dark, bubbly blisters. It's an optimal vehicle for fully loaded toppings, like the irresistible Alsatian's sweet-meets-smoky bed of caramelized onions and bacon niblets.
Mike's City Diner (1714 Washington St) has won nearly every award a Boston diner can win including South End News' Best Breakfast and Cheap Eats award, Boston Magazine's Best Diner Award and the Improper Bostonian's Best Breakfast Award as well as being Zagat rated.
Football trip to Boston – Useful links
http://www.timeout.com/boston/bars/boston-craft-beer-guide
http://www.theguardian.com/travel/2013/sep/21/live-music-venues-boston-us
http://www.theguardian.com/travel/2013/sep/21/top-10-bars-pubs-boston-usa
http://www.improper.com/bostons-best/food-drink/
http://www.bostonmagazine.com/best-of-boston/2013/category/2013-restaurants-food/
http://boston.eater.com/archives/2014/07/01/the-38-essential-boston-restaurants-july-2014.php
http://www.bostonglobe.com/lifestyle/food-dining/2012/12/04/the-best-beer-bars-boston/a1AdoUwlauSSnr9dxauHeN/story.html
http://www.bostonglobe.com/magazine/2014/01/17/best-new-food/uEoDUKUu6mEOgRoIOmUjRP/story.html
http://www.bostonglobe.com/magazine/2014/01/17/best-new-food/uEoDUKUu6mEOgRoIOmUjRP/story.html