Planning a Football Trip to Breda? Free guide – where to stay, eat, drink and how to get tickets & to the stadium.
Football Trip to Breda – How to get to Breda & How to get around
Football Trip to Breda – Fly to Breda
Breda does not have an airport. There are several airports nearby;
• Amsterdam – It's only an hour on the train and costs about £20
• Rotterdam – It also takes and how via Rotterdam Central Station and costs about £20
• Eindhoven – It's only 40 minutes by Train and costs around £15
Start your holiday in style and enjoy the experience of VIP travel – book an airport lounge with Lounge Pass from as little as £13.50. With 200 airport VIP lounges worldwide, including 35 UK airports you can add an extra touch of luxury to your next trip and make the travel experience a whole lot better.
Football Trip to Breda – Travel By Train
The average journey time between London and Breda is 6 hours and 24 minutes and the fastest journey time is 4 hours and 32 minutes. On an average weekday, there are 8 trains per day travelling from London to Breda.
Football Trip to Breda – Travel By Coach
Eurolines provide coaches to Amsterdam from London. They offer an overnight service leaving London around 19.00 and arriving at around 6:00 the next day. They also offer a service leaving at 6:00 and arriving in Amsterdam at 20:15 and another leaving at 10:00 which arrives at 21:45 Tickets start at around £52 each way
From Amsterdam it is one hour and 50 minutes to Breda and there are 2 coaches per day, one in the morning and one at night. Expect to pay £10
Football Trip to Breda – Travel By Ferry
It takes between 2 and 3 hours to drive to Breda from Calais. Book tickets via DFDS Seaways.
Football Trip to Breda – Travel Around Breda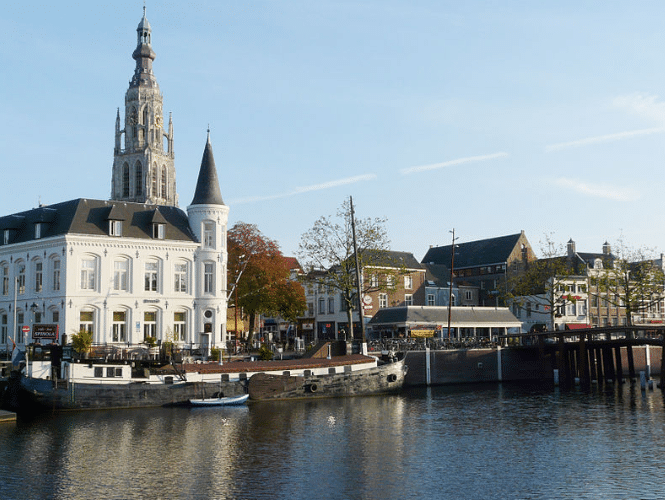 Although Breda is a good sized city, the centre of the town is fairly compact, so you should not have any trouble finding your way around. The main form of transport in Breda is the local buses. As with most public transport in the Netherlands, the buses in Breda are generally clean and reliable.
Football Trip to Breda – How to Get to the Match

Football Trip to Breda – The Stadium
The stadium has a layout that is similar to the average Dutch stadium. The fanatic NAC fans are based on the stands behind the goal. In the east stand is the B-side, and Vak G is on the west stand. The stand for the opponents is located next to Vak G while the northern stand is reserve for officials and sponsors.
The stadium initial capacity was just over 17000 but minor renovations and the introduction of a few standing places raised the capacity to 19000. The stadium opening on the 11th of August 1996 was with a friendly match between NAC and Brazilian Gremio (0-0).
Football Trip to Breda – Getting to the Stadium
The Rat Verlegh Stadion is north-east of the city of Breda 2 kilometer from the city center and ½ from the city main train station. Public transport, the stadium can be reached by taking the bus. Take bus 2 from the main train station toward Haagse Beemden. The ride will take about 12 minutes and then get off at stop NAC Stadion. There are buses passing four times an hour.
By car the stadium can be reached either from motorway A16, which runs west of the city, take exit 17 Breda-Noord, turn toward the city and follow for the center, or motorway A27 exit 16 Breda-Noord.
Football Trip to Breda – Getting Tickets
Tickets for the various games and events can be obtained either online or at the ticket box sales points, or the Service & Information counter at Rat Veriegh Stadion. When there are still available tickets, they can be obtained on the gate on the day of the match. Average individual ticket price is between € 12.50 and € 30.
Tickets can also be bought by re-sellers such as Ticket Bis and Viagogo.
HotFootballTickets.com – was created to provide Football fans in Europe as well as fans from all over the world an easy and simple way to purchase online from the convenience of their home or Offices, football Tickets at excellent prices with delivery directly to their Home or Hotel.
Buy your football tickets on the official site of LiveFootballTickets.com. We offer tickets for the best matches in England and European leagues online.
Football Trip to Breda – Fixtures
When planning your football trip please note that the dates shown represent the weekend that the game is scheduled to take place and games are likely to change through the season and be moved for TV scheduling.
Plan your Football Trip to Breda with our full list of fixtures or Check the Eredivisie website when planning your football trip to Holland for latest fixture information.
The schedule for kick-off times in Holland can be found our Planning a Football Trip to Holland page (COMING SOON)
Football Trip to Breda – Where to stay. What to See. Where to Eat. Where to Drink
Football Trip to Breda – Where to stay
It's only small, just stay as close to the centre or the ground as you can.
Football Trip to Breda – What else to see & do
When planning a football trip to Breda it is always good to know what else there is to see and do in the city. Here are a selection of the best things which I found using our sponsor Lonely Planet. Lonely Planet also has maps of the city, details of all the best pubs, bars and restaurants and travel information from the city.
The Great Church of Breda was built in the 1400's, The church is a very impressive building from the outside and it is worth taking a few minutes to admire the architecture before going inside. The interior of the church is equally grand and the monument are well worth visiting. There are also excellent frescoes, but the most interesting part of the church is the Prince Chapel where the forebears to the Dutch Royal Family are interred. The ceiling of the chapel is actually covered in gold.
The Beer Advertising Museum is near the centre of the city and a fascinating place to spend an afternoon. The collection is mainly made up of old enamel beer signs, but there are also some advertising posters, beer mats, glasses, brewery machines and some wonderful taps and other furniture from all over Europe.
The General Maczek Museum is devoted to the free Polish armoured division who fought their way through the local area, defeating the occupying German army in 1944-5.
Football Trip to Breda – Where to Drink
De Beyerd – Classic beer cafe with a small restaurant at the back, five minute walk away from the Grote Markt. Good selection of craft beers on tap, including four brewed on-site. Plenty of choice of bottled beers. A beer-orientated menu with each dish, including the desserts, cooked with beer. Pasbaan 1, 4811 GM, http://www.beyerd.nl/
't Hart van Breda – Grote Markt 4-6 – Good Pub in the centre of Breda
De Boterhal – "Biercafe with its own brewery – Grote Markt 19
Football Trip to Breda – Where to Eat
Den Boerenstamppot (Schoolstraat 3-5,) traditional Dutch food. Mash. Sausages meatballs and cheap. Three courses for about 10 €
Proeflokaal Bregje (Haven 5a) – 3 courses for 12 Euro.
Bruxelles (Havermarkt 7) – For tourists they have English menus, definitely helps. They serve a different special each day.
Football trip to Breda – Useful links