Planning a Football Trip to Copenhagen? Free guide – where to stay, eat, drink and how to get tickets & to the stadium.
Football Trip to Copenhagen – How to get to Copenhagen & How to get around
Football Trip to Copenhagen – Fly to Copenhagen
You can fly to Copenhagen with daily flights from most major UK Airports. There are over 20 flights per day from London and 4 from Manchester, 3 from Edinbugh and daily flights from Bristol and Birmingham

Start your holiday in style and enjoy the experience of VIP travel – book an airport lounge with Lounge Pass from as little as £13.50. With 200 airport VIP lounges worldwide, including 35 UK airports you can add an extra touch of luxury to your next trip and make the travel experience a whole lot better.
Directions from the Airport
Metro
The metro is located right above terminal 3.  All the trains go in the same direction from the airport (M2 to Vanløse Station), so you do not have to worry about getting on the wrong train.
The trains run with 4-6 minutes intervals during the day and evening. During the night the train runs every 15-20 minutes. It will take you 13 minutes to get to Nørreport Station (hub in city centre) from the airport.
Tickets can be bought at the metro station and at the DSB ticket sales counter in terminal 3. Please note that the machines only accept coins and all major credit cards, not notes.
Train
The train station is located by terminal 3. You can take a free shuttle bus from terminal 1 to terminal 3, which will take 5 minutes.
The trains run every 10 minutes during the day and will get you to Copenhagen Central Station in about 13 minutes. During the night the trains run 1-3 times an hour.
Citypass tickets can be bought at the ticket machines in terminal 3 just above the railway, and at the DSB ticket sales counter, also located in terminal 3. Please note that the machines only accept coins and all major credit cards, not notes.
Bus
Bus 5A will take you directly to Copenhagen Central Station, City Hall Square, Nørreport and other stations. It takes about 30-35 minutes from the airport to the Central Station.
The bus runs every 10 minutes at day. The bus runs all night as well, but not as often.
Tickets can be bought at the ticket machines in terminal 3, or you can buy a ticket on the bus. Please note that the bus drivers only accept coins.
Taxis from the Airport
Taxis can pick up passengers at terminal 1 and 3 and will get you to downtown Copenhagen in about 20 minutes depending on traffic. Taxis are usually waiting outside each terminal.  It will cost approximately DKK 250-300.
HolidayTaxis.com is a worldwide transport service, offering you airport to city and resort transfers in over 11,000 destinations in over 120 countries around the world.
Football Trip to Copenhagen – Travel By Train
Travelling by train from London to Copenhagen is just about possible in a single day. Our advice is to build a stopover into your journey. Cologne or Hamburg are obvious choices, but if you prefer to stay in a smaller city then Bremen or Lubeck are good options. During the final part of the journey, from Hamburg to Copenhagen, the entire train is shunted onto a ferry for a 45-min ride across the Baltic.
Your journey starts with a high-speed ride on Eurostar from London to Brussels, where you change onto an ICE or Thalys train for the onward journey to Cologne. From Cologne you'll take an ICE, IC or EuroCity service to Hamburg. The final section takes you from Hamburg via Lubeck to the Baltic coast at Puttgarden, where your train rolls onto the ship to Denmark.
Tickets start at around £130 via Voyages SNCF.
Football Trip to Copenhagen – Travel By Ferry
It takes between 11 and 12 hours to drive to Copenhagen from Calais. Part of the journey involves the Fehmarn ferry to Rødby.  Book tickets via DFDS Seaways.
Football Trip to Copenhagen – Travel Around Copenhagen
The two big hubs are Central Station (da: Hovedbanegården/København H) with S-trains, intercity trains and buses, and Nørreport Station with S-trains, metro, regional trains and buses. Travel by train, bus and metro can be scheduled electronically through journeyplanner.dk
All public transport in Copenhagen, as well as the rest of the country, operates on a zone system. The smallest ticket is the two-zone ticket which costs 24 Kr for adults (12 Kr for children under the age of sixteen), and can be purchased from ticket offices, vending machines and bus drivers. You can also buy tickets on the mobile app "Mobilbilletter Hoverstaden", available both in the AppStore and on Google Play.
You can also purchase a City pass to have unlimited use of the public transport within zones 1-4. Prices are 80/40 Kr for 24 hours and 200/100 Kr for 72 hours
Copenhagen Card gives you unlimited public transportation in the entire Capital Region of Denmark incl. public transportation to/from Copenhagen Airport. In addition, you get free entrance to more than 70 attractions and museums as well as discounts on several restaurants, sights, rentals and more.
You can preorder online via www.copenhagencard.com and pick up your Copenhagen Card in the service information in Copenhagen Airport, terminal 3. Then you can start using your Copenhagen Card right away on e.g. the Metro to the city center.
A lot of the City Centre can be traveled by Foot or by hiring a bike.  
Football Trip to Copenhagen – How to Get to the Match
Football Trip to Copenhagen – The Stadium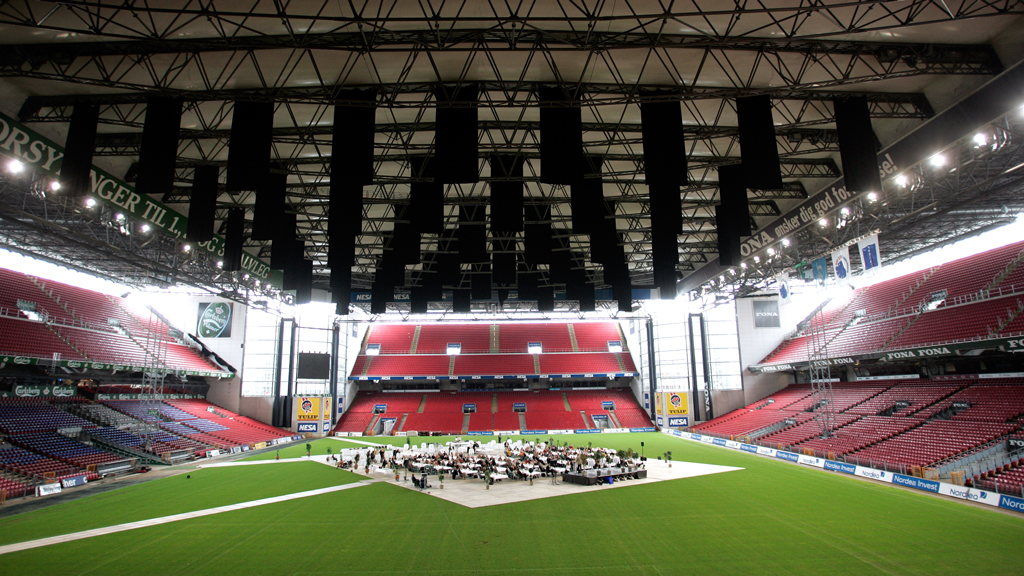 Telia Parken is the largest football stadium in Denmark, the home of FC Copenhagen, and the standard playing venue of the Danish national team. Parken was built on the site of Denmark's previous national stadium, Idrætspark, which had stood there since 1911
It currently has a capacity of 38,065 for football games, and is the home ground of FC Copenhagen and the Denmark national football team.
Telia Parken has been announced as one of 13 host venues of the UEFA Euro 2020. It will host three group stage matches, as well as a round of 16 match
Football Trip to Copenhagen – Getting to the Stadium
Public transportation
Bus line 14 to Telia Parken, line 1A and 3A to "Trianglen". Line 8A, 184, 185 og 150S to "Vibenshus Runddel". S-train: Østerport Station, Nordhavn, Ryparken.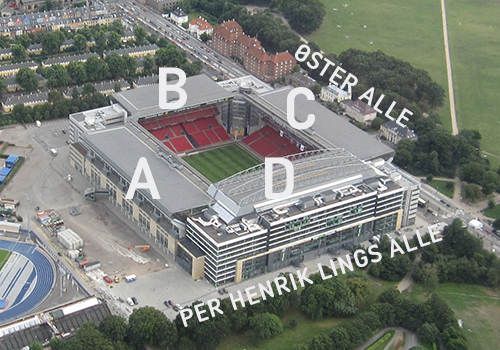 Football Trip to Copenhagen – Getting Tickets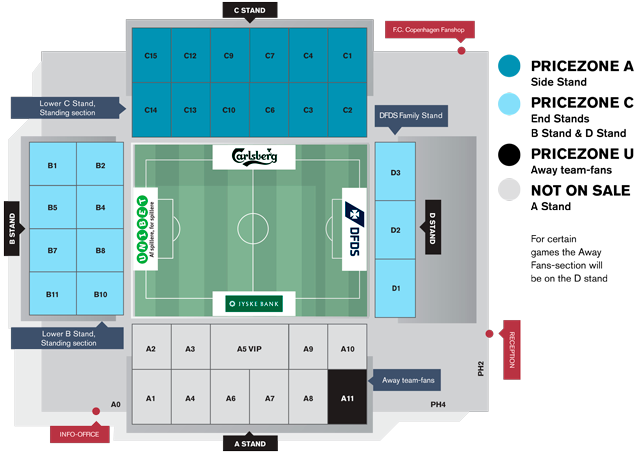 Tickets to see FC Copenhagen in action at Stadion Parken can either be purchased online from the official website or in person from the ticket office on matchdays.
Tickets can also be bought by re-sellers such as Viagogo.
Football Trip to Copenhagen – Fixtures
When planning your football trip please note that the dates shown represent the weekend that the game is scheduled to take place and games are likely to change through the season and be moved for TV scheduling.
Plan your Football Trip to Copenhagen with our full list of fixtures or Check the Danish Superliga website when planning your football trip to Denmark for latest fixture information.
The schedule for kick-off times in Denmark can be found our Planning a Football Trip to Denmark page (COMING SOON)
Football Trip to Copenhagen – Where to stay. What to See. Where to Eat. Where to Drink
Football Trip to Copenhagen – Where to stay
Deciding where to stay in Copenhagen is crucial to make the most out of your stay. Choose your Copenhagen hotel using this neighbourhood guide.
Tivoli
Sandwiched between the city centre and Vesterbro, the area around the Tivoli gardens is the most touristy part of town. Staying here puts you right in the centre of it all, with immediate access to Tivoli's leafy, pebbled paths and exciting amusement park rides. Next door is the central railway station, while just opposite is the buzzing Rådhuspladsen town hall square. It's the gateway to several cultural powerhouses, including the sculptures and paintings at the Ny Carlsberg Glyptotek, the historical relics at the Nationalmuseet and the cutting-edge architecture and objets d'art at the Danish Design Centre.
Amalienborg and Nyhavn
North-east of the city centre, the brick and limestone Amalienborg Palace has been the home of the Danish royal family since 1794. Their Slotsplads square is host to the changing of the guard, where every day at noon bearskin-hatted royal guards march back to their barracks beside Rosenborg Slot. Just south is Nyhavn, a string of pastel-coloured cafés, restaurants and bars that are interspersed with fetching gabled houses on the banks of the city's canals. The waterways are a defining part of the Copenhagen landscape and Hans Christian Andersen lived here during several periods of his life.
City centre
The city centre, or Indre By, is Copenhagen's bustling heart, a medieval maze of lively streets and attractive squares. Strøget is one of the world's longest pedestrianised streets, crammed full of clothing and houseware shops, cafés and terrace bars from the Rådhuspladsen in the west to Kongens Nytorv in the east. The quarter's historic buildings, churches and museums – especially the towering Rundetårn – strongly evoke Denmark's rich past of architectural and artistic appreciation.
Vesterbro
Immediately west of the central railway station, Vesterbro is centred around the roughly parallel streets of Vesterbrogade, Istedgade and Sønder Boulevard, which run west to the Carlsberg Brewery and Frederiksberg Park. Vesterbro is home to the largest concentration of Copenhagen hotels and is also the city's best area for lively pubs, dance clubs and upscale, swanky lounges. Vesterbrogade is the district's major artery and the parallel Istedgade is one of the city's best shopping streets – try Din – Sofie Nørregaard for interesing original jewelry or the funky feminine styles at Leasara. At the far end of Vesterbrogade is Frederiksberg, a verdant district of grand villas and sprawling parks and one of Copenhagen's wealthiest neighbourhoods.
Football Trip to Copenhagen – What else to see & do
When planning a football trip to Copenhagen it is always good to know what else there is to see and do in the city. Here are a selection of the best things which I found using our sponsor Lonely Planet. Lonely Planet also has maps of the city, details of all the best pubs, bars and restaurants and travel information from the city.
An excellent start to any visit to Copenhagen is to climb the unique 7.5-turn helical corridor leading to the observation platform of Rundetårn (the Round tower), one of Copenhagen's most iconic buildings. It offers excellent views and is smack in the middle of the city. If that is not high enough for you head to Christianshavn for a climb up the circular stairs on the outside of the church spire of the Church of Our Saviour. It has always been regarded as something of a manhood test to climb up and touch the globe on the summit, nearly 100 metres up in the air.
Many of Copenhagen's key sites are also best viewed from the canal that runs north-south through the city. A great way to enjoy a water tour is to avoid the expensive tour operators and jump on one of the local Movia harbour buses. These clunky, chugging yellow barges run roughly every 10-20 minutes, starting at Refshaleøen island and finishing at industrial Teglholmen. Buy a 24-hour ticket for DKK 80 (£7.60) and you can get on and off as many times as you like (price includes land buses, too) or pick up a single for £2.30 (both half-price for kids under 15) and just sit tight and tick off the Black Diamond library, royal buildings and hippy Christianshavn as you float past.
Visit the Nationalmuseet in Indre By for many exhibits relating to Danish history, Viking weapons, Inuit costumes and stone age tools. If you want something more local, the Museum of Copenhagen in Vesterbro has exhibitions on the city's development since the middle ages. Another option is Frilandsmuseet in the northern suburbs of Lyngby — a huge and attractive open air museum with old buildings collected from all over the country.
The four identical classicist palaces of Amalienborg make up the main residence of the Danish royal family. The octagonal courtyard in the centre is open to the public and guarded by the ceremonial Royal Guard. The relief takes place every day at noon and is a highlight for any royalist visiting the city. There is also a small royal museum on the premises.
In the inner harbour, water quality has improved so much in recent years that it is possible to go for a swim from early June to late August in one of the two harbour baths: Copencabana on Vesterbro or Havnebadet at Island Brygge on Amager.
Amazingly, the two oldest functioning amusement parks in the world, with the two oldest roller coasters, are both located in Copenhagen and they are distinctively different. Bakken or Dyrehavsbakken is the older of the two, set in a beautiful beech forest near Klampenborg north of Copenhagen. This gives it a special atmosphere and it is a lot less touristy than its counterpart — Tivoli — which is located smack dab in the city centre in a beautiful park surrounding a lake.
Entrance to most museums is free once a week, mainly on Wednesdays. You can always count on the principal attractions to be well signed in English and German and for these places to be generally geared towards tourists.
If you are into the arts Copenhagen has a lot to offer and the natural starting point is a visit to the Danish National Gallery (Statens Museum for Kunst, free entry, complementary lockers, closed on Mondays) where you can feast your eyes on blockbusters from the likes of Rembrandt, Picasso, and Matisse. There are a number of paintings by Danish artists from the "Golden Age." For more classical art, visit Ny Carlsberg Glyptotek (adult 75 kr, 20 kr or €2 deposit for lockers). In addition to works by masters like Picasso, Leger, and Matisse, this spectacular building houses a large collection of classical statues and sculptures.
Football Trip to Copenhagen – Where to Drink
A large beer costs 30-40 Kr or so at most places in central Copenhagen, but some charge only 20-30 Kr, especially on weekdays or during early hours, while fancy places obviously charge more.
BrewPub København (Vestergade 29) – A brewpub not far from the town hall square. Turn left immediately after entering the courtyard and go down the steps. They brew a good selection of different types of beer. I can recommend the original brew "Weissbier", and the "Cole Porter Stout". The trouble is that it is expensive at £5.50 for 0.5l so it will cost quite a bit to try all of the brews.
http://www.brewpub.dk/index.php?id=english
Bryggeriet Apollo (Vesterbrogade 3) – A brewpub near the Tivoli (and the station). They brew one regular brew, a sort of a mix between lager and beer, not distinctive but OK. Not worth £3 for a half though. They also brew seasonal brews (such as Påskebryg) and specials, of which I can recommend the "Chocolate Stout"
Charlie's Bar (Pilestræde 33) – This used to be best beer bar in Copenhagen (it hasn't got any less good but now faces serious competition from newer bars). There are at least 6 handpumps serving real ale from England
Færgekroen (Vesterbrogade 3) – A brewpub inside the famous Tivoli gardens. They brew two beers, a normal lager and an amber lager, both are unfiltered. The beer is very good and has a lot more taste than lager usually has. It has a good setting on the lake and has a restaurant attached. The only downside is the price which is about £5.50 for 0.4l
Lord Nelson (Hyskenstræde 9) – This fantastic basement real ale pub is on a sidestreet off Strøget. Inside it is basic but cosy, and they always have on draught 14 brews from Danish microbreweries, check their website for the latest list. The prices are reasonable (for Copenhagen) too.
Nørrebro Bryghus (Ryesgade 3) – A brewpub housed in a 19th century metal factory. Very modern inside, brick and metal. They brew a very impressive range of beer styles in house, all of which are good, over 13 in all. For the price of a pint you can get four different 10cl samples just to make sure that you can try them all.
Ølbaren (Elmegade 2) – A specialist beer bar in the "Nørrebro Bryghus" vacinity with beers from Danish micros on draught, along with bottled beers from Belgium, Britain, Germany, and Czech Republic. It is quite small and tends to attract beer connoisseurs but it still has a good atmosphere.
Ølsnedkeren – The Beer Carpenter – Griffenfeldsgade 52 – Microbrewery
Two Beer Ltd – Slotsgade 2, 1, – Copenhagen-based brewpub BRUS was honored in this year's RateBeer Best awards.
Mikkeller Bar (Viktoriagade 8) – Mikkeller is a microbrewery founded in 2006 in Copenhagen, Denmark that is based on the so-called "cuckoo", "phantom"[2] or "gypsy" ethos; that is, the company does not operate an official brewery and, instead, collaborates with other brewers to produce their recipes or experimental one-off brews. Mikkeller Bar was voted the best bar in Copenhagen by the Danish daily paper Politiken in april 2012.
War Pigs Brew Pub (Flæsketorvet 25) – Located in an old slaughterhouse in the middle of theCopenhagen meatpacking district. This is another Mikkeller pub which aslo does BBQ
Fermentoren (Halmtorvet 29C) – Fermentoren beer bar is a craft beer bar located in copenhagen, 10 minutes walk from copenhagencentral station.
Football Trip to Copenhagen – Where to Eat
The cheapest are the many shawarma and pizza joints that you find on almost every street in the city. You can get a shawarma for as little as 15-20 Kr and pizzas start at around 40 Kr.
If shawarma gets a little tiring, there are several Mediterranean-style all-you-can eat buffet restaurants dotted around the inner city. Riz Raz is popular, with three locations and a huge vegetarian buffet for 69 Kr (lunch) / 99 Kr (dinner). The branch on St. Kannikestræde has an infallible ability to seat and feed groups of all sizes. Nearby, Ankara on Krystalgade offers a Turkish-inspired buffet that includes meat as well as salads
At Restaurant Schønnemann at Hauser Plads (look for the white interactive display park outside) it's usually an expensive affair but for lunch you can have your choice of the three most traditional Danish Smørrebrød for just 198Kr
Rita's Smørrebrød (Fælledvej 11). With a wide assortment of "budget" options starting at 12 DKK, Rita's is always fresh, tasty, and is very popular with local Danes.
Harry's Place (Nordre Fasanvej 269) It doesn't get more Danish than this tiny place. This shop is just wide enough for one person, and embodies everything you want in a tiny undiscovered local's eatery. Prices are good, and they've got some of the best hot dogs and traditional Danish eats in Copenhagen. If you're itching to try a traditional Danish Flæskesteg sandwich, this is definitely the place to do it.
Football trip to Copenhagen – Useful links
http://www.visitcopenhagen.com/copenhagen/city-areas
http://wikitravel.org/en/Copenhagen
http://www.visitcopenhagen.com/copenhagen/parken-gdk414149
http://www.notquitenigella.com/2016/06/30/best-cheap-eats-copenhagen/
http://www.adrianbell.co.uk/pubs/copenhagen/