Planning a Football Trip to Eindhoven? Free guide – where to stay, eat, drink and how to get tickets & to the stadium.
Football Trip to Eindhoven – How to get to Eindhoven & How to get around
Football Trip to Eindhoven – Fly to Eindhoven
Ryan Air is the only airline to fly to Eindhoven every day and you are able to fly direct from Eindhoven from Edinburgh, Manchester and London
Start your holiday in style and enjoy the experience of VIP travel – book an airport lounge with Lounge Pass from as little as £13.50. With 200 airport VIP lounges worldwide, including 35 UK airports you can add an extra touch of luxury to your next trip and make the travel experience a whole lot better.
Directions from the Airport
Eindhoven Airport can easily and quickly be reached by various modes of public transport. Next to the terminal you will find the bus stop where you can get on and off. Eindhoven Airport can be reached from Eindhoven Central Station by bus 400 and 401. A one-way journey costs € 2.30 when using a rechargeable OV-chipkaart, a single ticket costs € 3.75. It is not possible to use this ticket (OV-ritkaart Brabant) to transfer to another bus. Purchase your ticket from the bus driver, the ticket machines outside the terminal or the Hermes shop at Eindhoven Station.
Taxis from the Airport
The distance between the airport and Eindhoven's city centre is short (9 kilometres), by taxi it takes about 15 minutes to reach the city centre of Eindhoven. Outside the terminal you can find the airport's taxi lane. It's on the right side, as you walk out of the terminal. The price for a taxi ride between Eindhoven Airport and the city centre or train station is about € 25.
Football Trip to Eindhoven – Travel By Train
The average journey time between London St-Pancras and Eindhoven is 6 hours and 54 minutes and the fastest journey time is 5 hours and 9 minutes. On an average weekday, there are 9 trains per day travelling from London St-Pancras to Eindhoven. The first train from London St-Pancras to Eindhoven departs at 06:47. The last train from London St-Pancras to Eindhoven departs at 20:01. The minimum price of a train ticket from London St-Pancras to Eindhoven is €85.3.
Football Trip to Eindhoven – Travel By Coach
You can choose between one of the buses of IC Bus, Eurolines Germany or FlixBus. These companies will get you there at an unbeatable price. For as low as £9.10 you'll reach your chosen destination within 9 hr 52 min. But keep in mind that in times of higher demand fares tend to be a little bit more expensive.
Football Trip to Eindhoven – Travel By Ferry
It takes about 3 hours to drive to Eindhoven from Calais. Book tickets via DFDS Seaways.
Football Trip to Eindhoven – Travel Around Eindhoven
The city center is largely car free and small enough to get around on foot.
Football Trip to Eindhoven – How to Get to the Match
Football Trip to Eindhoven – The Stadium
The Philips Stadion is the home ground of PSV. This beautiful, modern stadium is located in the centre of Eindhoven, in exactly the same place where the sports park was located when the Philips Sport Vereniging was founded in 1913. With a capacity of 35,000, it is the third-largest football stadium in the country.
Football Trip to Eindhoven – Getting to the Stadium
The stadium can be reached by a 20-minute walk from the Eindhoven main railway station, and a 10-minute walk from the Eindhoven Strijp-S railway station.[12] Bus lines 13, 16, 18, 401 and 402, departing from the Eindhoven railway station, call at the 'Philips-stadion' bus stop, just outside the stadium. Bus 401 is a service between the railway station and Eindhoven Airport, making the Philips Stadion directly connected with the airport.[35] In the event of major football matches or other events, the stadium has its own railway platform, the Eindhoven Stadion railway station. The platform is only reachable through a pedestrian bridge that connects directly to the stadium. The station is mainly meant for travelling away fans: the bridge leads to the away-section in the stands. The station is only serviceable by trains travelling from the direction of the Eindhoven Beukenlaan railway station to the Eindhoven railway station.
Football Trip to Eindhoven – Getting Tickets
For most home matches of PSV a PSV Club Card is mandatory in order to obtain tickets. PSV say it is complicated for people from abroad to apply for a PSV Club Card, we have decided to offer them the possibility to attend matches of PSV without this card. However this comes at a cost, Price for matches in the Dutch national league € 62,50 per silver package, for the matches against Ajax and Feyenoord is the price € 85,- per silver package (€ 40,- PSV FANstore voucher instead of € 20,-). The package includes;
• Match ticket category 2
• € 20,- gift voucher for official merchandise to be spent in the PSV FANstore
• € 10,- card for food and/or beverages to be spent in and around the Philips Stadum
You can also pay € 122,50 for a gold package, for the matches against Ajax and Feyenoord is the price € 150,- per gold package (€ 60,- PSV FANstore voucher instead of € 40,-). Match tickets category 1 are tickets for sections C, D, P, R, Ere Zuid (*Z) or Ere Noord (*N), match tickets category 2 are tickets for sections behind the goal, most likely the sections GG, L or ZZ. Click here to view the stadium plan. Tickets for other sections are not available for people from abroad. Prices are including VAT and excluding a reservation fee of € 15,00 per booking.
Tickets can also be bought by re-sellers such as Ticket Bis and Viagogo.
HotFootballTickets.com – was created to provide Football fans in Europe as well as fans from all over the world an easy and simple way to purchase online from the convenience of their home or Offices, football Tickets at excellent prices with delivery directly to their Home or Hotel.
Buy your football tickets on the official site of LiveFootballTickets.com. We offer tickets for the best matches in England and European leagues online.
Football Trip to Eindhoven – Fixtures
When planning your football trip please note that the dates shown represent the weekend that the game is scheduled to take place and games are likely to change through the season and be moved for TV scheduling.
Plan your Football Trip to Eindhoven with our full list of fixtures or Check the Eredivisie website when planning your football trip to Holland for latest fixture information.
The schedule for kick-off times in Holland can be found our Planning a Football Trip to Holland page (COMING SOON)
Football Trip to Eindhoven – Where to stay. What to See. Where to Eat. Where to Drink
Football Trip to Eindhoven – Where to stay
Stay in the centre, if you do you can walk to the station and also the Phillips Stadium.
Football Trip to Eindhoven – What else to see & do
When planning a football trip to Eindhoven it is always good to know what else there is to see and do in the city. Here are a selection of the best things which I found using our sponsor Lonely Planet. Lonely Planet also has maps of the city, details of all the best pubs, bars and restaurants and travel information from the city.
A tour of the Philips Stadion is a must while in Eindhoven. The third largest sports facility in the nation (after Ajax's pitch in Amsterdam and Feyenoord's in Rotterdam) is home to renowned football club PSV Eindhoven. http://www.psv.nl
The Van Abbemuseum is one of the leading museums for modern and contemporary art. The impressive collection includes works of Picasso, Chagall, Kandinsky, El Lissitzky, Theo van Doesburg, Mondriaan and Appel.
Attractive St. Catherine's Church (St. Catharinakerk) was built in Neo-Gothic style in 1867. The original building – dedicated to St. Catherine of Alexandria – was consecrated in the 13th century and was many times severely damaged by war and fire, even spending part of the 18th-century as a stables and weapons store.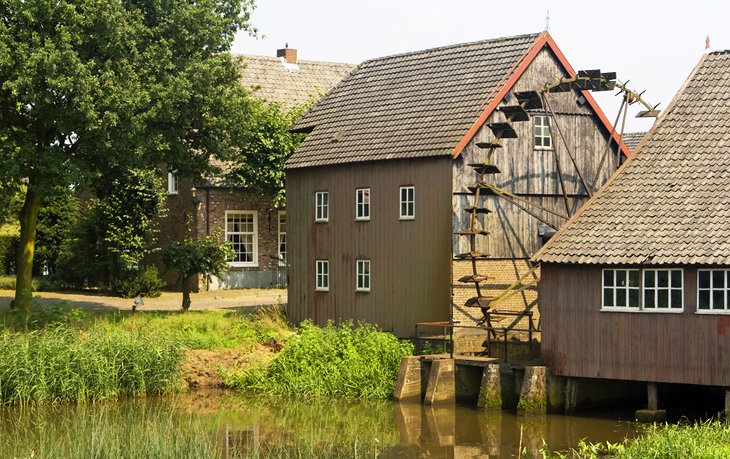 Van Gogh Village – Just eight kilometers northeast of Eindhoven is the picture-perfect village of Nuenen, famous the world over for its inclusion in the art of Vincent Van Gogh, who lived here from 1883 to 1885. His temporary home was in the pastor's house, which has been completely restored to its original style. A highlight of a visit is the Vincentre, an excellent new attraction dedicated to the artist and his time in Nuenen, and the focal point of many great walks following in Van Gogh's footsteps. Official site: www.vangoghvillagenuenen.nl/english.aspx
Eindhoven is blessed with a number of excellent green spaces providing locals and visitors alike with ample room to relax and pursue favorite pastimes. One of the most popular is Genneper Parken in a pretty location on the Tongelreep and Dommel rivers in a valley conservation area
Football Trip to Eindhoven – Where to Drink
Drinkerspub (Kerkstraat 11) – Drinkers pub is one of the biggest beer bars in Holland and is located in the centre of Eindhoven. Specialized in the best beers of the world but also serving excellent wines and spirits.
Our beer collection is counting 1000 beers on bottle and 30 beers on draft.
Van Moll (Keizersgracht 16A): Great brew and craft beer pub
Bierprofessor (Stratumseind 33) – Located on the popular Stratumseind, between 50 specialty shops, is the specialty beer cafe De Bierprofessor.
Brouwerij het Veem (Torenallee 86) – a big food hall, Chocolate, Italian, Local deli meats, bread, burgers and also a beer pub and shop. Very soon a small brewing installation will be put up here to brew for Brouwerij Veem. 24 taps with maybe not the most exciting beers but good enough to merit a visit, especially for the entire food hall.
Proeflokaal De Gaper (Wilhelminaplein 5) – Every pub in Eindhoven offers beer, but only one can call itself a proper beer lovers bar. The brew list boasts no less than 300 different beers and liquors, many of which are available on draught.
O'Shea's (Jan van Lieshoutstraat 9) is the place to be for live music in Eindhoven and also a good place to watch live sport.
Football Trip to Eindhoven – Where to Eat
Stage Music Café (Stratumseind 25) – As its name suggests, this cordial café hosts live concerts throughout the week and regularly hosts open-mic, karaoke and acoustic jam sessions. There's plenty of beer, wine and spirits on offer inside and craft brews on tap.
Football trip to Eindhoven – Useful links