Planning a Football Trip to Feyernord Rotterdam
Planning a Football Trip to Rotterdam? Free guide – where to stay, eat, drink and how to get tickets & to the stadium.
Football Trip to Rotterdam – How to get to Rotterdam & How to get around
Football Trip to Rotterdam – Fly to Rotterdam
Multiple airlines fly to Rotterdam every day and you are able to fly direct from Rotterdam from London, Birmingham, Manchester for under £80 and Edinburgh and Glasgow for about £140.
You can also fly to Amsterdam from everywhere in the UK for even less than it costs to fly to Rotterdam.  It takes between 27 and 52 minutes on the train from the airport to Rotterdam central station.
Start your holiday in style and enjoy the experience of VIP travel – book an airport lounge with Lounge Pass from as little as £13.50. With 200 airport VIP lounges worldwide, including 35 UK airports you can add an extra touch of luxury to your next trip and make the travel experience a whole lot better.
Directions from the Airport
To use public transport in Rotterdam, you will need the 'OV-Chipkaart' (public transport chip card), which can be purchased at such places as Ako (newsagent at the airport). For more information you can check the website of the RET.
Bus 33 from and to citycentre of Rotterdam
The citycentre of Rotterdam can also be reached by taking RET bus 33. The bus stop can be found next to the terminal building.
Click here for the timetable of bus 33
Plan your journey
To plan your journey you can refer to the public transport website of the Netherlands.
Taxis from the Airport
HolidayTaxis.com is a worldwide transport service, offering you airport to city and resort transfers in over 11,000 destinations in over 120 countries around the world.
Football Trip to Rotterdam – Travel By Train
It takes around 4 hours to get the train from London St Pancras to Rotterdam via the Eurostar. Tickets start at around £50 via Voyages SNCF.
Football Trip to Rotterdam – Travel By Coach
Eurolines provide coaches to Rotterdam from London. They offer an overnight service leaving London around 21.30 and arriving at around 13:00 the next day. They also offer a service leaving at 10:00 and arriving in Rotterdam at 23:45 although this may not run at the weekend. Tickets start at around £52 each way
Football Trip to Rotterdam – Travel By Ferry
It takes between 4 and 5 hours to drive to Rotterdam from Calais. Book tickets via DFDS Seaways.
Football Trip to Rotterdam – Travel Around Rotterdam
Public transport in Rotterdam is well organised: the trams, buses and metro are scheduled to link perfectly. Boats are also a convenient means of transport in and around this city on the water. You can also take the bike or a taxi to get around in Rotterdam.
The Rotterdam metro network covers the greater Rotterdam area. There are five metro lines, each with its own colour, its own letter and the name of its terminal stations. That makes it easy to find which metro you need; all you have to do is remember the colour or letter and the terminal station of the line you want. For example, take the blue metro line (D) from Rotterdam Central Station to reach the centre of Rotterdam (Beurs station). Metro line E is part of the RandstadRails. This light rail connection runs between the city centres of The Hague, Rotterdam and Zoetermeer. It starts from and ends at Rotterdam Central Station. Times: Mon-Sat 5:30 am – 0:15 am / Sun 7:30 am – 0:15 am (times vary depending on the line).
For a day trip in the area around Rotterdam, you might want to check out the Waterbus. This fast ferry sails between Rotterdam (Willemskade) and the Drecht Cities (Dordrecht, Sliedrecht, Papendrecht and Gorinchem). Passengers can bring along a bicycle free of charge.Times: Mon-Fri 7:00 am – 8:00 pm / Sat 8:00 am – 8:00 pm / Sun 11:00 am – 7:30 pm (times vary depending on the line). Price: depends on the length of the trip.
Football Trip to Rotterdam – How to Get to the Match
Football Trip to Rotterdam – The Stadium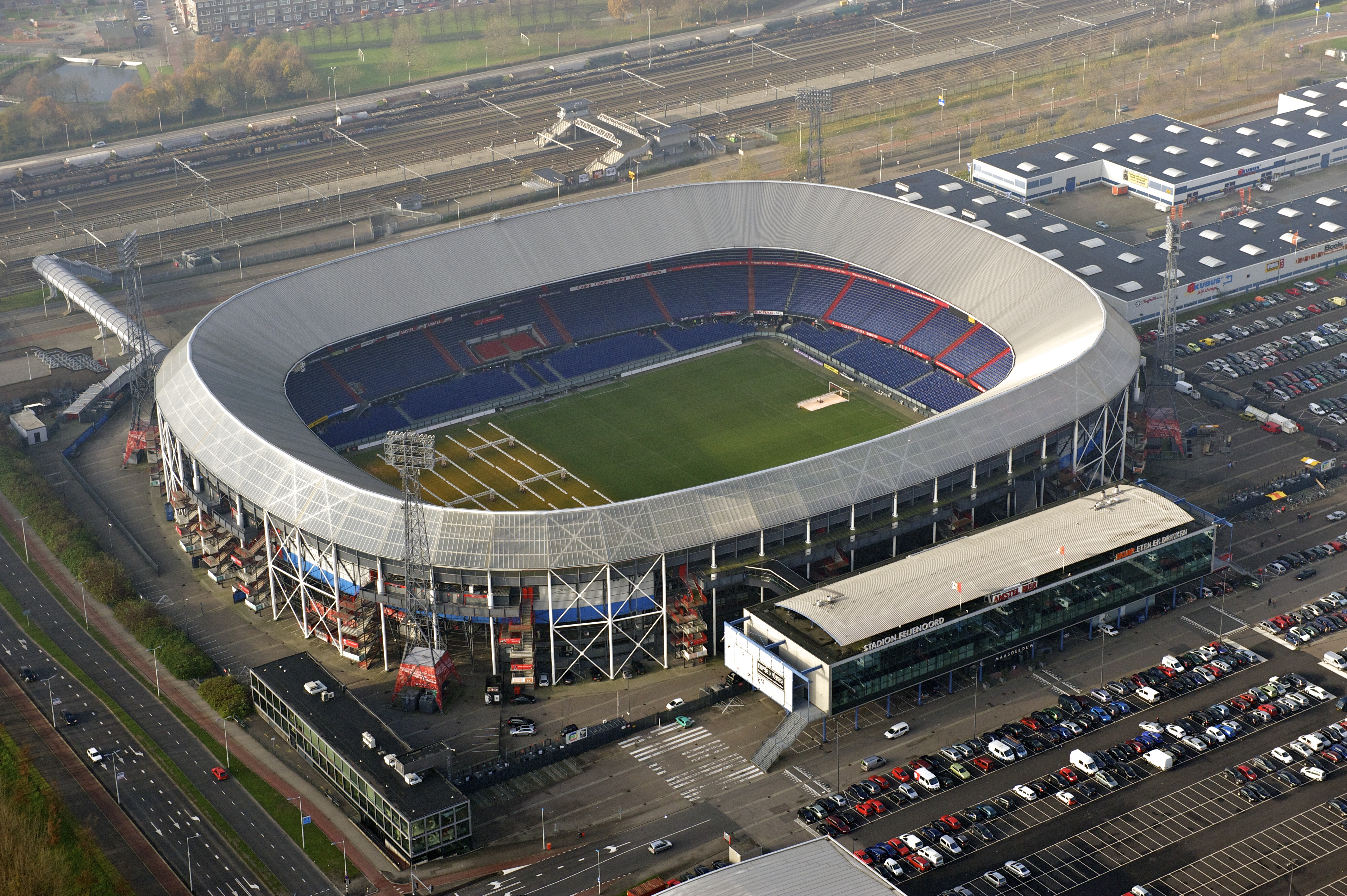 De Kuip in Rotterdam is often called the most beautiful stadium in Holland. What is certain is that De Kuip, which opened on 27 March 1937, is the most beautiful stadium in Rotterdam. De Kuip is the home base of one of Holland's top football clubs, Feyenoord. It has a long and rich football history.
The stadium's original capacity was 64,000. In 1949 it was expanded to 69,000, and in 1994 it was renovated again for a capacity of 51,117.
Since 2006 Feyenoord Rotterdam has been working on plans for a new stadium, with plans for 2017 completion and an estimated capacity for 85,000 people. In 2014 Feyenoord decided to renovate the stadium making it a 70,000 seater with a retractable roof. Building is planned to start in summer 2015, and to finish in 2018 with total costs of an estimated €200 million. Part of the plan is a new training facility, costing an extra €16 million.
Football Trip to Rotterdam – Getting to the Stadium
De Kuip is well served by public transport in several ways. For personal travel advice we refer you to www.9292ov.nl .
From Rotterdam Central Station
Tram 23/12 (note: line 12 only runs during race days) towards Beverwaard – get off at Stadion Feyenoord. Bus 48 – get 5 minutes walk from South Station stop.
Train (only during competition days)
during game days you can come by train. You should put in Dordrecht and Rotterdam Central Central tackle the slow train to the station 'Rotterdam Stadium. This station is used only during football games / events in Stadion Feyenoord. Station Rotterdam Stadium is located next Stadion Feyenoord. For current travel times you can look at www.ns.nl . Watertaxi Want a special way to De Kuip? Rotterdam has a water taxi dock at the Stadium. For more information on www.watertaxirotterdam.nl .
Feyenoord supporters can travel free three hours before and after the Feyenoord home games in all tram and bus lines of the RET. The free transportation is valid on presentation of a seasonal or match card in all RET tram and bus lines.
Football Trip to Rotterdam – Getting Tickets
When planning your football trip please note that the dates shown represent the weekend that the game is scheduled to take place and games are likely to change through the season and be moved for TV scheduling.
When tickets are still available on the day of the match, you can buy them at the Box Offices of Feyenoord Service & Tickets. Generally, Feyenoord matches sell out quickly, so please do book ahead.
So-called risk matches require ticket sale with a club card. This is however not mandatory for foreigners residing outside of the Netherlands. As a foreigner you can purchase tickets for all home matches through the viagogo website for all home matches. When you buy a ticket at one of the Box Offices of Feyenoord Service & Tickets on the match day, please be prepared to show official identification such as a passport in order to receive your ticket.
On this page you can see which home – and away matches Feyenoord you can buy tickets at this time. – http://www.feyenoord.nl/tickets/in-de-verkoop
Tickets can also be bought by re-sellers such as Ticket Bis and Viagogo.
HotFootballTickets.com – was created to provide Football fans in Europe as well as fans from all over the world an easy and simple way to purchase online from the convenience of their home or Offices, football Tickets at excellent prices with delivery directly to their Home or Hotel.
Buy your football tickets on the official site of LiveFootballTickets.com. We offer tickets for the best matches in England and European leagues online.
Football Trip to Rotterdam – Fixtures
Plan your Football Trip to Rotterdam with our full list of fixtures or Check the Eredivisie website when planning your football trip to Holland for latest fixture information..
The schedule for kick-off times in Holland can be found our Planning a Football Trip to Holland page (COMING SOON)
Football Trip to Rotterdam – Where to stay. What to See. Where to Eat. Where to Drink
Football Trip to Rotterdam – Where to stay
You may find cheaper accommodation for your Football Trip to Rotterdam if you book a hostel via our sponsors HostelWorld.com
In many cities the most cost effective accommodation choice for groups is to hire and apartment. Our sponsors Citybase appartments specialises in serviced apartments. The link below offers online apartment search and booking for destinations around the world.
Football Trip to Rotterdam – What else to see & do
When planning a football trip to Rotterdam it is always good to know what else there is to see and do in the city. Here are a selection of the best things which I found using our sponsor Lonely Planet. Lonely Planet also has maps of the city, details of all the best pubs, bars and restaurants and travel information from the city.
On a Spido boat tour (from €10.50 per person) you can see the impressive skyline of Rotterdam as its imposing buildings glide by. The journey offers a unique view of the harbour's shipyards and docks, sailing under the Erasmus Bridge, past the world-famous Hotel New York and close to enormous ocean liners and riverboats. For a high-speed boat ride, take a Watertaxi, which runs between Hotel
An attraction in itself, the impressive Hotel New York is much more than a luxury hotel. The building was once the headquarters of the Holland America Line, built in 1901 by architects J. Muller, Droogleever Fortuin and C.B. van der Tak in an Art Nouveau style. Today, with its tall towers and spinning weather clock, it is one of Rotterdam's most famous landmarks and a hangout for the city's residents.
Best view Extreme sports enthusiasts may feel inspired to abseil down the Spacetower, a 185-metre mast in the centre of the city. Others may wish to take the lift, recline with a glass of beer and enjoy the unrivalled views. Each to his own. Best view Extreme sports enthusiasts may feel inspired to abseil down the Spacetower, a 185-metre mast in the centre of the city. Others may wish to take the lift, recline with a glass of beer and enjoy the unrivalled views. Each to his own.
Much of Rotterdam was hastily reconstructed in the Fifties and Sixties after the relentless bombings of World War Two. It is a modern city but – generally speaking – it is not a beautiful one. The elegant district of Delfshaven is a notable exception. This canal strip of Art Nouveau cafés and restaurants gives the prettiest parts of Amsterdam a run for their money. Whether you're wandering through the art museums and antique shops of Voorhaven or just soaking up the atmosphere in the chic bars of Aelbrechtskolk, laid back Delfshaven will be a welcome break from the downtown hustle and bustle. Delfshaven Metro: Tram #4 or#6
Laurenskerk – See the city at its best from the Laurenskerk tower! The mediaeval Grote- of Sint Laurenskerk was traditionally the main church of Rotterdam. The church regularly hosts cultural events, concerts, lectures and exhibitions. Surrounded by modern architectural wonders, the Laurenskerk is an imposing presence in the heart of the city.
Museum Boijmans Van Beuningen, Museumpark 18-20 (Metro: Eendrachtsplein), ☎ +31 (10) 441 94 00 (fax: +31 (10) 436 05 00). Tue-Sun: 11.00AM to 5.00PM; Mon: closed.The museum, founded in 1849, houses a rich, broad collection that can be generally grouped into four wings: Old Art, with masterpieces such as Pieter Brueghel the Elder's The "little" Tower of Babel (1563). The collection of Prints and Drawings and the collection of Applied Arts and Design with their international allure. And the Modern Art wing has an important collection of surrealism, prominently featuring Salvador Dalí and René Magritte. Adult: €12,50; child under 18: free entry, students € 6,25.
Maritime Museum, Leuvehaven 1 (Metro: Beurs,tram 7), ☎ +31 (10) 413 26 80 (fax: +31 (10) 413 73 42). Tue-Sat: 10.00AM – 5.00PM; Sun: 11.00AM – 5.00PM; Mon: 10.00AM – 5.00PM in July and August as well as during school holidays in Rotterdam. A variety of expositions about the harbour of Rotterdam and maritime history. The museum also has an outdoor part. Adult: €7.50;group + 15 people: 5 €; child 4-16: €3.00; child under 4: free entry.
Mariniersmuseum, Wijnhaven 7-13 (Metro: Blaak). Tue-Fri: 10:00-17:00, Sat,Sun: 11:00-17:00. The museum of the Marine Corps is situated in a historic building in the Oude Haven. It shows the history of the 340 years-old corps as well as it's modern day role. Special attention is given to the heroic role of the corps in the 1940 defence of Rotterdam. In the nearby White House you can still notice the bulletholes in the stone wall.
Oorlogs Verzets Museum, Coolhaven 375 (Metro: Coolhaven, it's under the bridge). Tue-Fri: 10:00-17:00,Sun: 12:00-17:00. The small 'War and Resistance Museum' paints life in Rotterdam and the Netherlands during the Second World War. Attention is also given to the military developments of the time and the destruction of the city of Rotterdam. Lectures and evenings with documentaries are often on the programm. € 4,00, children € 2,00
De Verwoeste Stad Statue, Plein 1940 (Metro: Beurs). This statue, "The Destroyed City", by the Franco-Belarussian sculptor Ossip Zadkine dates from 1953. Zadkine got his inspiration when visiting Rotterdam shortly after the second world war. The cubist statue depicting a man in agony who just lost his heart (symbol of the bombed city centre) still evokes strong feelings in Rotterdam
De Distilleerketel, Voorhaven 210 (Metro: Delfshaven). Open We; 13.00-17.00 and Sat; 10.00-16.00. De Distilleerketel ('the Distillers' Kettle) was rebuilt in 1986 after the original mill was destroyed in WW2. The original mill from 1727 was meant for grinding malt for the numerous distilleries in Delfshaven. Now it works as a mill for grinding wheat on a commercial basis
Grote of Sint Laurenskerk, Grotekerkplein 15 (Metro: Stadhuis or Blaak). Tue-sat 11:00-17:00. The "Great or Saint Lawrence church" (Saint Lawrence is the patron saint of Rotterdam) is a late-gothic inner city landmark that dates from the year 1449. It is nice to visit its spacious and attractive, but not so elegant interior. Of special interest are the large organ and the elaborate graves of Dutch sea heroes Kortenaer, Witte de With and Van Brakel. All kinds of cultural and musical venues take place here. In the summer you can climb the tower at wednesdays and Saturdays
Pilgrimfathers' church, Aelbrechtskolk 20 (Metro: Delfshaven), This historic church, the Oude Kerk (old church) of Delfshaven, is from which the Pilgrim Fathers set sail to the new world. The building dates from 1417. It is also possible to attend to classical concerts here.
The area around train station Blaak. The area was destroyed by a German bombardment during World War II, forcing the Netherlands to surrender. After the war, it has been reconstructed with all kinds of strange and fascinating buildings. Especially the Cube Houses are worth seeing. The marketplace is also here on each Tuesday, Saturday (all year around) and every Sunday (in the summer), it is definitely worth a visit to get acquainted with local food and customs. And the Old Harbour (Oude Haven) is around the corner for a drink and a bite to eat.
Football Trip to Rotterdam – Eating & Drinking
The Nieuwe Binnenweg area is full of bars where Rotterdam's hip party animals congregate at nights, or head to the Oude Haven or Westelijk Handelsterrein.
Bierhandel De Pijp, Gaffelstraat 90 (Take Tram 4 to the Bloemkwekerstraat stop on the Nieuwe Binnenweg), ☎ +31 (0)10 4366896. daily 12.00-14.00 and 17.30-00. Closed on Sun and festive days and Sat afternoon. Prepare yourself for something special when visiting this famous eatery. The outside is absolutely rundown (so is the interior) and you must convince yourself to really push open the dark door. Once inside you will be welcomed by waiters in white and you will be allocated directly next to other visitors on benches. Good food is served (traditional Dutch and French fare), cooked in the same space that you're sitting. From €30 for 3 courses.
Café 't Bolwerk (Geldersekade 1C) One of very few waterfront buildings to survive the wartime bombing was Het Witte Huis, Rotterdam's first high-rise (if you count 10 storeys as high-rise). The ground floor is occupied by Café 't Bolwerk. Rambling around all three sides, there are no fewer than four bar counters.
Belgisch Biercafé Boudewijn (Nieuwe Binnenweg 53a-53b) – The Nieuwe Binnenweg, just west of the city centre, is one of Rotterdam´s more intersting streets. Let´s be honest, one of Rotterdam´s few interesting streets. So, no surprise that it´s the location of this stylish new Belgian-themed cafe/restaurant.
Le Vagabond. Located on a corner along the Nieuwe Binnenweg, Vagabond is a small neighborhood cafe. On most nights, it is the perfect location to meet with a few friends and hang at the bar for a while. Not too crowded, but never empty.
Café Parket is located next to Café Stalles on the Nieuwe Binnenweg. This small café is intimate and offers the same menu as Café Stalles. It is a popular meeting place and is a great place for a drink or a game. Ask the staff for one of the chess boards or a pack of cards.
Doelen (Schouwburgplein 52) is a stylish and comfortable spot for cakes and coffee, or maybe something a little stronger. How do you find it? Take the big street opposite Rotterdam Central Station, then first street on your left. You could also just look opposite the Rotterdamse Schouwburg and Pathé Mega cinema. The beer selection offers pretty much the whole Pelgrim range on draught. Not so susprising, when you know it's owned by the same people as the Delfshaven brewpub.
Locus Publicus (Oostzeedijk 364) is one of Holland's longest-established specialist beer pubs. Just outside the city centre, it's easily reached by metro or tram. The front wall being pretty much one huge window, you get a good view of the interior from outside.
Melief Bender (Oude Binnenweg), Rotterdam's last authentic city-centre street, is home to many cafes. Melief-Bender is the best.
Witte Aap (Witte de Withstraat 78) looks like a fairly typical Dutch brown café during the daytime but its ability to attract local people as well as visitors to Rotterdam means it is rarely empty. Voted best bar in the world by lonely planet in 2009.
Delfshaven
Delfshaven was once a separate town in its own right, until it was evelopped by Rotterdam in the 1800's. Being a couple of kilometres outside the centre, it survived the devastation of WW II. It has a totally different look and feel from the centre of the city, which has an unrelenting bland modernity about which it's difficult to get very excited (at least in any positivre way).
The area around the harbour has a surprising number of attractive pubs, which pretty well all have a much better selection of beer than is usually found in Dutch pubs. So, the perfect spot for a quick pub crawl, without too much dangerous exposure to the elements.
Delfshaven can be reached by taking the East-West metro line in the direction Marconiplein to the the stop Delfshaven.
Der Pilgrim (Aelbrechtskolk 12) – The building in which the Pelgrim brewpub is housed was built in 1580 and used to serve as the town hall when Delfshaven was a town in its own right. Leaving aside the building itself, beautiful though it is, the beer brewed on the premises is the great attraction. The first beer to be brewed was Pelgrim Speciaal (now called Rotterdams Stoombier). This is top-fermenting, unfiltered and amber in colour. It has a biscuity malt flavour and a good bitter finish. It's in the same general style as De Koninck or an English bitter and is fairly tasty. Ther are various seasonal beers: Pelgrim Witbier (Spring), Pelgrim Zomerbier (Summer), Pelgrim Bock (Autumn) and Pelgrim Winterbier (Winter). The brewery can be seen in a small room to the left of the entrance.
De Oude Sluis (Havenstraat 7) – For a pub with no particular claims to being a specialist outlet, the beer selection is pretty reasonable. The atmosphere is pleasant, too, with friendly staff and good service.
Football trip to Rotterdam – Useful links
http://en.wikipedia.org/wiki/Feyenoord
http://en.wikipedia.org/wiki/Het_Legioen
http://worldsoccer.about.com/od/soccercultur1/a/Soccer-Rivalries-Ajax-Vs-Feyenoord.htm
http://www.benefoot.net/dont-move-mark-adriaanse-on-de-kuip-the-home-of-feyenoord/
http://supportersnotcustomers.com/2013/09/30/feyenoord-rotterdam-going-crazy-in-de-kuip/
http://en.wikipedia.org/wiki/De_Kuip
http://www.stadiumguide.com/kuip/
http://patto1ro.home.xs4all.nl/rdampubs.htm
http://chowhound.chow.com/topics/813458
http://isrotterdam.com/useful-info/entertainment/where-to-eat-rotterdam/
http://www.world66.com/europe/netherlands/rotterdam/sights