Planning a Football Trip to San Sebastian? (Real Sociadad) Free guide – where to stay, eat, drink and how to get tickets & to the stadium.
San Sebastián has a first-division football team, the Real Sociedad. It was founded in 1909 and has played an important part in football history. It has won two Spanish League championships, a Copa del Rey (King's Cup) title and a Supercopa de España (Supercup of Spain). Over the years, the team has participated in numerous sub-championships in these competitions and in myriad European events.
Football Trip to San Sebastian – How to get to San Sebastian & How to get around
Football Trip to San Sebastian – Fly to San Sebastian
San Sebastián has 3 airports (2 international) within just over 100 km of the city.
Only 20 kilometers from the city centre, San Sebastián Airport has connections to the major Spanish cities; Madrid and Barcelona.
Bilbao Airport, with connections to all Europe, is 105km from the city, and Biarritz Airport, served by French and international low-cost companies, 47km.
Start your holiday in style and enjoy the experience of VIP travel – book an airport lounge with Lounge Pass from as little as £13.50. With 200 airport VIP lounges worldwide, including 35 UK airports you can add an extra touch of luxury to your next trip and make the travel experience a whole lot better.
Directions from the Airport
San Sebastian Airport – https://ekialdebus.eus/es/e21-hondarribia-aeropuerto-donostia/ – At the airpot exit, there is bus company operating every hour or every hour and a half, which takes you the very centre of San Sebastian. The buses belong to Ekialdebus company and make direct routes between Fuenterrabía and San Sebastian. It heads to San Sebastian driving along the motorway and arriving there in 30 minutes.
Bilbao – The bus from the airport to San Sebastian departs throughout the day, taking you to San Sebastian bus station in under an hour and a half. Note that the bus says 'Donostia' on the front, the Basque name for San Sebastian. (around 17€ at the time of writing). The cheapest way from Bilbao airport to San Sebastian is to change at Bilbao bus station (Termibus). The service to the bus station costs around 1.50€ and runs throughout the day (every 20 minutes or so). Then you'll need to catch a bus from Bilbao to San Sebastian, which costs under 7€. Check the timetable at movelia.es.
Biarritz – The easiest way to get there is by bus, with the PESA company. The only problem is the limited number of daily departures: at present, only one bus a day connects Biarritz airport with San Sebastian. Departure: The bus departs at 15:30 from the airport and arrives in San Sebastian bus station at 16:15. Price: Each ticket costs 6,60 euros.
Taxis from the Airport
San Sebastian – Right after exiting the airport facilities, you will find a taxi stand. Taxis can take you to Donosti in 20 minutes and it will cost you around 40 euros.
Bilbao Airport and Biarritz Airport are probably too far away to get a taxi
Football Trip to San Sebastian – Travel By Train
You can travel by train from London via Paris.
The overnight train, known as La Palombe Bleue, from Paris to Hendaye and Irun (on the French-Spanish border) was withdrawn in early July 2017. The cancellation of this train coincided with the introduction of very much faster day trains on the line from Paris to the Spanish border, thanks to the opening of a new high-speed line to Bordeaux.
It's recommended that passengers travelling from London to Irun use daytime options. If you cannot find a through service to Irun, just book to Hendaye, from where it is just a few minutes on the regular tram link to Irun. Onward connections from Irun are available to San Sebastian and destinations across Spain.
Football Trip to San Sebastian – Travel By Ferry
It takes between 10 and 11 hours to drive to San Sebastian from Calais. Book tickets via DFDS Seaways
You can also take a ferry from Portsmouth to Bilbao with Brittany Ferries (0871 244 0744; brittany-ferries.co.uk). When you reach the port at Santurtzi, there's a train to Bilbao's city centre, from where you can hop on a bus or train to reach San Sebastian.
Football Trip to San Sebastian – Travel Around San Sebastian
San Sebastian is a compact city, with a good network of pavements and pedestrianised areas. Walking is often one of the best ways to travel around central San Sebastian, with many top attractions close to each other. However, San Sebastian also offers a range of public transport, which includes bus and coach travel, RENFE trains and the nearby San Sebastian Airport (EAS), the main gateway into this region of Spain.
Football Trip to San Sebastian – How to Get to the Match
Football Trip to San Sebastian – The Stadium

Anoeta Stadium was opened in 1993 for the European Junior Athletics Championships. It has a capacity of 32,000 and is mainly used by the Real Sociedad. However, it is also used for major shows and events including concerts, rugby matches, fairs and fiestas, etc.
This stadium is ranked in the highest category by the UEFA (a stadium potentially eligible for a UEFA Champions League final)
Is the third stadium of Real Sociedad preceded by Ondarreta (1909-1923), and Atocha (1923-1993). The external concourse area features a bust of the late Alberto Ormaetxea, the club's manager during their successful early 1980s period
Football Trip to San Sebastian – Getting to the Stadium

Metro / Train: Anoeta station, Metro Donostialdea (Line 1), Euskotren Trena (lines 5 and 3).
Bus: Line 17, Line 24 Line 28, Line 26, Line 37, and night line B4.
Football Trip to San Sebastian – Getting Tickets

You can buy tickets online via the club website.
Football Trip to San Sebastian – Fixtures
When planning your football trip please note that the dates shown represent the weekend that the game is scheduled to take place and games are likely to change through the season and be moved for TV scheduling.
Plan your Football Trip to San Sebastian with our full list of fixtures or Check the La Liga Website when planning your football trip to Russia for latest fixture information.
The schedule for kick-off times in Spain can be found our Planning a Football Trip to Spain page (COMING SOON)
Football Trip to San Sebastian – Where to stay. What to See. Where to Eat. Where to Drink
Football Trip to San Sebastian – Where to stay
Parte Vieja, or 'Old Town,' is the historic center of San Sebastian. This neighborhood is the perfect place to make the most of the cultural and historical offerings in the city.
The surfing neighborhood of Gros is the ideal area for young couples and adventure travellers.
La Concha beach is the star attraction in San Sebastian and an absolute must-see in the city. There's nothing quite like a morning stroll along the boardwalk, taking in the crisp sea air before doing a traditional pintxos bar hop through the area.
Football Trip to San Sebastian – What else to see & do
When planning a football trip to San Sebastian it is always good to know what else there is to see and do in the city. Here are a selection of the best things which I found using our sponsor Lonely Planet. Lonely Planet also has maps of the city, details of all the best pubs, bars and restaurants and travel information from the city.
La Concha, the most beautiful urban beach in Europe, is adorned by luxurious beachside mansions as well as the famous spa called La Perla (The Pearl). Its boardwalk is lined by an ornate white railing that has become a symbol of the city. There are, however, two other beaches in the city both of which are less posh and more relaxed: Ondarreta and Zurriola. Zurriola is also popular with surfers.
The city alone has 15 Michelin stars spread across 7 restaurants and famously boasts more stars per capita than anywhere else in the world other than Tokyo. Restaurants Mugaritz and Arzak have been ranked numbers 6 and 17 in the world (2015 World's 50 Best Restaurants). It is in many ways like a mini Paris, except in Basque style.
San Sebastián is also famous for its pintxos. And the best place to go to try some of them is the Parte Vieja (Old Part). This charming old city center is famous for having the highest concentration of bars in the world. This is where the pintxo is king and the food is taken very seriously.
The San Telmo Museum is dedicated to Basque Culture and History. It was inaugurated in 1902, becoming the oldest museum of the Basque Country. It has been housed in the current building since 1932.
San Sebastian's city hall was constructed between 1882 and 1887 and is an architectural masterpiece. The Ayuntamiento is located between La Concha Beach and the old city alongside the marvellous Alderdi Eder Gardens.
The main tourist office (3) is situated at 8 Alameda del Boulevard (00 34 943 481 166; sansebastianturismo.com; open daily 10am to 7pm, until 2pm Sunday, and closed weekdays from 1.30-3.30pm.
From the ground- level station for the 100-year-old funicular (23), pay €2.80 for the return ride to the top of Monte Igueldo (24), the bay's western headland (monteigueldo.es; every 15 minutes from 10am-9pm, until 10pm on weekends).
Real Sociedad Museum (Anoeta Pasalekua, 1 ) opened its doors on 7th September 2009, the day the club turned 100 years old. Occupying a space of around 400m², the Museum describes the history of the Real Sociedad in an original fashion.
Football Trip to San Sebastian – Where to Drink
Altxerri Bar, Calle de la Reina Regente -The renowned bar is located in the old city on 2 Calle Regente and is a must for music and jazz lovers.
Ondara 16 Bis invites the visitor to tuck into some tasty pintxos on the upper level and then proceed down to the dance floor in the basement.
Be Bop has been a long time favorite among the Donosti crowd and continues to provide a buzzing atmosphere. It is situated at the River Urumea in the old town. The music is focused on jazz and blues, but will suit different tastes and the drink prices are more than reasonable.
Eiger Edaritegia is one of the busiest places in the city at the weekend and offers a down to earth atmosphere and crowd. The playlist consists primarily of rock and will win over any guitar enthusiast. The bar itself is unpretentious and caters to a more relaxed audience. Drinks are reasonably priced.
Kañabikaña (Zurríola Hiribidea, 36 ) is at the forefront of the local craft beer revolution. As one of the first bars dedicated solely to craft beer in San Sebastian, they offer a delicious variety of both local and international craft beers, both on tap and in bottles that you can also buy to go.
Mala Gissona (Zabaleta Kalea, 53) is another reference for craft beer in San Sebastian. They brew each of their beers in-house, with a limited yet excellent selection featuring something for every taste. They also serve simple, delicious food that goes perfectly with the refreshing beer.
Etxeberria's (Iñigo Kalea, 8) privileged location in the heart of the Old Town makes it a perfect stop during your evening bar crawl. Their beer lineup features a rich variety of local and international brews, and they also serve a fabulous house vermouth on weekends as well.
Pub Drop (Reyes Catolicos Kalea, 18 ) is a bustling, lively bar serving some of the best local craft beer in San Sebastian. With nearly 20 taps and even more options bottled in the fridge, even craft beer connoisseurs are sure to find something they've never heard of at this bar.
Bar Desy has been a staple of the San Sebastian beer scene for more than 30 years. This unassuming, no-frills bar features one of the most surprising ranges of craft beer in San Sebastian.
Football Trip to San Sebastian – Where to Eat
La Cuchara de San Telmo is at the back of a side street running off Calle 31 de Agosto (00 34 647 787 444; lacucharadesantelmo.com; closed Mon/Tues lunchtime). It's well worth the search – this rustically decorated joint produces the most delicious pintxos in town.
Zeruko, Calle Pescadería 10 (00 34 943 423 451; barzeruko.com; closed Mon/Sun evenings).
La Perla – two outdoor terraces (00 34 943 462 484; la-perla.net) are smack-bang in the middle of La Concha beach, perfect for lazy people-watching. It's on the beach side of Paseo de la Concha. Ideal if you want to stop along the way or if you want to enjoy with your family an elaborate burger or some delicious pizzas.
Ganbara (C/ San Jeronimo 21) A buzzing spot, open to the street, with dark, mould-dusted Iberian hams hanging from the wall, and a small bar piled high with artfully decorated pintxos that look like cakes in a fancy patisserie.
Txepetxa (C/ Pescadería 5) a bar with a menu that each pintxo is cheap and small, there's no need to choose between antxoas with foie and apple compote, or with roe, or sea urchin, or papaya.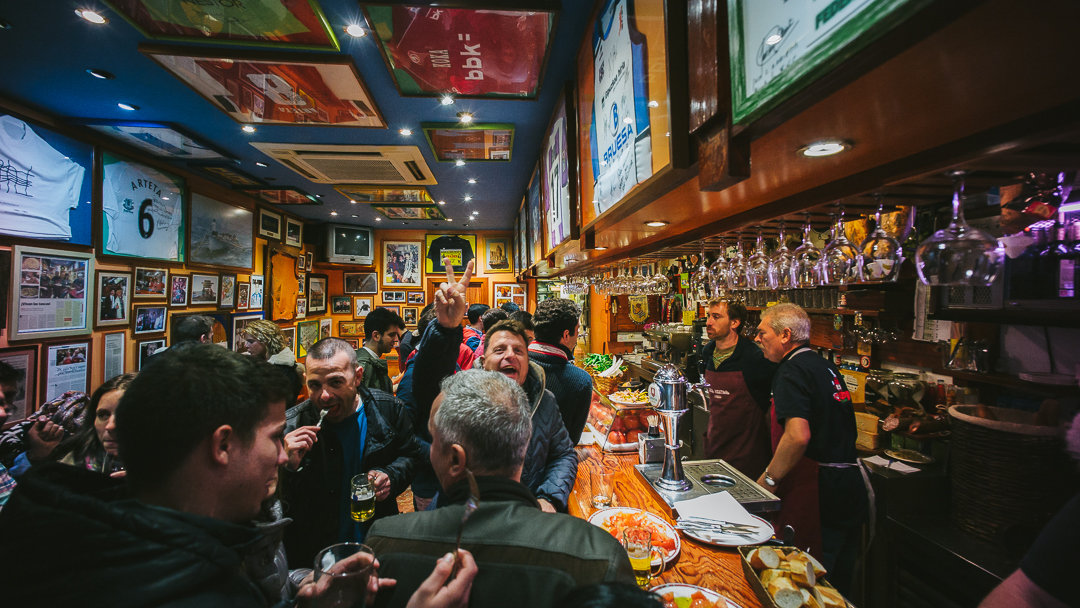 Nestor C/ Pescadería 11) – famous bar with a limited menu but where everything is highest quality, recommended on the best food websites.
Bergara (C/ General Artetxe 8) Bergara is legendary in San Sebastián and recommended for its huge variety of prize-winning pintxos and exquisite service. In the Gros area which has plenty of bars and is usually quieter as it's away from the to urists
Hidalgo 56 (Paseo de Colón, 15 | www.hidalgo56.com) – Hidalgo 56 dishes up some of the tastiest and most creative Pintxos in town.
Casa Senra (Calle de San Francisco, 32) – Spacious, welcoming and with a huge variety of hot and cold dishes to choose from, Casa Senra is one of the Gros district's most classic bars. Make sure you order their signature baby squid dish (Txipiron plancha con pure castana).
Geralds Bar (C/ Iparragirre, 13) A mouthwatering list of familiar local produce given a bit of cosmopolitan pizazz is chalked up on the board
Boarda Berri (Fermin Calbeton Kalea) The veal cheeks braised in red wine at Borda Berri are so ridiculously tender that the meat just melts in your mouth.
La Mejillonera (Calle del Puerto) famous for patatas bravas (a native Spanish tapa made of fried potatoes topped with a warm sauce, which differs depending on the region of Spain you're on, but usually has a mayonnaise component to it) and mussels.
La Vina (31 de Agosto Kalea) La Viña's cheesecake is an absolute must. Generously portioned with two slices per order, the consistency is more like a thick custard than that of a cake.
La Madame (C/ San Bartolomé 35) is not just a restaurant, but a space where gastronomy, local and international art, including music, converge and create an eclectic atmosphere.
Football trip to San Sebastian – Useful links
http://www.euskoguide.com/places-basque-country/spain/san-sebastian-tourism/
https://www.timeout.com/barcelona/travel/101-things-to-do-in-donostia-san-sebastian
https://theculturetrip.com/europe/spain/articles/the-top-10-things-to-do-and-see-in-san-sebastian/
https://www.independent.co.uk/travel/48-hours-in/48-hours-in-san-sebastian-8076994.html
https://theculturetrip.com/europe/spain/articles/the-10-best-bars-in-san-sebastian/
https://www.timeout.com/barcelona/travel/music-nightlife-in-donostia-san-sebastian
https://amp.theguardian.com/travel/2016/oct/03/10-best-restaurants-bars-san-sebastian-basque-country-chosen-by-experts
https://www.forbes.com/sites/christinaliao/2017/05/30/best-pintxo-bars-in-san-sebastian/#66eea019f2d2
https://theculturetrip.com/europe/spain/articles/the-top-10-pintxo-bars-in-san-sebastian-spain/
http://holafoodie.com/best-pintxos-in-san-sebastian/
https://devoursansebastianfoodtours.com/craft-beer-in-san-sebastian/
https://theboywhoatetheworld.com/2014/07/21/pintxos-crawling-off-the-beaten-track-in-san-sebastian-the-gros-district/