Planning a Football Trip to Saransk? Free guide – where to stay, eat, drink and how to get tickets & to the stadium.
Football Trip to Saransk – How to get to Saransk & How to get around
Saransk is the capital city of the Republic of Mordovia, Russia, as well as its financial and economic center. It is located in the Volga basin at the confluence of the Saranka and Insar Rivers, about 630 kilometers (390 mi) east of Moscow
Football Trip to Saransk – Fly to Saransk
Saransk Airport is an international airport in Mordovia, Russia located 7 km southeast of Saransk. It serves small airliners, but has undergone a major renovation in 2017 in time for the 2018 FIFA World Cup.
No airlines flying direct from United Kingdom to Saransk so you will need to fly via Moscow

Start your holiday in style and enjoy the experience of VIP travel – book an airport lounge with Lounge Pass from as little as £13.50. With 200 airport VIP lounges worldwide, including 35 UK airports you can add an extra touch of luxury to your next trip and make the travel experience a whole lot better.
Directions from the Airport
Airport located 7 km south-east of the city center.
As of November 2017 there is no public transportation service to/from the airport. Taxi is the only possibility to get from the airport.[9] Taxis do not wait at the airport so if you need to be picked-up it must be booked in advance.
Football Trip to Saransk – Travel by Train
Train Timetable for Moscow – Saransk. First & last trains. First departure 15:20. Last departure 23:59. Trains overview. Trains per day 12. Price from 22.43$ Route overview. Fastest journey 9h 33m. Distance 513 km.
Football Trip to Saransk – Getting around Saransk
Saransk public transport consists of buses, trolleybuses, mini vans, and taxis. Saransk airport offers regular flights to Moscow.
Football Trip to Saransk – How to Get to the Match
Football Trip to Saransk – The Stadium

The Mordovia Arena is part of a large new development just across the bridge over the River Insar from Saransk's city centre. It forms part of a new area consisting of residential units, parks and shopping malls. The arena, also known as Saransk Stadium, will be the new home of Mordovia Saransk once the 2018 World Cup is over.
Its capacity for the tournament is 45 000 seats, which will be reduced to 28 000 after the World Cup by removing the upper tier. During the World Cup, the Mordovia Arena will host four first-round group matches.
Football Trip to Saransk – Getting to the Stadium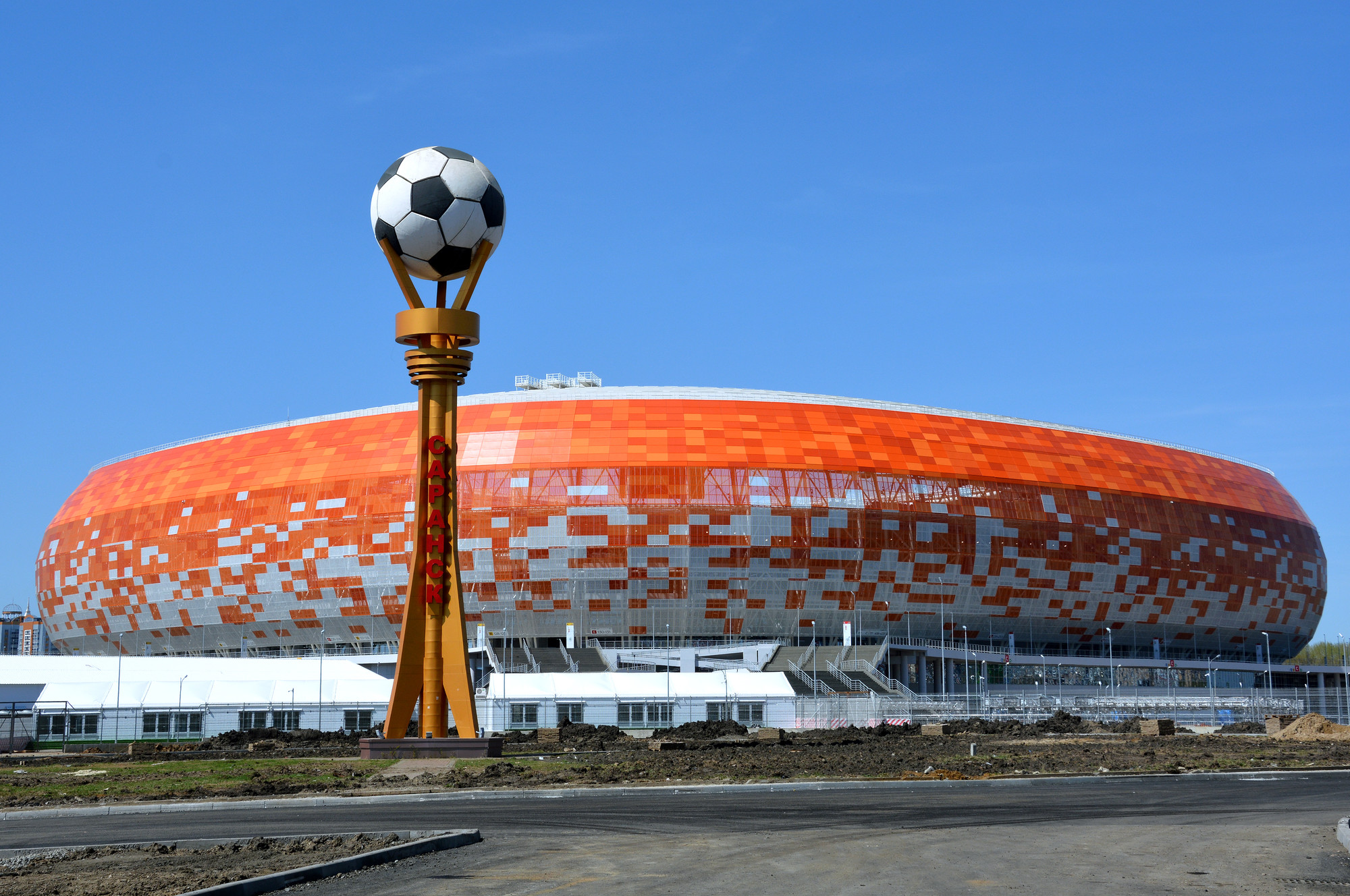 The stadium is located on the eastern edge of Saransk, less than a kilometre (10-minute walk) from the city's main Sovetskaya Square. Saransk's main railway station lies a little further north, but still just a little over 2 kilometres away. At the moment, there aren't many options to eat and drink around the stadium, but with the city centre nearby, that's hardly a problem.
While most central parts of Saransk are all within walking distance of the stadium, you can take bus 44 if you're in a hurry, though the route from the railway station is rather circuitous. It's a quick connection from the bus terminal though. Alternatively, there are multiple marshrutkas (shared taxis) which run along Volgogradskaya Street next to the stadium. And remember: your FAN ID allows you to travel free on selected public transport routes.
Football Trip to Saransk – Getting Tickets
FC Mordovia Saransk is a Russian association football club from Saransk, Republic of Mordovia. In its current state it was formed in 2005, through the merge of Biokhimik-Mordovia and Lisma-Mordovia.
They currently play in the Russian Professional Football League – Ural Division
You might be able to buy tickets online via the club website. If not it's not like it's going to be impossible to get a ticket is it?
Football Trip to Saransk – Fixtures
When planning your football trip please note that the dates shown represent the weekend that the game is scheduled to take place and games are likely to change through the season and be moved for TV scheduling.
Plan your Football Trip to Saransk with our full list of fixtures on Soccerways or Check the Russian Superleague Website when planning your football trip to Russia for latest fixture information.
The schedule for kick-off times in Russia can be found our Planning a Football Trip to Russia page (COMING SOON)
Football Trip to Saransk – Where to stay. What to See. Where to Eat. Where to Drink
Football Trip to Saransk – Where to stay
There aren't as many hotels in Saransk as there are in the other World Cup 2018 host cities (the population is only about 300 000), and none directly near the Mordovia Arena, but there are various apartment rentals to choose from. In the centre, Saransk Hotel and Meridian are both within easy walking distance of the stadium, with a number of other hotels further away.
Football Trip to Saransk – What else to see & do
When planning a football trip to Saransk it is always good to know what else there is to see and do in the city. Here are a selection of the best things which I found using our sponsor Lonely Planet. Lonely Planet also has maps of the city, details of all the best pubs, bars and restaurants and travel information from the city.
Cultural and Historical Value: The main square of the city, Sovetskaya square features several historic buildings and monuments of Saransk history and culture. All significant municipal and regional cultural, sports events and festivals are held here.
In close proximity to the square are the Cathedral of St righteous warrior Feodor Ushakov, the sculptural collection "Family", the Puskin Park of Culture and Rest, the memorial sign to the founders of Saransk, the Mordovia State National Drama Theatre among other sights. Since the 17th century it has changed names on several occasions. Previous names of the square are: Sobornaya, Bazarnaya and Revolution.
Sovetskaya Square is a popular place when it comes to family leisure and roller sport activities, and also acts as a promenade for guests.
Saransk museums
• Mordovian Republican Museum of Fine Arts named after S.D.Erzya (Kommunisticheskaya Street, 61),
• Mordovian Republican Joint Local History Museum named after I.D.Voronin (Moskovskaya Street, 48),
• The Museum of Military and Labor Heroism (1941-1945) (Sovetskaya Street, 34a),
• International Friendship Museum (Botevgradskaya Street, 43),
• The Museum of Mordovian Culture (Sovetskaya Street, 19),
• The Museum of A.I. Polezhaev (Saranskaya Street, 51),
• Fire Safety Museum (Furmanova Street, 15a.).
Football Trip to Saransk – Where to Drink
Harats Pub (Ul. Tereshkovoy 7a) – Irish Pub
Beeroga (Ul. Bolshevistskaya 60a ) – Styled on a German beer house
Football Trip to Saransk – Where to Eat
Football trip to Saransk – Useful links