Planning a Football Trip to St. Petersburg? Free guide – where to stay, eat, drink and how to get tickets & to the stadium.
Football Trip to St. Petersburg – How to get to St. Petersburg & How to get around
Football Trip to St. Petersburg – Fly to St. Petersburg
Multiple airlines fly to St. Petersburg every day and you are able to fly direct from St. Petersburg from Manchester, London, Birmingham, Edinburgh, Newcastle and Bristol.

Start your holiday in style and enjoy the experience of VIP travel – book an airport lounge with Lounge Pass from as little as £13.50. With 200 airport VIP lounges worldwide, including 35 UK airports you can add an extra touch of luxury to your next trip and make the travel experience a whole lot better.
Directions from the Airport
The exact time tables, bus lines, travel times and fares for busses from/to the airport can be found here. City bus # 39, Minibus taxi # K39 and Express city bus #39A run between the metro station Moskovskaya and the airport.
Take metro to Moskovskaya station (35 RUB in January 2016). The station has two exits, look for the sign "to the airport" (or "к аэропорту" in Russian). As you leave the escalator at Moskovskaya station and go through a set of doors you'll be in a long tunnel below the street. Walk all the way to the end of that tunnel and turn left. As soon as you're outside, the bus stop for #39, # 39A and #K39 is right there.
Taxis from the Airport
Never ever take a taxi offered by one of those "helpful" guys hanging out at the airport! There's an official taxi desk at the airport. Its booth is at the arrival area, open 24 hours daily. Fares vary between 1000 and 1400 RUB (February 2015).
Football Trip to St. Petersburg – Travel By Train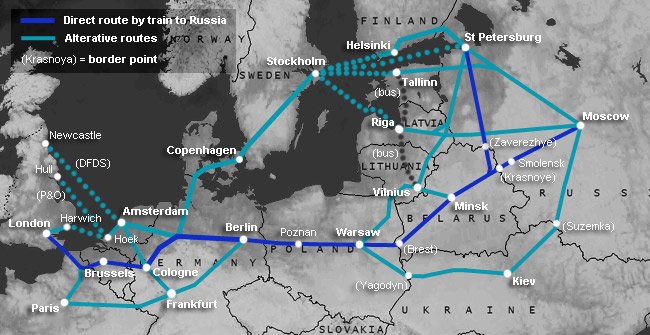 Travelling to St Petersburg via Moscow by train is an exciting and interesting journey.
There's a daily direct train from Paris through Berlin to Moscow, which passes through Strasburg and Warsaw along the way. There are also many other direct train routes mainly from Warsaw. So if you decide to make a train journey from Europe to Russia – the best (and the cheapest) way is to take a train to Berlin or Warsaw first and then onward to Moscow or St. Petersburg. A direct train journey from Berlin to Moscow usually takes about 24 hours, depending on the trains you choose, and costs about 150€ one way.
There are also trains from Helsinki, which take only 5 hours to St. Petersburg (11 hours to Moscow) and cost much less, however flights to Helsinki of course make this more expensive.
Football Trip to St. Petersburg – Travel By Ferry
It takes around 30 hours to drive to St. Petersburg from Calais. Visitors riding or driving in Russia must have reached the minimum ages laid down for residents of Russia, even if they are qualified to drive at a lower age in their country of residence. https://www.rac.co.uk/drive/travel/country/russia/
Book tickets via DFDS Seaways.
Football Trip to St. Petersburg – Travel Around St. Petersburg
The metro is undoubtedly the best bet for visitors, and covers nearly all of the city, with new stations opening almost every year. It also has some spectacular station architecture.
Overground transport is bewilderingly varied, but not difficult to use with the help of a few pointers (see individual pages below), and St. Petersburg's latest transport project means that you can even use the city's waterways to get around. The only real disadvantage of the public transport system is the lack of nighttime services, so if you plan to stay out after midnight, you will have to rely on taxis or your own two feet to get home.
Fares for all forms of public transport are comparatively low (around $1 or less for any single journey), but if you are staying in the city for longer than a week, it is probably worth investing in a travel card.

Football Trip to St. Petersburg – How to Get to the Match
Football Trip to St. Petersburg – The Stadium
Saint Petersburg's new, super-modern stadium is built on the site of the Kirov Stadium on Krestovsky Island, which, in its day, was one of the country's largest stadiums, with a capacity of 110,000.
The architect's vision for Saint Petersburg Stadium was of a spaceship that has landed on the shores of the Gulf of Finland. The seven-storey building is 79 metres high. Technologically, Saint Petersburg Stadium is one of the world's most modern arenas. Equipped with a retractable roof and a sliding pitch, it's able to host any type of event at any time of year – even in winter, the temperature inside the stadium is 15 degrees Celsius.
Football Trip to St. Petersburg – Getting to the Stadium

By metro
Krestovsky Ostrov metro station can have limited access on matchdays and is located two kilometers from the stadium. Also within walking distance of the arena are two other metro stations – Chkalovskaya and Staraya Derevnya, both on the purple line.
By free bus
You can take a free bus to Zenit games up to two hours before kick-off and up to two hours after the final whistle.
The bus stops are located near Vyborgskaya (red line), Petrogradskaya (blue line) and Chkalovskaya (purple line) metro stations
Football Trip to St. Petersburg – Getting Tickets
You can buy tickets online via the club website.
Tickets can also be bought by re-sellers such as Ticket Bis and Viagogo.
HotFootballTickets.com – was created to provide Football fans in Europe as well as fans from all over the world an easy and simple way to purchase online from the convenience of their home or Offices, football Tickets at excellent prices with delivery directly to their Home or Hotel.
Buy your football tickets on the official site of LiveFootballTickets.com. We offer tickets for the best matches in England and European leagues online.
Football Trip to St. Petersburg – Fixtures
When planning your football trip please note that the dates shown represent the weekend that the game is scheduled to take place and games are likely to change through the season and be moved for TV scheduling.
Plan your Football Trip to St. Petersburg with our full list of fixtures or Check the Russian Superleague Website when planning your football trip to Russia for latest fixture information.
The schedule for kick-off times in Russia can be found our Planning a Football Trip to Russia page (COMING SOON)
Football Trip to St. Petersburg – Where to stay. What to See. Where to Eat. Where to Drink
Football Trip to St. Petersburg – Where to stay
• If you want to immerse yourself in the city's culture then book a room to stay in Admiralteysky or Nevsky.
• For a quiet couples retreat, close to the all the attractions but wuthout the hustle and bustle, consider basing yourselves in Smolny.
• Budget travellers will find plenty of cheap hostels in Nevsky or Liteyny.
Football Trip to St. Petersburg – What else to see & do
When planning a football trip to St. Petersburg it is always good to know what else there is to see and do in the city. Here are a selection of the best things which I found using our sponsor Lonely Planet. Lonely Planet also has maps of the city, details of all the best pubs, bars and restaurants and travel information from the city.
The iconic Church of the Saviour on Spilled Blood, built in the late 19th Century to memorialise Alexander II, is an architectural masterpiece. Featuring Italian pink marble floors, wonderful mosaics and opulent interiors, it's a truly breathtaking spot.
The State Hermitage Museum and Winter Palace is not only a magnificent building but also houses a stunning collection of art – put aside several hours; you could easily spend a day here and only scratch the surface of its extraordinarily rich collections.
Catherine Palace, situated about 30km south of the city makes for a great day out. It is a lovely place to wander around, however the main attraction is the 1400 acres of parkland that surrounds it. Take a break from sightseeing and unwind with a picnic.
The Grand Maket Russia Interactive Museum houses an 800 metre large miniature display of all the country's cities and regions. An incredible spot that's a must-see.
Nevsky Prospekt – It's possible to spend the entire day exploring this three-mile stretch of St Petersburg that was cut through thick woodland in 1718. From the Cathedral of Our Lady of Kazan (Kazansky Ploshchad 2; open daily, 9am-7.30pm), inspired by St Peter's Basilica, to the countless cafés, bars and restaurants along the main drag, and just off it, Nevsky Prospekt is the centre of the city's cultural and social life.
St Isaac's Cathedral is one of St Petersburg's most famous landmarks and offers wonderful views of the city from its gilded viewing platform. Statues of the apostles stand guard at the top of St Isaac's, while its vast doors are decorated with biblical scenes. Inside, the cathedral boasts a vast ceiling painting by Karl Bryullov – The Virgin in Majesty – as well as St Catherine's Chapel, a 19th-century hybrid of Baroque and Classical styles.
Vasilevskiy Island – The largest island in St Petersburg offers a bizarre selection of attractions, including a pair of 15th-century sphinxes from Egypt on the river side and a museum of biological oddities (Kunstkammer, Universitetskaya Nab 3) where you can see the skeleton and heart of Peter the Great's gigantic personal servant
Football Trip to St. Petersburg – Where to Drink
Beergeek – A small craft beer bar and (takeaway) store in the very centre of St. Petersburg, hiding in a basement just 30 metres off the city's main street, Nevsky prospect. Twelve taps and dozens of bottled Russian and European brews with a special accent on local craft beer and new experimental sorts.
KwakInn – there are a few of these Belgian Beer cafes in the city.  There is one on Vasilyevsky Island and also Commendatsky.
Palm, another Belgian beer cafe on Bolshaya Konyushennya street in the tourist area.
Brasserie de Metropole – on same block as Russian National Library, has a decent selection including their own beers.
Craft Brew Cafe – near Admiralteyskaya station – has a good selection of beers.
Bakunin – one of the leaders in the craft brewing scene offering over 20 local beers on tap.
Farsh & Bochka – Beer and Meet are the focus of this bar.  Large beer hall with a choice of 30 beers
Redrum – offers over 20 tap beers on, many from local company AF Brew
Football Trip to St. Petersburg – Where to Eat
Russkaya Ryumochnaya No.1 reproduces the Russian drinking culture of the late 19th century. A wonderful atmosphere of a bygone era inside this venue has been created using wooden chairs and antique buffets, worn hardwood floors and lampshades. Dishes are served in thick glasses, while tea is served in cups with coasters
Troyka Restaurant combines modern Russian, luxurious Byzantine and high-tech styles in its interiors. Walls are decorated, illuminated even, with colorful glass and paintings. Guests are captured by the solemn theatrical curtain, which unveils in the evening and presents enchanting live performances.
Literaturnoe Kafe, or Literary Café is spread out on two floors, which stores the cultural heritage of the northern capital in former times. Its menu offers Russian cuisine and desserts according to old recipes of an earlier Pushkin time. Each guest participates in the process of cooking on an open fire.
Palkin Restaurant was the first to bring Russian cuisine to St Petersburg, and was located in the building on Nevsky Prospect.
Fasol – 17 Gorokhovaya ulitsa, A stylish café not far from St Isaac's Cathedral, which serves traditional Russian food. About £18 for two without wine*
Suliko – 6 Kazanskaya ulitsa, Lively Georgian restaurant in a basement. It is not much to look at, but the service is friendly and the food authentic. Try the shashlik and khachapur cheese bread, and the Saperavi red wine. About £30 for two without wine.
Football trip to St. Petersburg – Useful links
http://www.telegraph.co.uk/travel/destinations/europe/russia/st-petersburg/articles/st-petersburg-attractions/
http://www.saint-petersburg.com/top-20-attractions/