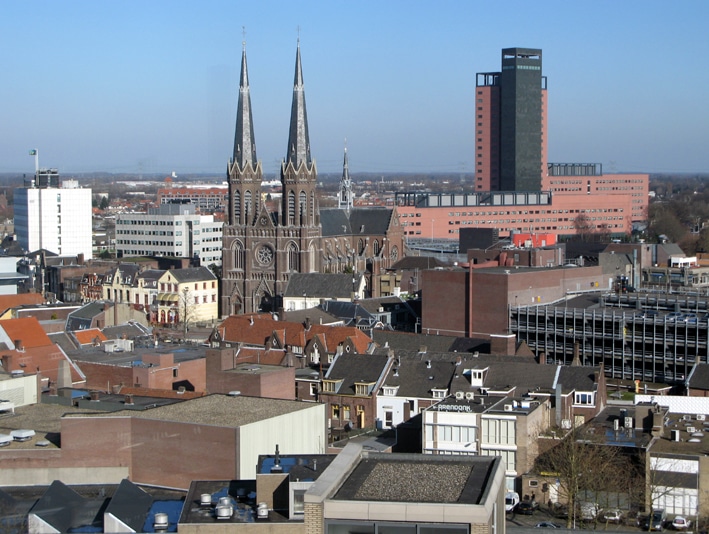 Planning a Football Trip to Tilburg? Free guide – where to stay, eat, drink and how to get tickets & to the stadium.
Tilburg is a city in the province North Brabant and has over 200 thousand inhabitants, which makes it the 6th largest city in the Netherlands. Cities near to Tilburg are 's-Hertogenbosch, Breda and Eindhoven (Tilburg lies somewhat in the middle of these cities). The city is a mix of traditional and modern architecture, from factory houses and villas to sprawling housing estates. Tilburg also has the tallest residential tower in the Netherlands, the Westpoint tower.
Football Trip to Tilburg – How to get to Tilburg & How to get around
Football Trip to Tilburg – Fly to Tilburg
Tilburg does not have an airport. There are several airports nearby;
• Amsterdam – It's only an hour and 15 minutes on the train and costs about £30 via Breda
• Rotterdam – It also takes and how via Rotterdam Central Station and costs about £30 via Breda
• Eindhoven – It's only 20 minutes by Train and costs around £10
Start your holiday in style and enjoy the experience of VIP travel – book an airport lounge with Lounge Pass from as little as £13.50. With 200 airport VIP lounges worldwide, including 35 UK airports you can add an extra touch of luxury to your next trip and make the travel experience a whole lot better.
Football Trip to Tilburg – Travel By Train
The average journey time between London St-Pancras and Tilburg is 6 hours and 39 minutes and the fastest journey time is 4 hours and 46 minutes. On an average weekday, there are 8 trains per day travelling from London St-Pancras to Tilburg.
Football Trip to Tilburg – Travel By Coach
Eurolines provide coaches to Amsterdam from London. They offer an overnight service leaving London around 19.00 and arriving at around 6:00 the next day. They also offer a service leaving at 6:00 and arriving in Amsterdam at 20:15 and another leaving at 10:00 which arrives at 21:45 Tickets start at around £52 each way
From Amsterdam it is best to get the train to Tilburg. The average journey time between Amsterdam-Centraal and Tilburg is 1 hour and 19 minutes and the fastest journey time is 1 hour and 12 minutes. On an average weekday, there are 83 trains per day travelling from Amsterdam-Centraal to Tilburg. The journey time may be longer on weekends and holidays; use our journey planner on this page to search for a specific travel date. The minimum price of a train ticket from Amsterdam-Centraal to Tilburg is €19.2. To buy train tickets from Amsterdam-Centraal to Tilburg for the lowest price possible, we recommend that you book your tickets as early as possible.
Football Trip to Tilburg – Travel By Ferry
It takes between 2 and 3 hours to drive to Tilburg from Calais. Book tickets via DFDS Seaways.
Football Trip to Tilburg – Travel Around Tilburg
Public transportation is well arranged in Tilburg, there are 3 trainstations in the city and there are about 10 city bus lines that make it easy to get around. Besides good connections to surrounding villages there is also a connection to the Belgian city Turnhout from the Central Station (Line 450 Tilburg CS – Station Turnhout), the bus on that drives this line is a Belgian one that belongs to the Belgian bus company De Lijn. There is also a direct connection to Funpark 'The Efteling' and Safaripark 'De Beekse Bergen'.
Football Trip to Tilburg – How to Get to the Match
The team was founded on 12 August 1896 as Tilburgia. On 12 January 1898, the club was renamed Willem II, after Dutch king William II of the Netherlands, who, as Prince of Orange and commander of the Dutch army, had his military headquarters in Tilburg during the Belgian uprising of 1830 and also spent a lot of time in the city after becoming king and would die while there. Willem II plays its home matches in the Koning Willem II Stadion, also named after the King. The stadium, opened on May 31, 1995, has a capacity of 14,700 spectators. The average attendance in 2004–05 was 12,500 people
Football Trip to Tilburg – The Stadium
The stadium is able to hold 14,637 people, was built in 1995 and renovated in 2000 to add business lodges, a restaurant, conference rooms, business club and a supporters bar to the main building.
The new stadium is built on the same spot as the old stadium, the Gemeentelijk Sportpark Tilburg, which had a smaller capacity and fewer facilities. This stadium was demolished in 1992. The current stadium opened in 1995
Football Trip to Tilburg – Getting to the Stadium
The King Willem II stadium is located at the Goirleseweg 34 in Tilburg. The stadium is easily reached by car, bicycle and public transport. Around the King Willem II Stadium there are plenty of parking spaces and bicycle parking spaces outside the competition days.
Public transport
From NS Station Tilburg CS to bus stop 'Willem II Stadion' via regional bus lines '132 Breda' (also from Baarle-Nassau) and '450 Turnhout Station'. Or by city bus line '8 Het Laar' (via Tilburg center) to bus stop 'Oude Goirleseweg / Laarstraat' (400 meters walk). See also www.9292.nl or www.delijn.be.
Free with Arriva to home matches
Willem II and Arriva make sure that supporters can get free by bus to home games of Willem II. So do you often have trouble finding a parking space or do you want to drink a beer without care? Come on with Arriva for free to the stadium!
Shuttle bus
You may use the regular bus lines. In addition, a shuttle bus runs between Tilburg Central Station and the Koning Willem II Stadium. The shuttle bus runs one and a half hours prior to the race. Steps can be reached at the Central Station at Station Food-Drinkz-Cocktailz Station, at the exit point of lines 140-141. At the end of the race, the shuttle bus runs from the stadium to the Central Station for one hour, on the parallel road after exit D.

Football Trip to Tilburg – Getting Tickets
You can buy tickets online via the club website
HotFootballTickets.com – was created to provide Football fans in Europe as well as fans from all over the world an easy and simple way to purchase online from the convenience of their home or Offices, football Tickets at excellent prices with delivery directly to their Home or Hotel.
Buy your football tickets on the official site of LiveFootballTickets.com. We offer tickets for the best matches in England and European leagues online.
Football Trip to Tilburg – Fixtures
When planning your football trip please note that the dates shown represent the weekend that the game is scheduled to take place and games are likely to change through the season and be moved for TV scheduling.
Plan your Football Trip to Tilburg with our full list of fixtures or Check the Eredivisie website when planning your football trip to Holland for latest fixture information.
The schedule for kick-off times in Holland can be found our Planning a Football Trip to Holland page (COMING SOON)
Football Trip to Tilburg – Where to stay. What to See. Where to Eat. Where to Drink
Football Trip to Tilburg – Where to stay
It's a small place so stay in the centre or near the stadium
Football Trip to Tilburg – What else to see & do
Beer-tasting and brewery tour at Abdij Koningshoeven.
When planning a football trip to Tilburg it is always good to know what else there is to see and do in the city. Here are a selection of the best things which I found using our sponsor Lonely Planet. Lonely Planet also has maps of the city, details of all the best pubs, bars and restaurants and travel information from the city.
Football Trip to Tilburg – Where to Drink
Cafés to drink are allowed to be opened until 4AM, where in the last hour before closure time, only may come people out and not in. To neutralize the effects of alcohol, the municipality decided that bread-selling shops, shawarma/kebab tents and equivalent places are allowed to open up to 5AM. These opening times mostly will only be applied on friday and saturday nights.
A typical drink for Tilburg is the Schrobbelèr. This is a liquor with an alcoholic percentage of 21.5%, and is an herbal (and bitter) liqueur, although being sweeter than most bitter liqueurs. The drink is sold throughout the year, although more popular when it's carnival. They are sold in many restaurants and liqueur stores, also national stores in the city.
Most out and about places are in and around the city center, in three areas, all of them within one kilometer radius:
• Heuvel and Heuvelring, with the city's most discos and some restaurants.
• Korte Heuvel, which is a small street, packed with nice and cosy cafés.
• Stadhuisstraat, a bar street with student cafés.
• Piusplein — a residential area with one McDonald's and several cafés and restaurants.
• Piusharbour – Upcoming area, very cosy and nice bars! (During. Summer there's a city beach).
• Spoorzone – also new and upcoming. Creative urban industrial area.
• Korvelseweg, shops and a few cafes.
As a North-Brabant City, and lying just a few kilometers from the Belgian border Tilburg has a strong traditional beerculture. Most bars will serve a decent amount of specialty beers.
• De Koningshoeven – Tilburg hosts one of the few Trappist breweries in the world, and the only one in the Netherlands. The Abbey where the famous La Trappe beers are brewed lies just outside of the city and is definitely worth a visit, even if you don't drink beer. Also a Great place to lunch if the weather is nice. Buy a la Trappe quadruppel oak aged if you really want to try something special. It's easy to reach by going by bus from the central station
• Kandinsky – The most famous beercafe in Tilburg. Has a selection of more than 300 beers. It's always busy here, it attracts an adult and relaxed crowd who come here to enjoy a good drink and have good conversation.
• Buitenbeentje – A slightly alternative bar with a diverse crowd, goo dbeer selection and cheaper than Kandinsky.
Football Trip to Tilburg – Where to Eat
Restaurants in Tilburg are mostly concentrated on the Heuvelplein, the Piusplein, Piusharbour, the Oude Markt, Radiopleintje, 'Dwaalgebied' towards the train station and in the Spoorzone. Different shops in the city center provide food, mostly for lunch to eat on multiple places.
Tilburg is a really cheap city to get some food. A lot of bars have cheap deals during the week, aimed at luring in students. Look around at the korte heuvel or at the heuvelplein for some good deals.
De frietboetiek De Heuvelstraat 3. Legendary snackbar at the beginning of the main shopping street Tilburg. Famous for their homemade sauces and french fries.
Het elfde gebod. paleisring 23. Worth visiting just for it's interior. The place is filled with catholic sculptures of maria and other holy characters.Always packed with locals coming for dinner and well known for their really good food for a decent price. Has a long tradition of winning the 'public's price' in Tilburgs restaurant competition. Main course €10 – €20
The Grass company (coffeeshop) arguably the coolest and most relaxed place to smoke a joint in the Netherlands. A cosy, fun place with decent personnel and actually quite a good menu. Expect big portions, because.. well, people might have the munchies. Also has nice smoothies,coffee and mocktails. "Main course €14 – €20"
Football trip to Tilburg – Useful links