Planning a Football Trip to Toronto? Free guide – where to stay, eat, drink and how to get tickets & to the stadium.
Football Trip to Toronto – How to get to Toronto & How to get around
Football Trip to Toronto – Fly to Toronto
Multiple airlines fly to Toronto every day and you are able to fly direct from Toronto from most major UK airports.

Start your holiday in style and enjoy the experience of VIP travel – book an airport lounge with Lounge Pass from as little as £13.50. With 200 airport VIP lounges worldwide, including 35 UK airports you can add an extra touch of luxury to your next trip and make the travel experience a whole lot better.
Directions from the Airport
Union Pearson Express is a dedicated air-rail link that speeds travelers from Toronto Pearson International Airport to Union Station in the heart of downtown Toronto.
It's fast, reliable, and the trip only takes 25 minutes, with trains leaving every 15 minutes. There are also stops at Bloor and Weston stations. Trains run between 5:30 am and 1:00 am.
Taxis from the Airport
Within the Greater Toronto Area (GTA), flat rates for travel from the airport are determined based on the time and distance to your destination.
Fares for taxis to destinations outside of the GTA are listed on the Out-of-Town Tariff map. Any area that is not listed on this tariff map will be $1.45/km for taxis, or $1.55/km for limousines.
ShuttleDirect.com has proved a hit with internet-savvy travellers around the world. Here's why: Over 1000 routes to the major holiday destinations in 18 countries, and more destinations being added all the time. We are confident we have the best prices for transfers on the internet. Instant Confirmations. Most transfers are booked and confirmed immediately.
Football Trip to Toronto – Travel By Train
Toronto's Union Station – Union Station is the most important travel hub in Toronto, offering connections to the TTC, GO Transit, VIA Rail, and more.
Via train routes span the country, from Vancouver to Halifax. Several train routes cross southern Ontario; from downtown Toronto's Union Station, you can travel to Sarnia, Windsor, and Niagara Falls. Direct trains also depart for Montreal, Ottawa, and Vancouver. Via Rail operates out of Union Station, located at 65 Front Street West across from the Royal York Hotel. For fare and route information, visit www.viarail.ca
Football Trip to Toronto – Travel Around Toronto
The Toronto Transit Commission (TTC) runs the public transit system in Toronto. The city's subways, streetcars, and buses mostly run in a grid pattern, heading east to west and north to south. The Yonge-University-Spadina Subway cuts a giant U-shape across Toronto. From the northern area of Yonge Street and Finch Avenue East, the line heads south to Union Station, then travels north again to the Allen Road and Sheppard Avenue West area. The Bloor-Danforth Subway runs east to west along Bloor Street and Danforth Avenue. The Sheppard Subway also runs east to west along Sheppard Avenue East. And the L-shaped Scarborough RT line runs north before turning east, taking riders out of Toronto and into Scarborough. In the downtown core, the TTC runs 11 streetcar routes along the major roads, including Queen, Lakeshore, and Spadina. And everywhere the streetcar doesn't run, the TTC buses do. The TTC runs over 140 bus routes in and around the city. Most buses stop running at 1:00 a.m.. Some routes are on the Blue Night Network; buses with blue lights make stops all night, from 1:30am to 5am. With such a large network of subway lines, streetcar lines, and bus routes, the TTC estimates that most areas of Toronto are only a five to seven minute walk away from a transit stop. For more information on TTC fares, visit http://www3.ttc.ca/.
Complete system map – http://www.ttc.ca/PDF/Maps/TTC_SystemMap.pdf
Street car maps – http://www.ttc.ca/Routes/Streetcars.jsp
Football Trip to Toronto – How to Get to the Match
Football Trip to Toronto – The Stadium
Canada's first soccer-specific stadium, BMO Field is located at Exhibition Place in Toronto and plays home to Canada's National soccer team, as well as Toronto FC, Canada's first Major League Soccer team.
In its inaugural summer, BMO Field (known to FIFA as Canada's National Soccer Stadium) hosted over 260,000 fans during 12 games as the main venue for the FIFA U-20 World Cup. On September 7th, 2007, Phil Collins and Genesis took the stage in front of a capacity crowd of more than 28,000 fans.
For all Toronto FC matches, sections 111 through 119, as well as the top half of section 110 and part of section 127 are considered Supporters Sections. Fans in these sections will be permitted to stand during play and are encouraged to cheer and use pre-approved banners, flags and drums. Please note that the view from these seats may be obstructed and that all banners, flags and drums must be approved in advance of gameday by the Toronto FC front office.
Football Trip to Toronto – Getting to the Stadium
BMO Field is located on the grounds of Exhibition Place, just minutes west of Toronto's downtown core. Exhibition Place is bordered by the Gardiner Expressway to the North, Lake Shore Boulevard to the South, Dufferin Street to the West and Strachan Avenue to the East.
Planning to Drive?
While there are over 5000 parking spots available adjacent to BMO Field, all parking lots are operated by Exhibition Place and are shared by all events happening on the grounds. BMO Field recommends that fans take public transit or arrive early as during large events parking can be limited and not guaranteed (eg. Canadian National Exhibition or Caribana). For more info, please contact the ExPlace Parking Department at 416-263-3646 (available Monday to Friday, standard business hours) or online at www.explace.on.ca.

From The East: Take the Gardiner Expressway west to Spadina/Lake Shore Boulevard and follow towards Lake Shore. Take Lake Shore to the Princes' Gates (west of Strachan Avenue). As you enter the Princes' Gates via Princes' Blvd, follow the signs to available lots.
From The West: Take the Gardiner Expressway east to Lake Shore Boulevard. There are entrance points to Exhibition Place from Lake Shore Boulevard at Ontario Drive and Newfoundland Drive. From the Ontario Drive entrance, turn right into Lot 2. From the Newfoundland Drive entrance, turn left into the first available parking lot.
From The North: From the 401, take the Don Valley Parkway south to the Gardiner Expressway west and follow the directions for "From The East". Alternately, from the 401, take 427 South to the Gardiner Expressway east and follow the directions "From The West".
From The Airport: Take the 427 South to the Gardiner Expressway east and follow the directions "From The West."
Taking Public Transportation?
GO Transit

Take the East-West Lakeshore GO Train to the Exhibition station, one stop west of Union Station. For more GO Transit information call 1-888-GET-ON-GO (438-6646) or visit www.gotransit.ca.
TTC

From Union Station on the Yonge-University subway line: take the 509 Harbourfront Streetcar West to Exhibition TTC loop.
From Bathurst Station on the Bloor subway line: take the 511 Bathurst Streetcar South to Exhibition TTC loop.
From Dufferin Station on the Bloor subway line: take the 29 Dufferin Bus South to the Dufferin Gates. Please note that during busy months (summer), the TTC may extend this run onto the Exhibition Grounds.
For more TTC info call (416) 393-INFO (4636) or visitwww.ttc.ca
Football Trip to Toronto – Getting Tickets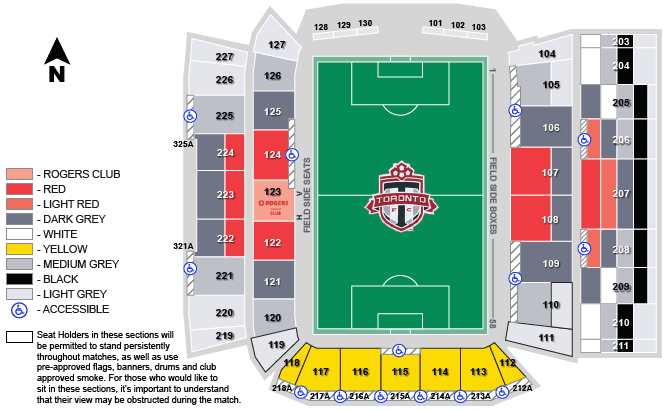 You can buy tickets from ticketmaster and print them out at home
Football Trip to Toronto – Fixtures
Plan your Football Trip to Toronto with our full list of fixture
Football Trip to Toronto – Where to stay. What to See. Where to Eat. Where to Drink
Football Trip to Toronto – Where to stay
In many cities the most cost effective accommodation choice for groups is to hire and apartment. Our sponsors Citybase appartments specialises in serviced apartments. The link below offers online apartment search and booking for destinations around the world.
Football Trip to Toronto – What else to see & do
When planning a football trip to Toronto it is always good to know what else there is to see and do in the city. Here are a selection of the best things which I found using our sponsor Lonely Planet. Lonely Planet also has maps of the city, details of all the best pubs, bars and restaurants and travel information from the city.
CN Tower & EdgeWalk – Toronto's most iconic attraction is the CN Tower, the tallest free-standing structure in the western hemisphere and it now includes EdgeWalk, a thrilling hands-free walk on an outside ledge of the tower.
Rogers Center – This is the domed stadium formerly known as SkyDome. The formal tour is for sports fans only; otherwise, just idly appreciate the massive statues of cheering (and jeering) spectators on the facade. If you want to see the Toronto Blue Jays play ball (or the Toronto Argonauts play football, Canadian style), come back later in the day.
New City Hall – the modernist masterpiece of the city hall building itself; walk up toward and around it, and you'll see the Henry Moore sculpture The Archer. A walkway circumventing the towers is now open and offers great views to the streetscape below, as well as a tour around the pretty new "rooftop" gardens (which sit atop the podium roof, not the tall towers).
Toronto Music Garden – The Music Garden was designed by world-renowned cellist Yo-Yo Ma and landscape architect Julie Moir Messervy to invoke Bach's First Suite for Unaccompanied Cello. It may sound highfalutin, but when you're wandering around the grounds, it's simply serene.
Toronto Islands & Centreville – Visitors who want to be closer to the ground can take the scenic ferry ride the Toronto Island which provides a great photo opportunity of the skyline. Bike, picnic and explore the Centre Island amusement park, Centreville.
St. Lawrence Market – Great picnic fare can be discovered at The St. Lawrence Market, ranked by National Geographic as the world's best food market. Try the famous peameal bacon sandwich at Carousel Bakery.  Carousel Bakery at St. Lawrence Market has been serving no-frills juicy peameal sandwiches since 1973.
Chinatown – A short walk or street car ride from The Eaton Centre is Chinatown. It's one of three Chinatowns in the city and borders on Kensington Market , a bohemian mix of vintage shops, funky restaurants, cafes and bars in addition to Latin American markets and food stalls.
The Distillery District is another one of Toronto's most vibrant neighbourhoods It was Toronto's first distillery –which produced almost half of Ontario's total spirit production in 1871— and is now home to high-end boutiques, art galleries and restaurants.
The Royal Ontario Museum (ROM) is Canada's largest museum of world cultures and natural history.
Hockey is more than a sport in Canada, it's a national obsession, and Toronto is no different. And even though they're currently having the longest dry spell in NHL history (the last time they won the Stanley Cup was in 1967), the Toronto Maple Leafs still draw a crowd. Maybe if we cheer hard enough, Torontonians will get to see the Stanley Cup somewhere other than the Hockey Hall of Fame.
Casa Loma is a kitschy castle on a hill that offers an inspiring view of the sweep of the city (you'll see a lot more of Toronto than you did from the CN Tower the day before yesterday). But while you can admire the view for free, it's worth visiting the castle, too.
Canoe (54th Floor, Toronto Dominion Tower, 66 Wellington Street W, at Bay Street)is a Toronto showpiece, both for the lofty setting and superlative cuisine. It's also a favourite with the CEOs who toil in the concrete canyons of Bay Street: they habitually hit the bright, wood-panelled dining room between marathon meetings. But even if you're on a budget, you too can enjoy the panoramic view, a glass of Niagara chardonnay and light posh nosh at the bar. Should you seek further fulfilment – and you should, this is one of the country's best restaurants – we recommend the tasting menus, which show off the talents of executive chef Anthony Walsh. Canoe is also famous for using top Canadian ingredients – Albertan beef, Nova Scotia's lobster, Quebec cheeses and seasonal produce from local growers, plus superior local vintages.
Football Trip to Toronto – Eating & Drinking
Pub Crawl 1 –
Holy Chuck Burgers (1450 Yonge) – This midtown burger shop is known for epic and unapologetic burgers like the six-patty Go Chuck Yourself ($19.99) stacked between grilled cheese sandwiches, or the Holy Duck ($27.99) amplified with bacon, maple, seared foie gras and black truffles.
The Monks Table (1276 Yonge, at Woodlawn) – Seventeen taps and 17 bottles will keep you imbibing at this well-tended two-floor hostelry.
The Rosewood Diner (1164 Yonge Street) – decades-old bohemian joint serving up sticky Asian pork ribs and a Canadian staple.
The Rebel House (1068 Yonge, at Roxborough) Only Guinness manages to shoehorn itself into the otherwise all-Canadian 19-tap craft brew lineup. Bottles are likewise nationalist, with 30 mostly micro labels. Canadiana cuisine helps to build up a thirst at this busy midtown fave.
Bar Volo (587 Yonge, at Gloucester) – Fourteen taps and three hand pumps focus on locals, with an emphasis on special beers and one-offs, alongside 150 different bottles, including rarities like the sour Le Trou du Diable from Quebec and Belgium's Westvleteren. $5 pints Mondays at barVolo
DUKE OF GLOUCESTER PUB (649 Yonge St) The Duke is home to Toronto FC's hardcore supporters group U-Sector, who have covered the bar's private room (the "snug," as the Brits say) in a sea of red and white.  15 draught, 30 bottles.
Lou Dawg's Ryerson Pub (76 Gerrard East, at Church) – Bustling smokehouse pub at Ryerson famous for smokey meats, Southern fare & poutine served late.
The Queen and Beaver Public House on Elm St. in downtown Toronto has only been around five years. But the cozy, quirky British pub, built in an old house, has quickly established a reputation as THE go-to place for English football matches, with fans regularly packing the place on game days. Dial it up several notches for the World Cup. Try the burger, which has bone marrow in it for extra flavour. (35 Elm St, Toronto)
BeerBisto (18 King East, at Yonge) – BB stakes its claim to fame on the impressive document that is their 150-bottle list, featuring sour beers, aged ales, imperial stouts and exclusives like Cantillon and Avery.  If you wanted to link in some sighseeing at this stage you could call in at the Hockey Hall of Fame.
C'est What (67 Front Street) – Labelling themselves as Toronto's "local" spot, this bar and restaurant has been serving up great beer and food since 1988. Located in the cellar of a 19th century structure in St. Lawrence Market, C'est What has got a lot of charm embedded inside. With 42 draughts on tap and eight pouring from traditional casks, they serve up the best the local area has to offer.
Mill Street Beer Hall (21 Tank House Lane) – Beer, house-made liquor, communal seating – the only thing missing from Mill Street's new venue is lederhosen. Along with two new brews – a Distillery Ale and a Belgian-style Dubbel – the Beer Hall has expanded the company range, checking distillation off its list of things to conquer with its signature Bierschnaps distilled from Mill St. favourites Tankhouse, Frambozen and Coffee Porter.
Amsterdam Brewhouse (245 Queens Quay West) – The city's first craft brewery has officially opened the gates of its massive new Queen's Quay Brewhouse. With indoor and outdoor seating for 800, Amsterdam's anticipated new brewing and dining facility is the largest spot for sampling Ontario craft.
Bar Hop (391 King Street) – Located in Downtown Toronto, this King West bar offers the best of craft beer and pub food combined. Serving cold brew from 36 taps, two rotating casks and close to 100 bottles, Bar Hop gives craft beer seekers plenty to be happy about. They have Mussel Mondays and Oyster Tuesdays, while their Session Sundays feature $5 pints on certain Ontario craft brews.
Black Bull Tavern (298 Queen St W) With a huge patio ideal for people-watching, this roomy historic bar offers pub fare & billiards. The establishment opened in either 1833 or 1838, depending on the source, in a different wood-framed building on the same location at Queen and Soho streets. 
Horseshoe Tavern (370 Queen St W) The Legendary Horseshoe Tavern. For over 60 years, the rustic yet solid stage has supported bands like The Rolling Stones, Willie Nelson, and countless international and local rock acts.
Rock Lobster (538 Queen St W) reels in Torontonians with eccentric takes on daily catches from the Maritimes. The traditional lobster rolls are melt-in-your-mouth heavenly and the Lobster Caesar, a meaty twist on the popular Canadian cocktail garnished with a lobster tail, will rock you hook, line and sinker.
Bovine Sex Club (542 Queen Street West) – With notable punk and alt-rock bands coming through constantly, the Bovine has done its time in the city's rock scene. But there's always room for new additions, like the recently added patio, where the rockabilly love prevails in a tiki bar-themed oasis
Football Factory (64 Bathurst St)  located near Queen and Bathurst, is a stellar place to watch Toronto FC and European soccer. Plus, it has an ambitious menu (venison carpaccio, anyone?), a dark-wood interior and an excellent beer list. The action starts early on weekends to accommodate soccer fans who come to watch matches that are rarely broadcast here, like games from the French Ligue 1 and the Spanish La Liga.  Beer: 17 draught, 12 bottles. There's an emphasis on rare European drafts (Delirium Tremens, Innis & Gunn) and Canadian craft beers (Great Lakes Brewery).
Wheat Sheaf (667 King St W) – Only one place in Toronto can claim to have been serving beer for 155 years, and that's the Wheat Sheaf at King and Bathurst. The historic pub, which predates confederation, can trace its history to the days of soldiers at nearby Fort York
Cehozski (678 Queen Street West) – Ever wish you could sit in the eaves of an old Victorian house? Head to Czehoski on West Queen West, where you may not be able to see down to the street but you can feel the charm of the local scene in the cozy little enclave.
Hoops (735 Queen St. W) Hoops' hipster-approved Queen West location plays home to many of the area's non-sports fans, who hop on the bandwagon for big games. It also draws an eclectic mix of regulars, the more sports-oriented of whom prop up the bar to watch hockey games and UFC fights. Beer: 19 draught, 22 bottles. Largely Canadian and U.S. big name brands.
The Dogs Bollocks (817 Queen Street West) Certainly. Domestic bottles start at just $3.00 with pitchers priced at $11 and up, and mixed drinks from the rail at $4.00.
Oyster Boy (872 Queen Street West) –  Torontonians love oysters and other seafood, and this is one of the city's seafood institutions. It's known for its exceptionally fresh oysters, an excellent selection chosen by owner Adam Colquhoun, and a friendly pub-like atmosphere. The fish-and-chips are great, too.
Sky Yard, The Drakes Hotel (1150 Queen Street West) – Ten years on, Drake SkyYard is still the creme de la creme of rooftop patios. There's plenty of barstools, flowers and lounging seats, umbrellas for shade and the oh-so-chill vibe of the Queen West locals.
The Rhino (1249 Queen Street West) – a spacious and classic-style pub with 24 craft beer on tap. They have rotating draught selections that are changing to offer new styles and tastes from the beer community, but they like to zone in on the Ontario craft flavours. In addition, they pour cask ales and serve 300 other bottled varieties from all over the world.
Pub Crawl 2
Thirsty & Miserable (197 Baldwin, at Augusta)  An impressive scope of microbrews on tap and a thoughtfully mapped bottle selection make it the best watering hole in town for rare and esoteric Belgian Trappists, American micros and more. Catch Katie Whittaker, Thirsty and Miserable's beer maven, behind the stick at Bar Hop (391 King West) most Monday nights.  $5.75 pints Sundays at Thirsty and Miserable
Monarch Tavern (12 Clinton at Henderson) –  Sample the Monarch's rotating cask option or tap into 15 local brews including Beau's, County Durham, Great Lakes and Denison's.
Caplanskys Delii (356 College Street) Caplanky's Deli provides delicious smoked meat around Toronto. With one location in downtown Toronto on College St
The Cloak & Dagger Irish Pub (394 College Street) – Cloak & Dagger makes up for its smaller space with its great beer selection and wonderful staff. Serving up mostly local craft beer on their taps, the staff is willing to help you out with whatever you're after, including a perhaps more obscure choice. In the warmer months, the back patio opens the place up and offers a handful of cask varieties to shake things up. Live music is frequent and food specials as well.
La Cantina (501 College at Palmerston Blvd) – Street foods and street art find a common home at this vibrant taqueria on College. Signature menu items include the In Cod We Trust taco ($5), queso and chili-covered corn on the cob ($7/2), and a tequila-heavy drinks list.
Sneaky Dees (431 College Street) – You'll need more than a single beer to wash down a huge Sneaky Dee's plate of nachos, and its bottles and pints are priced with that fact in mind. A pint will cost you $4.50 any day of the week, plus bottles starting at $3.50 except on Wednesday when they're a cool three bucks. And though you typically don't think of cocktails when you think of Sneaky Dee's, you might start to if you know you can get them for $3.75 each.
Madison Avenue Pub (14 Madison Avenue) – The long line of picnic tables and patio chairs bring all the boys to the Madison on the weekend – mostly students in search of a pint. Weekdays are more of an eclectic mix, with Annex locals hanging around with grads taking study breaks while working on their tans.
Labyrinth Lounge (298 Brunswick Ave at Bloor Street West) – Friday it's Jameson whiskey shots or mixed drinks for $3.00, followed by Absolut shots and mixed drinks on Saturday, and $3.00 draught on Sunday. Plus rail Thursdays and Amsterdam pints and shots of Wiser's throughout the week.
Clinton's Tavern (693 Bloor Street West) – Venerable bar known for its Canadiana decor, retro dance parties & pub grub with vegetarian options.
Tallboys (838 Bloor Street W) – Carrying over 70 types of Ontario craft beer, Tallboys just might have Toronto's largest selection of craft beer. $5 Steam Whistle after 6pm at Tall Boys
Ciro's Restaurant (1316 Bloor West) – Its list of 150 bottled beers has always made Ciro's a bit of an oddity among the district's stripper bars. International labels get the spotlight at this low-key watering hole, with choices like German Doppel-Hirsch, Dutch La Trappe Quadrupel and Japanese Hatichino Nest
India Ale House (2876 Dundas West) – Twelve taps host staple pours like the Breakfast Porter, Instigator IPA and Broken Hipster (Belgian Wit with orange peel, coriander, rose hips, lavender and ginger) and trendy lambics like the Rye So Sour.
Hole in the Wall (2867 Dundas West) – Enter this Junction local, quite literally, through a door-shaped hole in the wall at the end of an outdoor hallway. You can usually locate it with relative ease by tracking the stream of smokers pouring out and packing back in. Once in the long, narrow refuge, belly up to the bar and order your chosen poison, be it craft brew, cask ale or cocktail. An eclectic, friendly and all-around awesome spot with live music most nights, it's the kind of bar where hours feel like minutes.
Bellwoods Brewery (124 Ossington Avenue) – Bellwoods routinely updates their list of what's on tap, offering seven of their own brews and three guest taps. It all sounds small and select, but great things come from little packages: their beer selection is loved enough that they sell it in 500ml bottles to go, anywhere from $4-8.  $5 and $6 beers during The Witching Hours at Bellwoods Brewery
Pub Crawl 3
Allen's (143 Danforth, at Broadview) – 11 black-handled taps behind the long dark bar all pour Ontario craft brews. But it's the bottles that really ensure Allen's reputation as a Toronto beer mecca – 160 labels in all, including 22 Belgians, a good selection from la belle province and a particular focus on hard-to-find Canadian strong beers like the vintage dated Eisbock from now-defunct Niagara Falls Brewing Company.
Greenwood Smokehouse BBQ (673 Danforth) – A bourbon menu compliments house-smoked meats & BBQ-style veggie plates at this narrow, rustic spot.
The Only (972 Danforth) – the Only keeps the faith with 15 out of 16 taps dedicated to craft beer and more than 200 bottles. $5 pints Sunday after 5pm at The Only
Sarah's Café Bar (1426 Danforth) Sarah's 13 taps are almost all local craft beers, excepting the likes of Warsteiner and Quebec's Maudite by Unibroue. Bottles are Sarah's strong suit, with approximately 60 labels focusing on imports.
Linsmore Tavern (1298 Danforth Ave) Dollar draught! Well, to be precise, Linsmore offers a seven-ounce glass of Labatt 50 for $1.15. So not exactly a dollar or a standard pint, but it has a nice ring to it, no? This bar is certainly a haunt for the locals, but it welcomes anyone who is keen on $5.25 draught, $3.50 bottles, or else, anyone who can properly work the touch screen jukebox.
Pubs near the Rogers Centre
The Loose Moose (146 Front St. W) Sports junkies regularly pack the two floors of this establishment near the ACC, either to grab a bite before heading to the game, or to gather with friends in the cavernous, beer hall–like basement and cheer on the Leafs.  21 draught, 10 bottles. There are some unique options on tap, like Mississauga's Barking Squirrel.
Real Sports (15 York St) Spread over two floors and decked out with leather booths, this oversized man-cave has 200 TVs, interactive golf games and tables where you can pour your own pint. The menu includes unique blended beers like the Darth Maple (Molson Canadian meets Murphy's Stout), Maple Leaves (Canadian mixed with Rickard's Dark) and Les Bleus (Kronenbourg and 1664 Blanc).
Corks (15 York St)  bottle list that's exclusively Ontario craft, but the added attraction is that guests are welcome to bring food in from the grocery store's salad bar and prepared food options.
Wayne Gretzkys (99 Blue Jays Way) This place is a mini–Hockey Hall of Fame that showcases the skates Wayne wore as a two-year-old, a game-worn jersey from his rookie year and the stick he used in game two of the 1987 Canada Cup final, believed by many to be the best game he ever played. 12 draught, 16 bottles.
Steam Whistle Brewing (255 Bremner Blvd) sample the strong pilsner, which is available only in Canada.
Restaurants on Roncesvalles Avenue
Barque BBQ (229) – Lively local spot for traditional BBQ brisket, ribs, wings & such, with family night on Sunday.
Hopgood's Foodline (325) – Contemporary presentations of East Coast comfort food, focusing on seafood & classic cocktails
Football trip to Toronto – Useful links
Toronto's 20 Best Beer Bars – http://www.nowtoronto.com/food/story.cfm?content=181740
http://beforelastcall.ca/blog/9-top-toronto-craft-beer-bars-pouring-golden-goodness
Toronto's Best Beer Bars – http://www.nowtoronto.com/food/story.cfm?content=193437
http://www.blogto.com/eat_drink/2013/02/the_top_10_food_challenges_in_toronto_human_vs_food/
http://www.blogto.com/eat_drink/2014/01/the_top_10_cheap_craft_beer_deals_in_toronto/
Best Mexican restaurant in Toronto – http://www.blogto.com/toronto/the_best_mexican_restaurants_in_toronto/
Top 10 BBQ restaurants in Toronto – http://vacay.ca/2012/08/top-10-bbq-restaurants-in-ontario/
Best Cheap Drinks in Toronto – http://www.blogto.com/toronto/the_best_cheap_drinks_in_toronto/
Best Rooftop Patios Toronto – http://www.blogto.com/toronto/the_best_rooftop_patios_in_toronto/
http://www.thegridto.com/city/sports/torontos-20-greatest-sports-bars/
http://www.blogto.com/toronto/the_best_live_music_venues_in_toronto/
http://www.blogto.com/toronto/the_best_new_cheap_eats_in_toronto_2013/
http://www.timeout.com/city-guides/20-great-things-to-do-in-toronto/
http://www.blogto.com/toronto/the_best_burger_in_toronto/
http://www.blogto.com/toronto/the_best_bbq_restaurants_in_toronto/
http://www.blogto.com/eat_drink/2014/07/the_5_oldest_bars_in_toronto/
http://www.blogto.com/toronto/the_best_microbrewery_in_toronto/
http://www.frommers.com/destinations/toronto/717120#sthash.ZLJiUvhG.dpbs